This fall has been one of the warmest I can remember in a long time.  There were a couple of cool mornings that I had to break out the toque and gloves but I was still running in shorts.  I knew in the back of my mind that this would come to an end very shortly but I didn't let myself think about it.  Well, after an amazing two-week vacation to the wine country in Niagara, we returned home to snow and sub-zero temperatures.
In my last post I think I said something like "I can't wait to run in snow and freezing weather!!".  Now that it's here I'm not quite as keen about it!  I guess it's kinda like having company in from out-of-town.  The thought of having them around is great until they're using all the hot water and drinking all your beer!  Mmmmm, beer!!  I wish I could drink beer to get home from work!!  I'm getting side tracked here….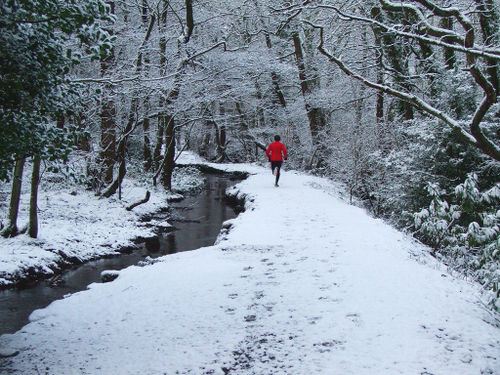 Like I was saying, it's cold and snowy here now and the days are really getting short.  The morning run is hardest to get motivated for so I figured I'd get myself back in the saddle with a couple good runs home.  That way I could reward myself with a nice cold beer when I got home (can you tell my brain is still in vacation mode?).  The temp was around -5 C with a bit of wind and sunny.  This type of weather is the one that causes me the most grief deciding what to wear.
What I've found is that down to 10 C I can get by with shorts and a t-shirt but from 10 C to -10 C it starts to get a bit tricky.  Below -10 C is pretty straight forward really.  I just put on as much as I can comfortably run in!  I find that in-between temperature the most difficult to dress for cause as soon as you start sweating too much you end up getting cold!  Layers are the key!  That way if you find yourself overheating, you can easily peel something off.
I don't use any really heavy running gear since you generate so much body heat you just end up being too hot.  I like to just add one layer for each level of coldness.  I don't think that's a technical term but you know what I mean.  If I think what I have isn't warm enough, I just put another layer under what I would normally wear.  This has worked great for me all the way down to -20 C with a wind chill of -30 C!!
I won't get into all the specific gear I use as that would get really boring but I've included a great link from the Runner's World website that is a guide to help with what to wear when it gets cold.