All of us down here at The Run Commuter's Atlanta, GA headquarters decided it was time to get some new packs to test out, so over the next few months, we'll have some in-depth insight and detailed field test results from a handful of running backpacks. First up, the Deuter Futura 22.
Volume: Very roomy; enough space for work clothes, lunch, and a winter jacket
Strap Padding: Very thick and comfortable
Bottom Pouch with main compartment access
Raincover is effective and does not use a plastic toggle spring
No pouches on waist strap
Cannot access side pouches while running
No blinkie/light attachments on back of pack (I use Amphipod Vizlets in between the dual zippers for low-light conditions)
It should be noted that these certainly wouldn't keep me from purchasing this pack.
Let's Get Down to Details
The front of the Deuter Futura 22 includes a large, fold-down zippered accessories pouch at the top, and a rounded, dual-zippered compartment at the bottom. Inside the accessories compartment are several standard mesh pouches and key clips for keeping your small items organized and in-place while moving.
Both sides of the pack feature elastic-topped pouches which are crossed over by the packs lower set of external compression straps. Each pouch is partially-covered by reflective material that wraps around to the front of the pack.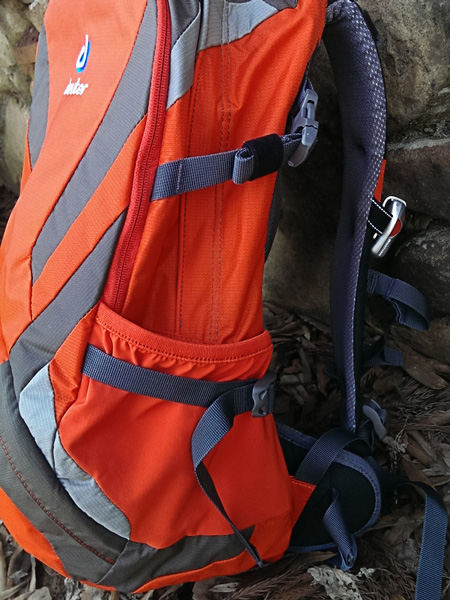 Each side includes an elastic pouch and both a lower and upper set of external compression straps.
The main compartment, while very basic, is extremely roomy. It easily fits my Eagle Creek Pack-It Specter, winter jacket, lunch, and extra running gear, with space to spare. The Futura is hydration compatible, and includes a hydration sleeve and velcro attachment (shown below,) as well as a tube slot at the top of the pack.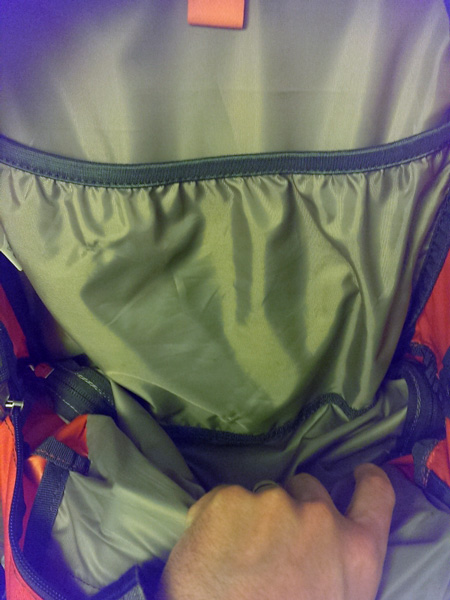 The spacious main compartment, with hydration sleeve and attachment
Deuter's breathable suspension system, called AirComfort, is very similar in concept to the AirSpeed frames that Osprey manufactures. The one noticeable difference is that the Futura's wire frame forms an "X," whereas Osprey's lightwire frame forms a rectangle. This gives the Futura a little more malleability at the sides, allowing it to contour to your shape a little better than the Osprey.
In my opinion, a rain cover should be a feature on any pack you use for run commuting. If you get caught in a rainstorm, you only have to stop for a few seconds to unzip and cover your pack, keeping nay electronics and dress clothing dry and out of the weather. Deuter even added a reflective logo to the cover, so when it is on and covering up the pack's standard reflective fabric areas, you still have a little extra something to keep you visible to drivers.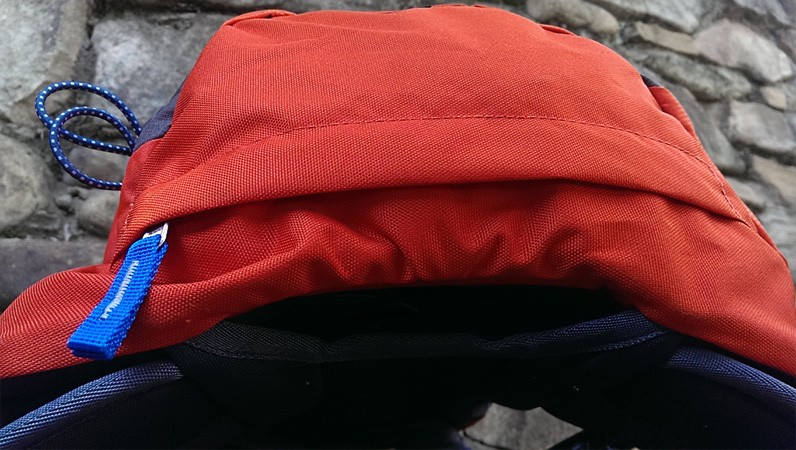 The Futura's rain cover is found at the very bottom of the pack.
UPDATE:
People were asking if the Futura fit a laptop or not. Short answer – it does! It sits inside a little weirdly due to the curved wire frame of the pack, but it works! See pics for more detail.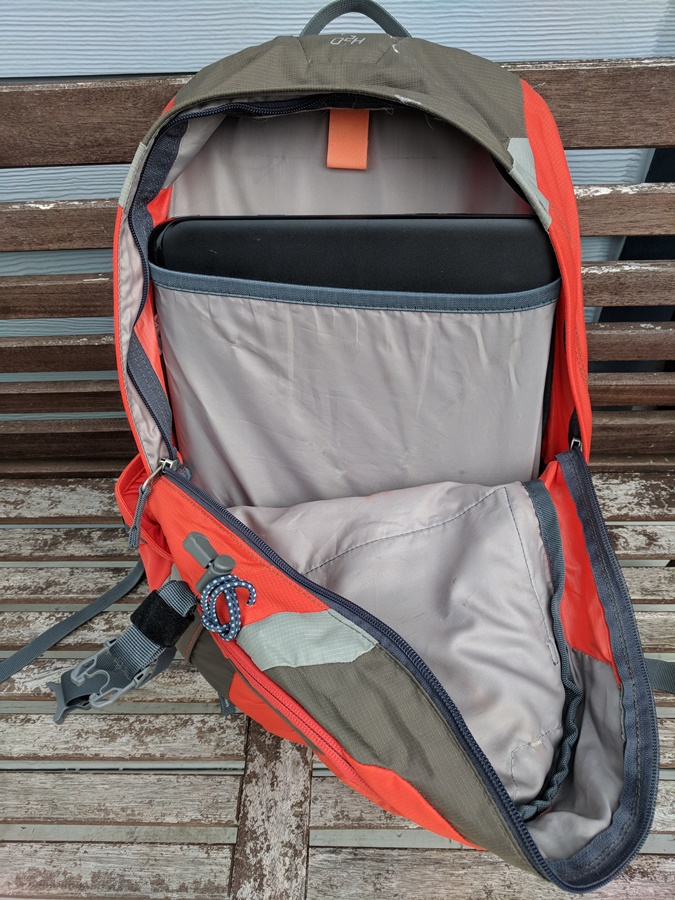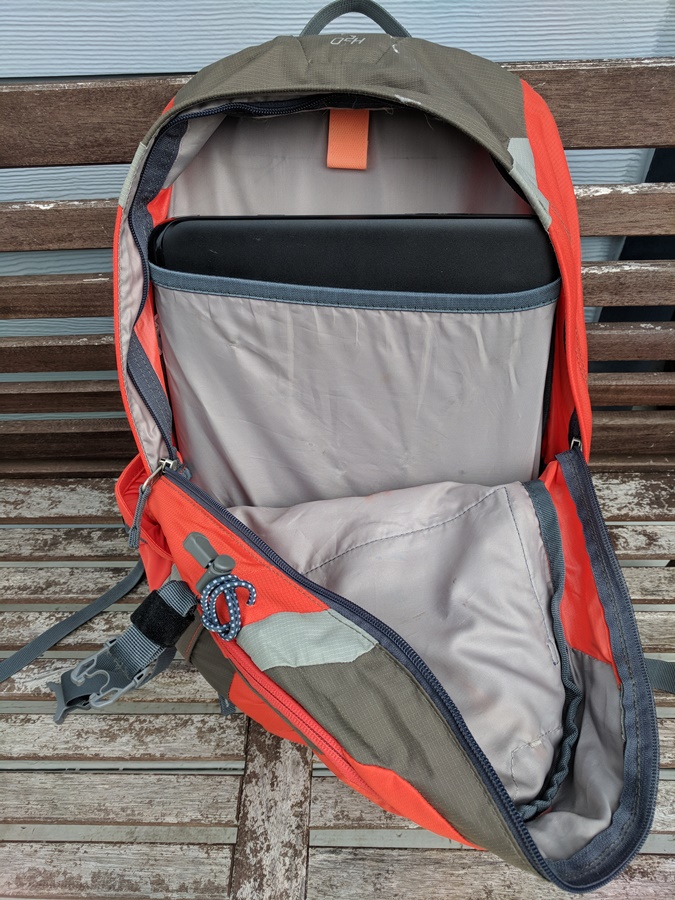 15-inch laptop secured inside inside the Futuras hydration sleeve.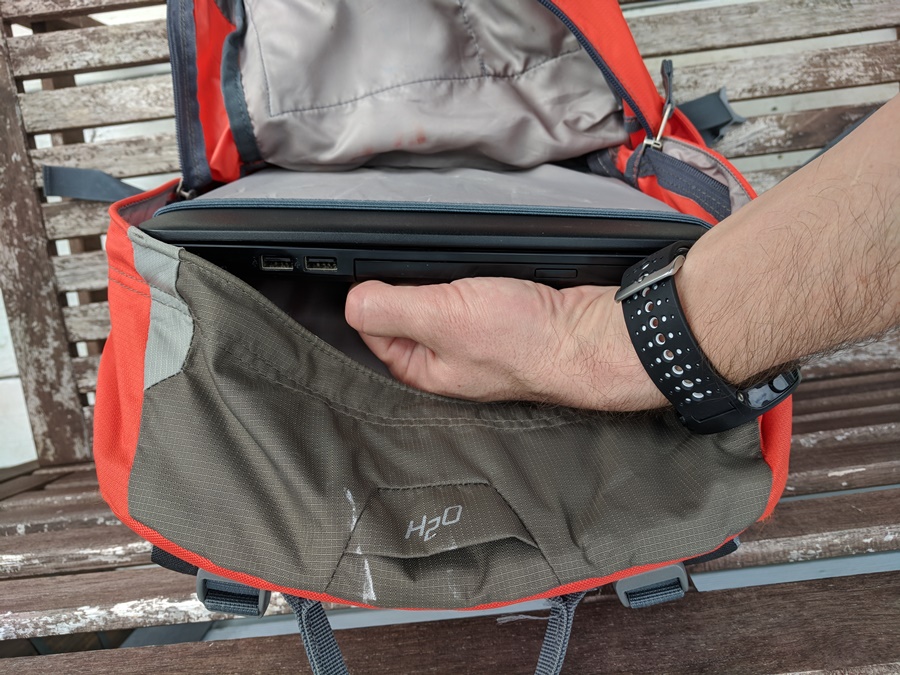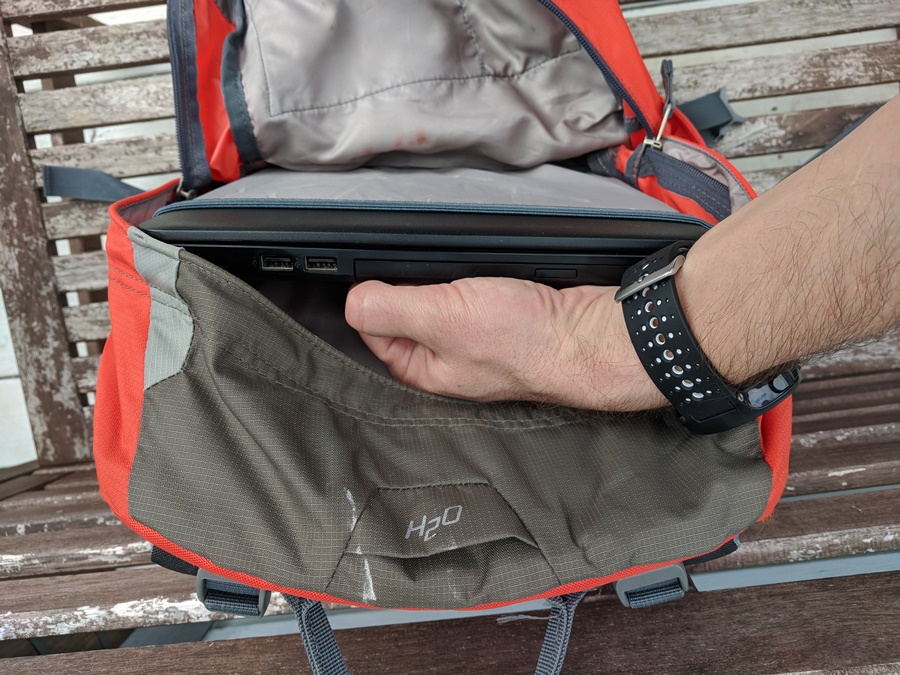 Due to the curved nature of the pack frame, any flat rectangular object placed against it creates a space at the lower and upper ends of the pack. No worries, though…the laptop rides securely.