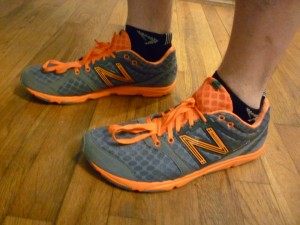 I have been using New Balance MR10's over the last year and love them. However, there is one thing I don't like about them – how fast the sole wears out. A New Balance employee at my local store told me that they should be replaced after 250 miles. I was already at 450, the heels and soles were worn down, and my toes and feet were starting to really feel the ground. 250 sounds like the right replacement mileage, but running 1000+ miles a year would require me to buy 4 or more pairs of these per year at $100 a pop. So, I was excited to hear about the thicker sole and similar style of the New Balance 730's and ordered a pair from Running Warehouse to try out.
The New Balance 730's are the perfect mix of minimal shoe: They're light, breathable, roomy, durable, inexpensive, have more cushioning than a traditional minimal, and have a small heel-toe drop. Here's how they ran:
Initial Run (4.75 miles)
– Firm, stiff soles. They became comfortably flexible after 2 miles into my run.
– Lightweight. 7.3 oz.
– Breathable. I could feel wind blowing through the shoe.
– Ample toebox. I could easily splay my toes and still not touch either side.
– My calves were sore after the initial run. With just a slight change in heel-toe drop – from 4mm in the New Balance MR10's to the 3mm drop of the 730's – I could feel the difference afterwards. That's why we recommend a slow transition from traditional to minimal shoes. No one wants to suffer an unnecessary injury that will keep you from running…
Adjustment Phase (2 Days)
Due to the calf stiffness I was experiencing, I decided to wear the shoes around for a couple of days so my legs could get used to them while walking. This worked surprisingly well and I was soon ready to crank out some more running miles.
Additional Mileage (16.25 miles)
– Soles are solid (though flexible) – not a lot of shock absorption.
– Tongue drifts to the sides under the laces. There is no lace guide on the tongue, which would help to hold it in place.
– A lot of ground feel. I tried them out on some small-medium gravel and you can definitely feel it on your feet. I was also surprised I could feel the smooth, rounded edges of paver stones on the sidewalk.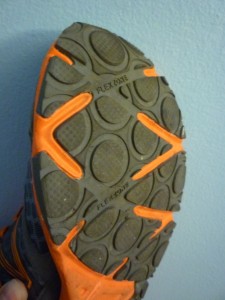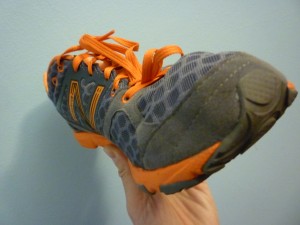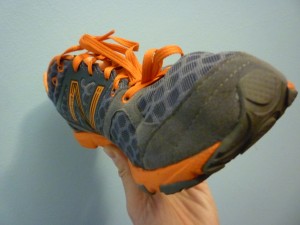 So, should you buy them?
Yes – but only if you are already comfortable with a minimal heel-toe drop, or you have some time to get used to them in training. They're ridiculously inexpensive compared to similar shoes of it's kind (as low as $50 a pair!) and you'll get a fair amount more mileage out of them, too.
Note: These shoes were purchased for use by the author.