About four years ago, in the midst of my transition from conventional running shoes to more minimalist ones, I was offered a quick glimpse of what I thought were the ugliest shoes ever made on this planet: the Hoka One One. I just could not picture myself run commuting in them without becoming the laughing stock of the Ottawa running community.
Then, in the past months, The Run Commuter published a few (serious) articles about using them for run commuting. At about the same time, I started having some troubling leg pains, which forced me to cut back on my run commuting habits (I also turned the big 4-0 around the same time). This was not a good thing, and I started looking for ways to be able to get back to a normal run commuting regime. I tried many things (physio, osteo, massage, sports medicine, etc), but none of them really solved my problems.
At the end of February of this year, being a bit despaired to see my weekly run commuting mileage go down in such dramatic fashion, I tried something bold: I bought a pair of Hoka One One Huaka. This turned out to be a very good decision.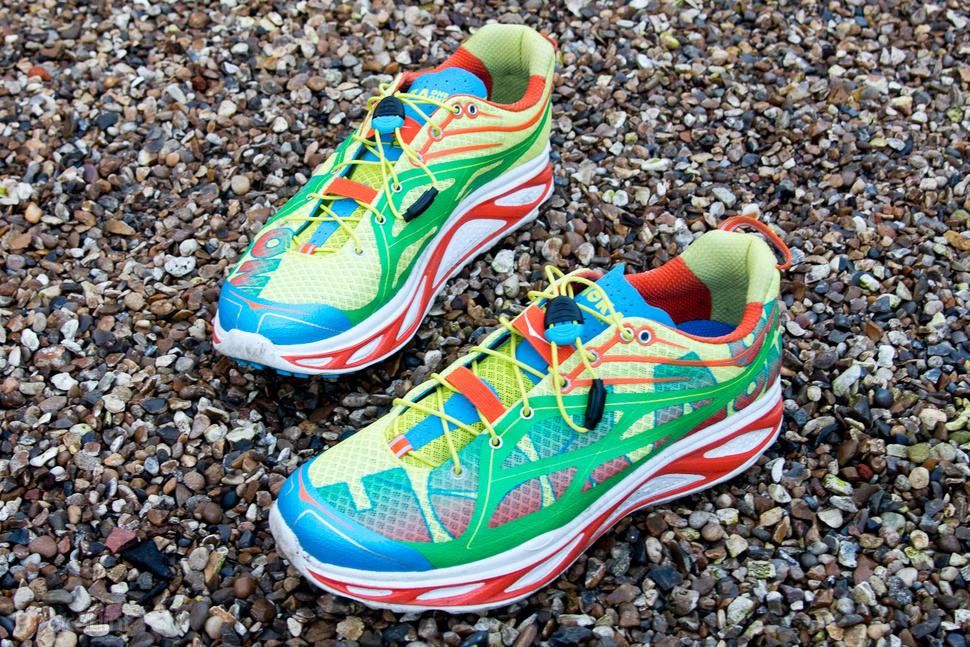 Within days, I was able to run distances that I could only dream of running a few days before. My run commuter partner made lots of fun of my shoes, going as far as telling me, jokingly, to run a few feet in front of him to avoid him the embarrassment. I did not pay any attention to him: these shoes were getting me back on the roads and it felt great. To this day, running in my Huakas is still the same treat that it was the first time.
Hoka One One shoes are a great addition to the toolkit of serious run commuters that have entered the master zone. They are a great shoes to wear at the end of the week, when your legs are tired and the pain is uncomfortably increasing.
Running with a pair of Hoka One One is like running on soft packed ground all the time. Despite their thickness, the stability is OK, and weight is similar to any normal running shoes. Their only downside is that the increased volume of foam tends to wear off faster than in a normal pair of shoes. Despite that, I intend to keep a pair in my run commuting rotation at all times, even if I have to buy them more often than other shoes.