"Hair is a woman's crowning glory", according to my grandma. Granted, she's 95 years old, and we might hope that nowadays women are appreciated for more than their hair, but to an extent my nan is still right: for many women, long, flowing locks are still the go. When they're styled-up or blow-dried they're magic. But what about post-runcommute sweaty, frizzy, out-of-control long hair? I would hazard a guess that long hair is the reason that many females who are potential runcommuters baulk at giving it a try.
If you are just such a female — contemplating run-commuting but put off by the 'long hair problem'– trust the women who have runcommuted before you when they say: it can be negotiated successfully.
Here is both the Good News and the Bad News from the perspective of the female no-shower runcommuter.
The Bad News:
Long hair that has been sweaty can become dry and feels disgusting for the wearer.

Due to this, you have to commit. Always fully wet your head—scalp and hair—with fresh water, no matter how inconvenient this may initially seem.
The Good News:
Once you have done this a few times (wetting your hair and scalp thoroughly) it simply becomes a part of the general run-commuting routine, and is no more of a hassle than anything else.

Shampoo is not necessary (unless you don't use hairspray or other product on your hair, in which case you may need to use a tiny bit of shampoo just to avoid the 'earthy' smell of hair washed in water only).

As both Josh and Kyle suggest, have a proper shower before leaving home. This will mitigate all sweaty-hair problems somewhat.
A few gals with long hair who haven't let it slow them down…..
Products Used
Hair Towel:
Long hair necessitates one additional product for female no-shower run-commuting and it is…..the extra towel. In the name of successful hair management, a sufficiently absorbent, sufficiently large extra towel is the key piece of equipment. It needs to be able to absorb as much water as possible if you want your hair to be as dry as possible. It also needs to be large enough to be securely tied up. Not the same kind of miniscule stamp-sized micro-towel that might be perfect to dry your body with, as it won't be long enough to wrap up your hair and tuck back into itself. Specific 'towel-turban' products exist (see below). Crucial here is pre-run practice: wrapping your hair in the towel before using it on a real life runcommute, to make sure it's long enough.
Some specific towel-turbans:
(Click on all images to open product page in Amazon.com). This one looks chunky, but purports to do all kinds of super-technical hair-drying. Claims it is: "Super Absorbent Will Suck The Moisture Right Out Of Your Hair." Gosh!
This one is less chunky, and it's patterned:
Other towels:
You may need either one or two towels to wash and dry your body, depending on whether or not you embrace wetwipes. If you do, then you may need only one towel, probably a micro-towel such as those reviewed by Josh in his 'Destinkify' post, to dry your skin after you have wetwiped it. If you prefer soap and water, or plain water, you can use a face-washer sized micro-cloth and wet it to clean your skin. Then you'll need another, probably slightly larger, towel or cloth to dry your skin.
The fluffy cotton basics (I just love the brand name of these ones!):
And some high-tech functionality ones, which claim to remove makeup with warm water only!
Finally, the 'cheap and cheerful' 24-pack:
Hair products:
Hairspray, styling gel or mousse or other hair product
OR
Makeup:
Whatever your usual makeup products. See 'methods' for further advice.
Optional Changing Robe:
This can be either a home-made job, a basic store-bought beach product, or a full-on, warmth-focused professional outdoor sports DryRobe. If you run-commute in really cold conditions, you might want to check out DryRobe's range of robes that you can change underneath. Their robes are used by pro surfers and so on, to stay warm or when changing on a cold beach. The inside of the robe is synthetic lambs' wool. Check it out here:
Hair-wetting container:
Can be anything from your soap container to a vessel you have specially designated your 'hair washing' container – your choice! I use a very small, soap-bar sized clip-lock tupperware container that also holds my soap. I put the soap on the basin and then use the container to wet my hair and scalp. (See pic)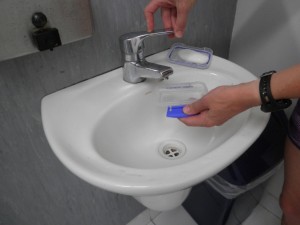 Flip-flops:
You'll need flip-flops to allow you to get out of your running shoes and socks, but without exposing your bare feet to the germ-party that is a public bathroom floor. Theoretically, you could take off your running shoes and put your work shoes on immediately, but you can't put your clean underwear/tights on until you've wiped down your legs and 'business' areas, and it's hard to get them over your work shoes. The issue of balancing on high-heels might also come into play if you wear heels.
Step 1. Post-run-commute: Claiming a 'clean up' space
Pick up your makeup/towels/flip-flops/changing robe from their storage place (See Note 1 at end).

Proceed to the bathroom.

Go into one of the toilet cubicles and hang your pack on the back of the door. (See Note 2).

Go back out to the washbasins, whilst still in your running gear, and wash/rinse your hair and scalp under the tap or by tipping water over your head from your container.

Once you have sufficiently rinsed the sweat off your scalp and hair, wrap your hair up in your 'towel turban'.

You can now proceed back into the toilet cubicle for Step 2: Gettin' Naked!
Step 2. Gettin' naked! (and then washing and getting dressed again)
In the cubicle, strip off your running clothes, leaving your towel turban on.

Use your wash/dry towel to wipe your limbs, torso, and private areas down, and then to dry them. The method for this last directive changes depending on your choice of 'washing' equipment.
Chemical-covered wet-wipes are technically supposed to be safe to use on your 'lady parts', given that they are used on babies' bottoms, which are surely some of the most sensitive skin around. However, everyone's skin is different, and some women may find it more pleasant to stick with plain water.
If so, this may require a thinking-through of method.
The wet-wipes method:
Go back into your cubicle

Get naked

Wipe down your body with wet-wipes

Dry your skin thoroughly with your dry towel.

Apply body powder if desired.
If you eschew wet-wipes, there are two methods you can adopt for the body wash:
No wet-wipes method 1:
Whilst still dressed in your running clothes, but having wet your hair and tied it up in your 'towel turban', wet your 'washing' cloth/microtowel thoroughly under the tap. Squeeze it out until most, but not all, of the water is out.

Take it back into your cubicle. Shut the door (!)

Hang the wet cloth on the hook over the top of your pack

Get undressed

Wash your whole body bit by bit (except your face).

Hang the wet cloth back on the hook.

Use your dry towel to dry your whole body

Get dressed

Exit the cubicle. Wash out your wet cloth, refresh the water it is holding, and wash your face and neck at the basin.

Dry your face and neck with your dry cloth.
Some people may feel that there is insufficient refreshing of the water in the wet cloth when using this method. For example, you may feel like you want to wash sweatier areas in a separate 'go'. If so, the second method is the one for you.
No wet-wipes method 2: (Start off in the same way as per Method 1 up to and including "Get undressed".)
Put on your 'changing robe' (take a moment to feel smug that you have a 'changing robe'…).

Using your cloth underneath your robe, wash the sweatiest (or least sweatiest, your choice) areas on your body with the wet cloth.

Still wearing your changing robe, exit the cubicle, rinse wet cloth under tap, refresh with water, and either return to cubicle to wash remaining areas, or wash them in public, underneath your robe. Your colleagues cannot complain you are being indecent, because your nakedness is hidden under your robe!

Once washed go to cubicle, shut door,

take off changing robe so you are completely nude, and use your dry cloth/microtowel to dry off your body.

Get dressed in work clothes. At this point you should be dressed, but still wearing your towel turban on your wet hair.

You are now ready for Step 3. Hair Management.
*Remember though, if you go with the wet wipes option, throw them in the bin, don't flush them down the toilet! See here for why (but not if you're eating whilst reading this post).
Step 3. Hair Management
There are a few options here. The easiest is to wear your hair up for the day somehow. This reduces the need for product, though a full head of wet hair sitting there all day can feel 'heavy' and cold in winter or cold workplaces.
If you want to leave your hair down, you can either blow-dry some of your hair before applying product, or just apply product straight to your wet hair. (See Note 3).
Step 4. Makeup
Conclusion
Female-specific 'no shower' runcommuting is the same as runcommuting in general. It is all about planning and organisation. As with many things that require planning and organisation, the payoffs are totally worth it. Try it tomorrow.
Notes
Note 1

: If you don't have a private filing cabinet or drawer or any other place to permanently store your makeup, you may need to adopt Kyle's 'secret ceiling panel' method as detailed in his 'From Sweaty to Office-Ready' post.
Note 2

: Most toilet doors have hooks on the back. If your workplace has toilet doors without hooks, you have a problem! My advice in such a case would be to either: ask management to install them, or install one yourself, without asking.
Note 3

: Some workplaces will now have those blow-driers for hands that are designed to blow upwards, from waist-height, in a narrow slot in which you lower and raise your hands to dry them "in ten seconds". This is an unfortunate development for the long-haired female runcommuter, as it is impossible (though some have tried) to stick your head in a five-centimetre slot. Technology: always changing, often for the worse. If your workplace has invested in such machines….I have no advice. Suggestions welcome in the comments below!
Note 4

: Personally, I don't use a huge range of makeup products, so I've been able to adopt the method of simply buying a duplicate set of products. This may be more of a hassle for women who have an extensive or expensive set of makeup products costing hundreds of dollars. But think of it this way: you'd have to buy another set eventually anyway, for runcommuting you've had to buy two at the same time but they will last double the time.