"I could NEVER run to work. There is no shower in my building! What am I supposed to do to get clean and not stink?!?!?"
We hear this a lot; usually when talking with someone who is thinking about starting to run commute, or while engaging others in discussions on the web. And, yes – some people do have legitimate reasons where a shower is absolutely necessary post-run (long hair, for instance). But for those whose offices lack a shower, you can still be a well-groomed employee without smelling offensive.
Stephanie has told us how she packs her clothes for the commute; Kyle wrote about cleaning up in Part 5 of our Getting Started series; and, Anna – in our latest edition of The New Run Commuters – showed how she dries her running gear after arriving at the office. Over the next few months, we'll highlight a few pieces of gear, as well as common, everyday supplies that will help you look, and smell, your best at work. First up – towels and cloths.
———————————————–
One of the more important items to have for a no-shower cleanup (besides baby wipes) is a towel. I use two – one that I get wet for cleaning, and one for drying off. To help you get yourself as clean as you can after a run, here are a few I've tried in the past few months and what I though of them.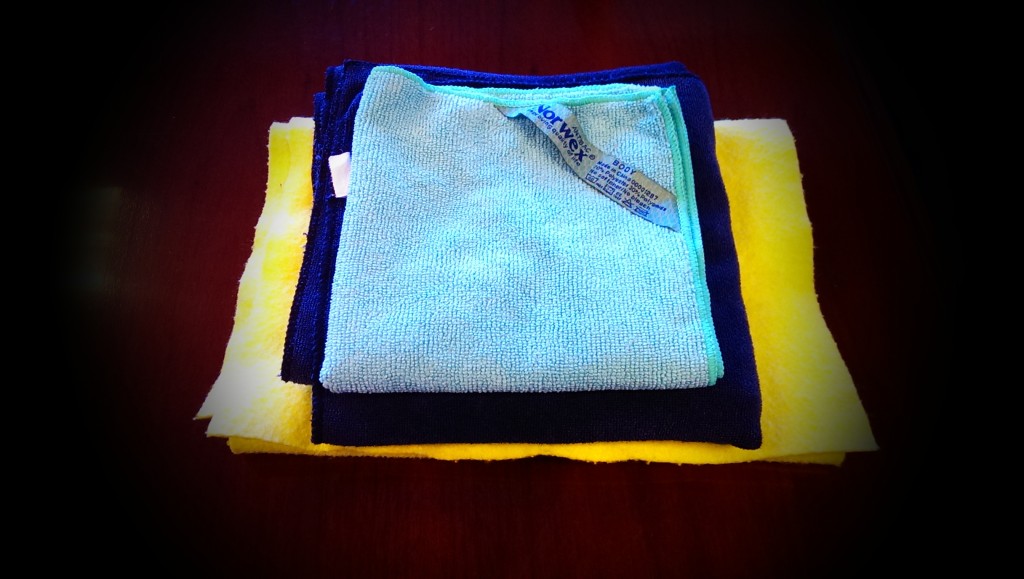 We were contacted by a Norwex representative who happened upon our site, and she said she was going to send us something she thought would be a great fit for run commuters who cleaned up without a shower. Several days later we received a Norwex Body Cloth, and we tested it out over the course of a several weeks at the office.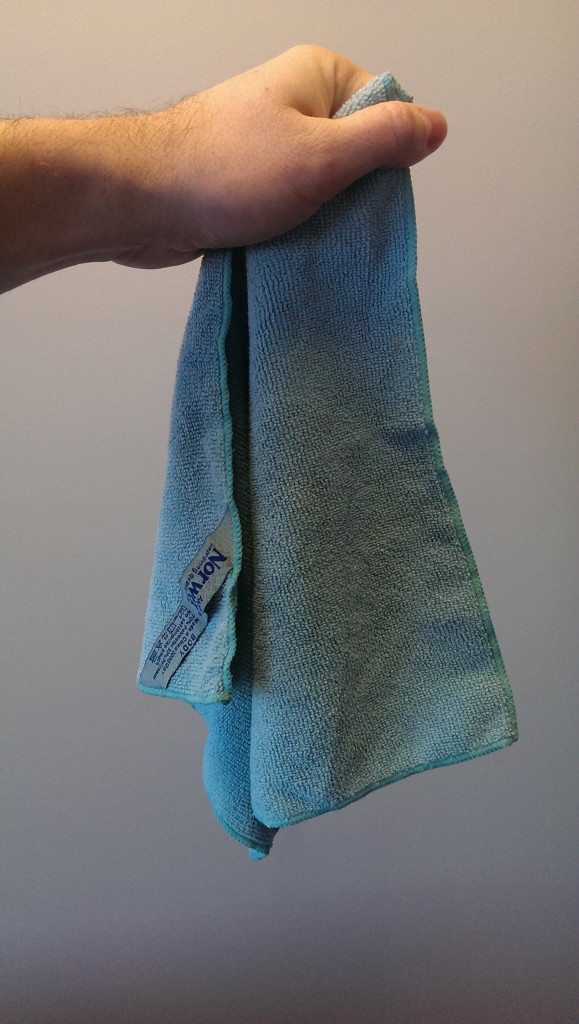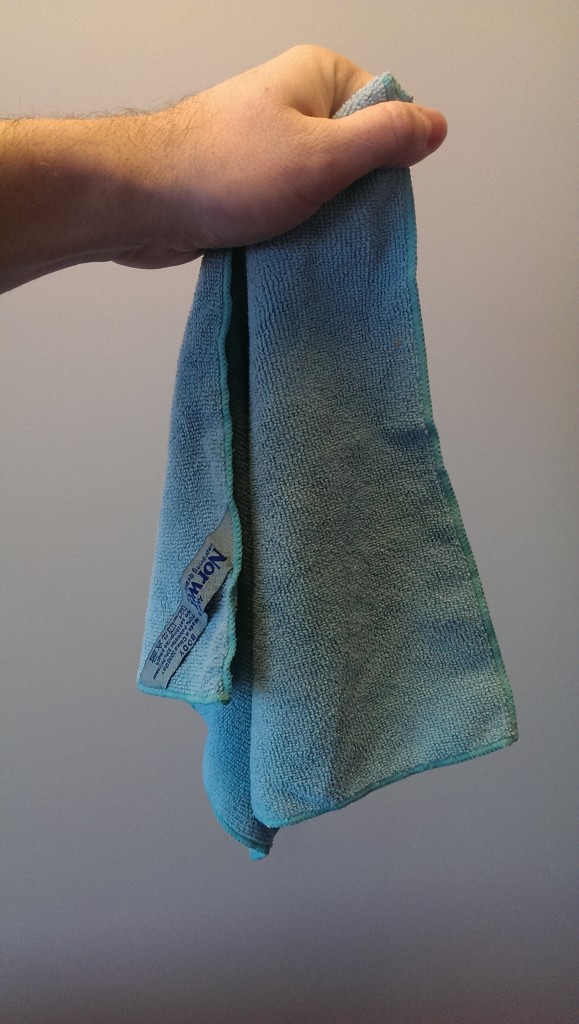 First Impression:
The cloth is small – about 12″ x 12″ – and is made of a blend of 70% polyester and 30% polyamide. Like most microfiber towels and cloths, it's a little "sticky," in that it catches on any slight imperfections it finds; dry skin, for example. It is also impregnated with silver, which is supposed to inhibit bacterial growth. The test cloth is green, but it comes in five other colors.
First use:
I arrived at the office and cooled down as I normally do. I used baby wipes over most of my body, put on antiperspirant, got dressed, and headed to the restroom. Per the instructions, I wet the Norwex towel down thoroughly, and wrung it out. As I cleaned off my head and face, I noticed two things about the towel – It was extremely refreshing and it smelled really good. After cleaning up, I felt just a little cleaner than I normally do if I just use wipes. It is probably due to the fact that the baby wipes I use leave a moisturizing film on my skin after each use, and was removed by the wipe-down with the towel. Back in my office, I hung the towel up and by lunchtime it was dry.
For the next several weeks, I used this over and over, bringing it home after a few days and washing it. The towels are sold in a pack of three, which should get you through a full work week. At the end of the week, take them home, wash them, and you are ready to go for another week.
Conclusion:
This is a great piece of gear for run commuting. It functions extremely well as a wet cleaning cloth. It cleans the skin very thoroughly, rinses easily, dries fast, and can be used for quite some time before washing. The cloth doesn't stink. You don't stink. The world is good.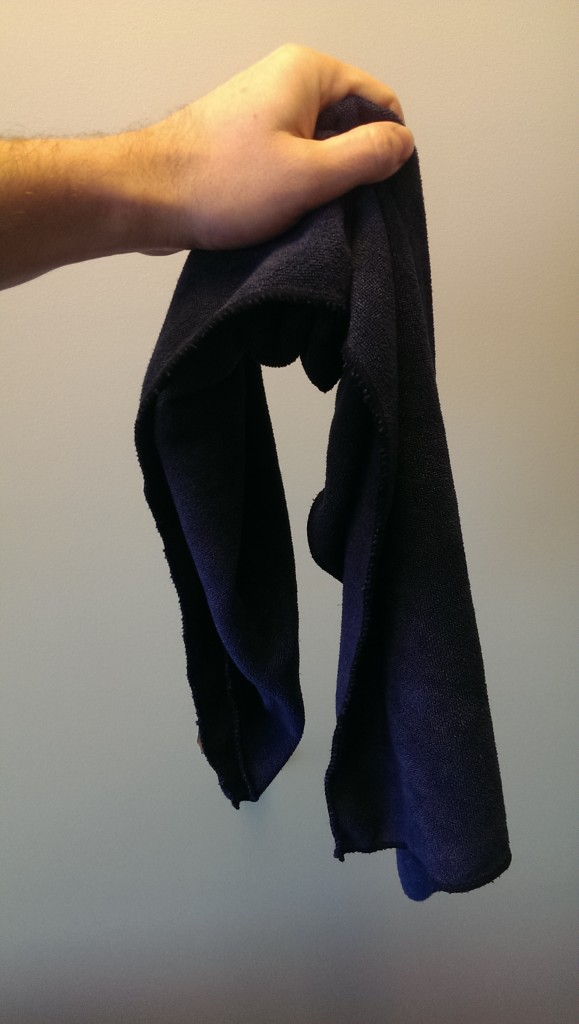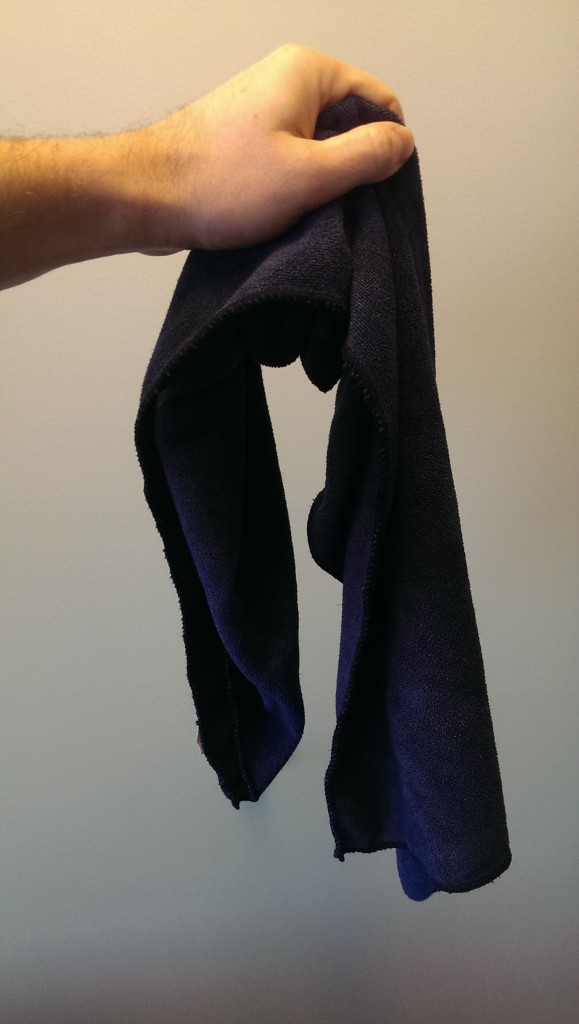 First Impression:
The largest of the the three towels, the Divatex Sport Towel is 24″ x 47″ in size and, like the Norwex microfiber cloths, extremely soft. It is made from 80% poly/20% nylon, and is thin – about half as thick as the Norwex or Coleman towels.
First Use:
After cooling off, wiping down, and getting partially dressed (pants, shoes, undershirt), I grabbed the Divatex and headed to the bathroom. In this version of the cleanup, I used the water from the sink to wet the skin on my head, neck, and face, then scrubbed with soap and rinsed, using the towel to dry off. I repeated the same with my arms and chest (a wash/body cloth, like the previously mentioned Norwex, works best here) Drying off with the Sport Towel was quick and comfortable. The material is soft against the skin, and absorbs water much better than a standard cotton towel. Once finished, I returned to my office, finished dressing, and hung the towel up to dry.
It didn't pick up any offensive smells during the testing week and could probably have been used unwashed for two weeks, however, I recommend washing it with your running clothes once a week.
Conclusion:
This is a solid piece of gear. It's a great, lightweight drying-off towel and can go for extended periods of time without washing. And, don't be fooled by it's small size compared to a regular bath towel – it will completely dry you off after a shower.
I purchased this several years ago while researching camping, backpacking, and traveling gear that could also be used for run commuting. It was very inexpensive and looked like it would fit the bill for the post-run cleanup.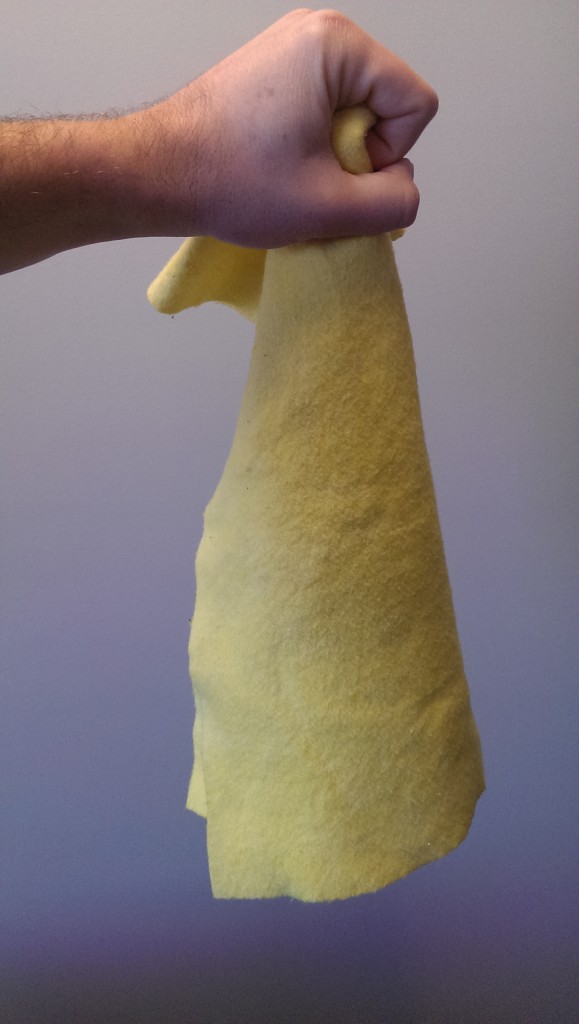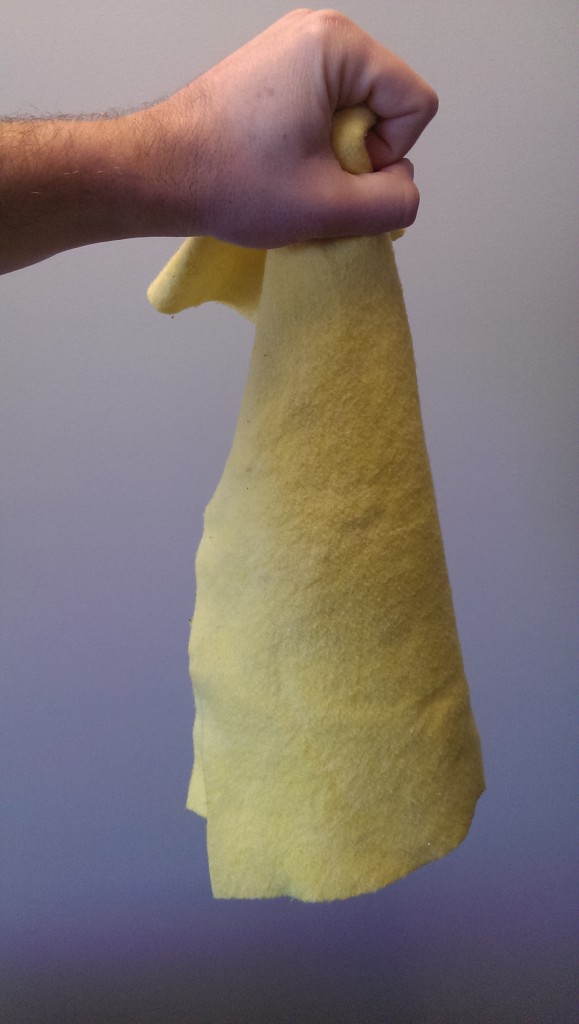 First Impression:
Made from "non-woven polyester," the Coleman Camp Towel has a completely different feel to it than the microfiber towels. It's rough, scratchy, and very lightweight. But look how easy it is to spot in that smashing yellow color! It measures in at 20″ x 27″.
First (and last) Use:
I repeated the same procedure I had with the Divatex Sport Towel and the first thing I noticed was that it is scratchy as hell – just downright uncomfortable against the skin. It's hard to describe it's absorbency. It's hard, because I could not tell if it soaked water up, or merely pushed it off me, similar to that thing you do when you turn the shower off in the morning and realize there isn't a towel within 50 feet of you – just brush off as much as you can and hope it is good enough.
On the upside, the thing dries more quickly than any towel I've ever used. That might be due to the fact that it never really gets wet though (just a hunch).
Conclusion:
No. Don't use it on yourself. Don't use it on others. Don't give it as a gift. Leave it in it's natural habitat: the camping section of a WalMart store.