All computers eventually fail. Ones that move a lot, fail a lot faster. Backup your data.

– IT department email to a run commuter
Should you run with a laptop? Or, like the IT specialist's email from above hints at, should you avoid it all costs? Buckle up, run commuters – it's about to get a little bit wordy… and a little bit nerdy.
——————————————–
Do you really need to run with a laptop?
We recommend that you do not run with a laptop. Yes, we know some of you do it, and I myself have run with one (well, a tablet/keyboard combo) several times, but the components are just not made for being bounced around regularly. Occasionally, perhaps, but not regularly.
In this rapidly-advancing digital age we live in there are many ways you can work without transporting a laptop back and forth to work every day – emailing documents, using remote/virtual desktop solutions, cloud-based applications, or simply transporting electronic docs and data by flash drive to work on at your home computer. However, we'll just go ahead and assume that it is not possible or reasonable to use any of these options. You absolutely must transport a laptop to and/from work or school and you want to ensure that your computer is protected and your data is safe. So, I'm going to tell you what the ideal setup is, but again…not recommended.
Scroll down to the TL;DR if you don't want to hear a bunch of computer/tech talk.
—————————————
The Old Standard: Hard Disk Drives (HDD)
Inside most laptops and desktop computers, you'll find one of these. They store all the data of your computer and spin nearly nonstop all the while you are computing. When your laptop HDD is powered off, it is normally parked, or stopped in a position least likely to cause damage if bounced/moved/dropped or the head crashes.
After a very unsuccessful series of emails to the top four hard drive manufacturers' (Seagate, Western Digital, Hitachi/HGST, and Toshiba) Departments of Shaking and Dropping to get more details, I ventured out on my own to find out what I could.
For run commuters who carry HDD laptops, the main factors that can lead to hard drive failure are vibration and mechanical shock. Too much of either of those can result in head crash or separation of solder points that hold the components of the HDD together, either within it's own housing or within the laptop case.
Standard laptops are run through various tests to see how well the disc drives perform under regular and abnormal conditions. Here is Toshiba's laptop vibration test:
This is a fairly normal test in the industry and roughly emulates the slight-to-moderate bounce of a secured laptop within a backpack while running. Unfortunately, I could not find at what point a laptop will fail – only users or IT professionals saying not to bounce it if you can help it because there are many, many HDD laptops that just can't hack the continuous beating.
A better HDD laptop, would be a specially-designed, super-rugged laptop, made for extreme conditions, high levels of shock, and harsh environments, such as those encountered during military field operations. These do exist, unfortunately, there are two major drawbacks: price and weight.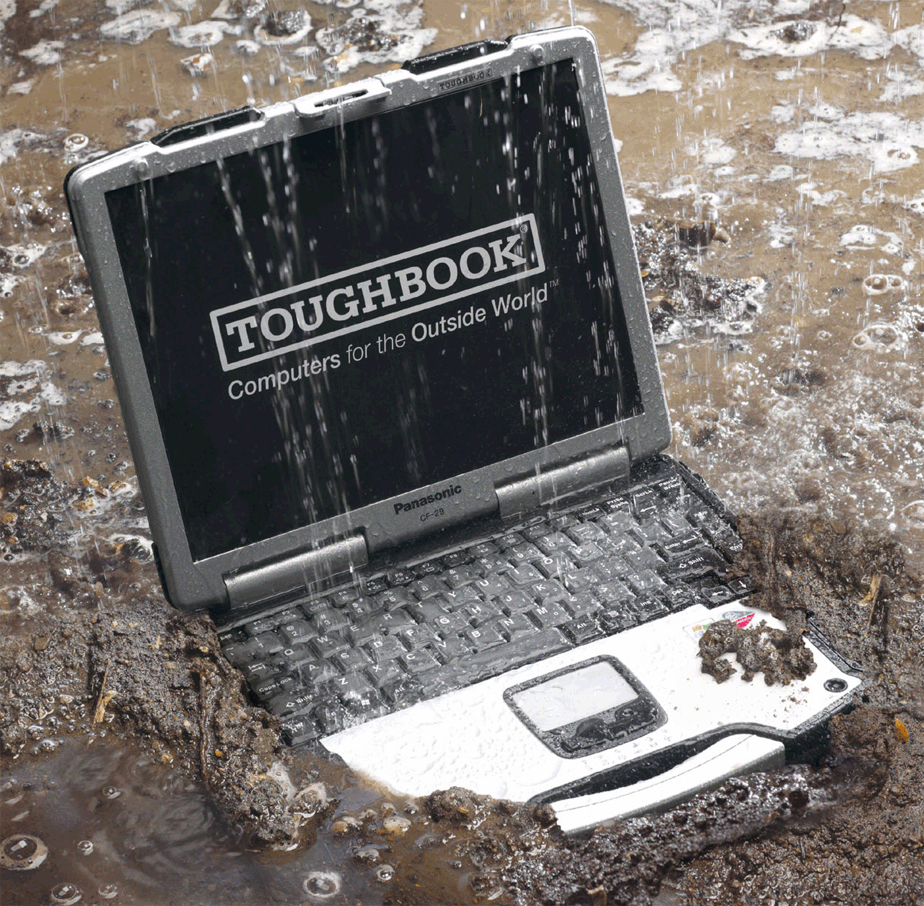 A very basic heavy-duty, military-spec laptop such as the Panasonic Toughbook CF-29 (shown above) from ToughRuggedLaptops.com is $299 USD (that's the refurbished price without upgrades) and weighs in at a hefty 8.5 pounds /3.9 kg. Add a few basic upgrades, though, and the price jumps to nearly $550 USD. Models with more features, better processors, and better components, not only cost more, but weigh more as well (the Getac X500 weighs in around 12 pounds/5.4 kg).
So let's just forget about standard HDD laptops for run commuting. They are too susceptible to vibration and break too easily. And forget rugged laptops, too. Even if you can afford one, they are too heavy to run with. So, what's left?
The New Edition: Solid-State Drives (SSD)
Unlike Hard Disk Drives, Solid-State Drives have no moving parts – no spinning discs; no heads that can crash or need to be parked – and use flash-based memory. They have many more advantages as well, including speed (both when starting up and accessing data), weight, energy-use, and operating temperature. Though they have been around since the 1970's, SSDs have only become commercially available (and affordable) over the past few years.
The reliability testing for SSDs is similar to that of HDDs, but to see how they stack up against one another, you should really check out the first dozen pages of this Super Talent Technology Environmental Testing Report (you can just look at the graphs). SSD is definitely the way to go!
Some rugged laptops are now being made with SSDs, but again, they are still pricey and too heavy for run commuting. The Panasonic Toughbook CF-30 starts at $570, and weighs 8 pounds.
You have several options for SSD computer. These include:
Chromebook – non-Windows operating system, uses web-based applications.
Ultrabooks – Windows-based operating systems, super lightweight, and thin.
Tablets – Android or Windows-based operating system, optional keyboard, extremely light, limited connection with peripherals, keyboard sold separately.
Macbooks – Lightweight, expensive.
If you have to run with a laptop, make sure it has an SSD or other flash-based setup and you should be good to go. Or, so we've heard…
Running Backpacks for Carrying Laptops
An ideal running backpack for transporting a laptop back and forth from work should have two key features; A laptop sleeve, and external compression straps.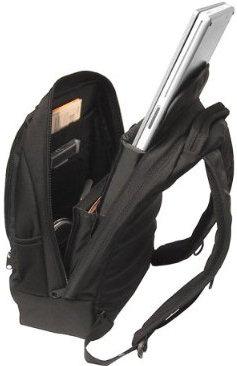 One of the categories we included in our Running Backpack Roundup indicates whether or not a laptop sleeve is present in a pack. A laptop sleeve is a designated pouch within the backpack (usually closest to your back) that can be padded or unpadded, and normally has a fastening mechanism on top (such as velcro or a buckle) to keep it closed and keep the laptop from slipping out if turned over. Even if you don't run with a laptop, a laptop sleeve is a great place to hold documents or folders and keeps them from becoming crumpled or bent.
External compression straps should be on any pack you use for run commuting, whether you carry a laptop or not. These straps can be found in one or more locations on the outside of the pack, and allow you to cinch down and eliminate any remaining empty space within the pack. Your pack might be tight as can be against your body, which is great, but if there is space within your pack that is empty, the contents will bounce around. By eliminating that space by tightening your pack's external compressions straps, the contents of your pack (inluding your laptop or tablet) will be unable to bounce around while you run.
So, which make and model should you get? We can't recommend one specifically, however, we recently asked our readers who run commute with laptops what they used. Take a look below and you might find a pack (or computing solution) that works for you.
TRC Reader's Running Rigs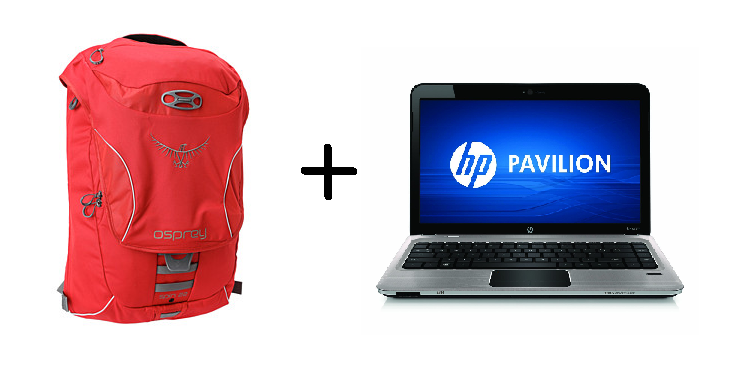 Gary uses an Osprey Spin 22 to carry his HP Pavilion DM4 laptop.
Randal uses an Osprey Raptor 14 to carry his Microsoft Surface tablet.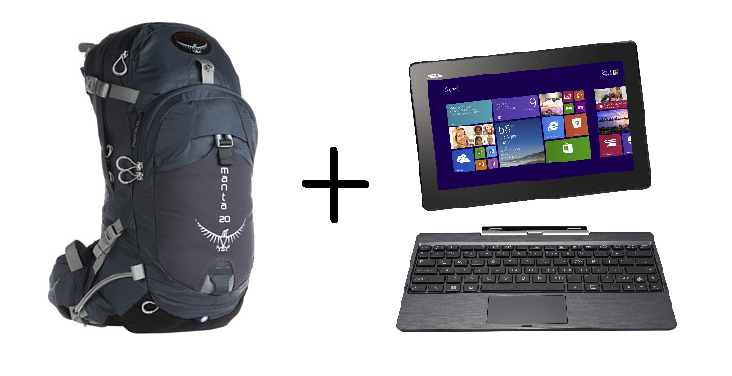 I use an Osprey Manta 20 to carry my ASUS Transformer tablet.
Another reader, Jeanne, commented that she uses a standard backpack, packing clothes around her laptop to keep it protected, and holding everything together using a race belt. There are plenty of DIY tricks like this that you could come up with yourself to make what you have now work for run commuting with a laptop.
TL;DR: We don't recommend running with a laptop. We don't want you to lose your data! Find ways around it, like using your home computer, cloud-based services, email, web meetings, etc. However, if you must run with one… Hard drives (HDD) bad, Solid-State drives (SSD) good. Get a backpack with a laptop sleeve and external compressions straps, pack it tight, cinch it down, and off you go (as infrequently as possible)!