Run or hike with a pack long enough and you may begin to notice tiny annoyances about your gear transporter that are enough to drive you crazy.
For example, your zippers may make jingling, tinkling noises with each step. The quiet, sloshing water in your bottle or hydration pack might start to sound like you're camped next to a gushing waterfall. You may even get noticeably angry at your straps that keep swinging into your arms as you move.
Some backpacks come with pre-built solutions for all these issues, but many do not. What can you do to keep yourself sane while out on the run? We're here with answers!
In our first Pack Hacks instructional post, we're going to show you how to deal with excess backpack straps.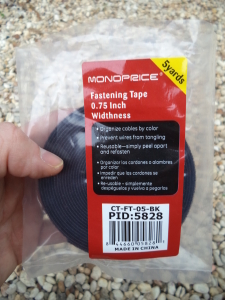 Also known as "fastening tape," velcro tape comes in a wide range of sizes and lengths and is suitable for many jobs in which things need to secured (wires, cables, yoga mats, rope, etc.).