Welcome back to another edition of The New Run Commuters! For our last profile of 2017, we're featuring Alex Zinni of Mansfield, Massachusetts. While most run commuters take up commuting by foot after years of road and/or trail running, Alex only started running this past year. To maximize family time and to stay healthy, he took up run commuting a few months ago and hasn't looked back.
—————————————————–
Runner Basics
Name: Alex Zinni

Age: 36

City/State: Mansfield, MA

Profession/Employer: Quality Engineer, Med Devices / Bridgemedica

Number of years running: 1

# of races you participate in a year: 0 (hopefully that will change soon)

Do you prefer road or trail? Road, mainly because I've never run a trail
Run Commuting Gear
Backpack: After much debate, I went with the Osprey Rev 24 M/L in blue. I have an Eagle Creek garment folder (S) that I use to keep my clothes from getting wrinkled and it fits into the Rev really well along with my shoes, toiletries, lunch (when I bring it), and extra accessories. I pack my work socks, running socks (so I have clean ones for the way home), underwear, and belt into my shoes to save space. The Rev 24 has plenty of straps to tighten it to your body. Unfortunately, my phone does not fit in the media pocket, which is slight bummer, but the bag has a nice slash pocket up at the top so it does not get wet.

Shoes: Right now I'm using the Ghost 9 from Brooks. I have wide feet and everyone said they're one of the best at making wide, light shoes with a neutral sole. So far, they have not disappointed.

Clothing: Some type of non-cotton shirt and Under Armor running shorts along with running tights, long sleeve base, and warm up jacket for when it gets cold. I also have a Salomon WP jacket just in case. I try to go with loud colors because safety.

Outerwear: Gloves in the winter, because running with cold hands sucks. I cut out a little slot for my Garmin 735xt so I don't have to roll the glove up on my left hand.

Headgear: Since I am sans hair, the Under Armor ColdGear Infrared Hood has been a must during the winter, otherwise nothing.

Lights: Blue flashing lights because everyone pays attention to blue lights.

Hydration: Water bottle in the side pocket of my backpack.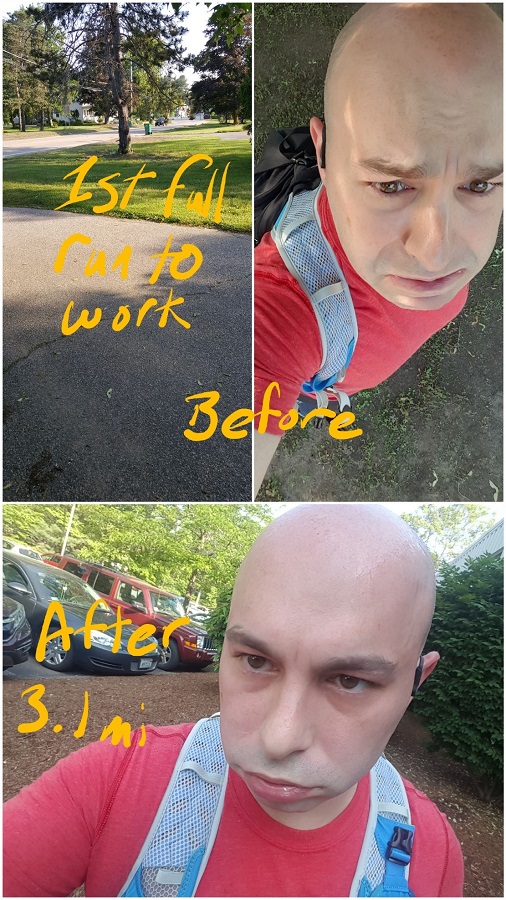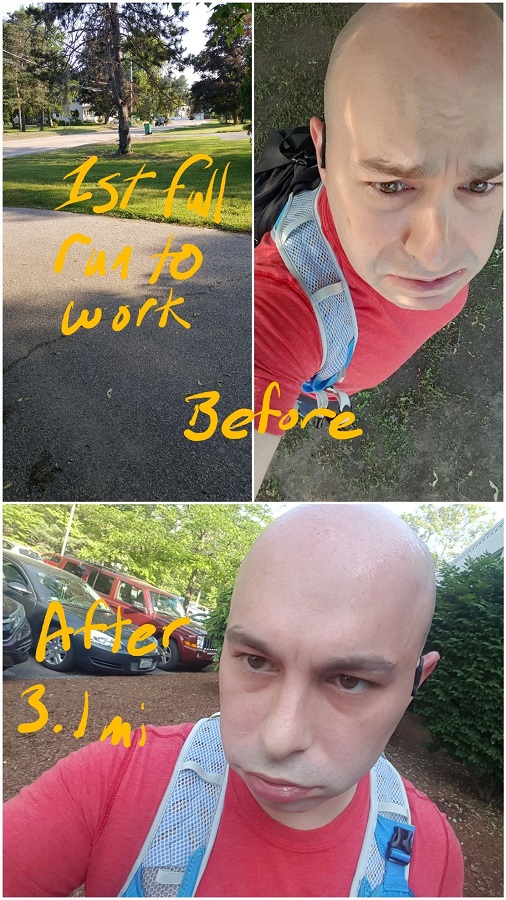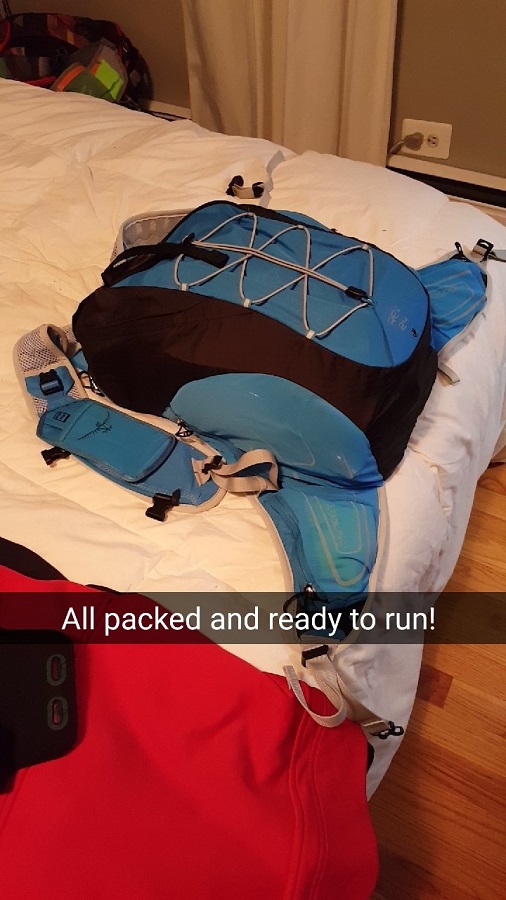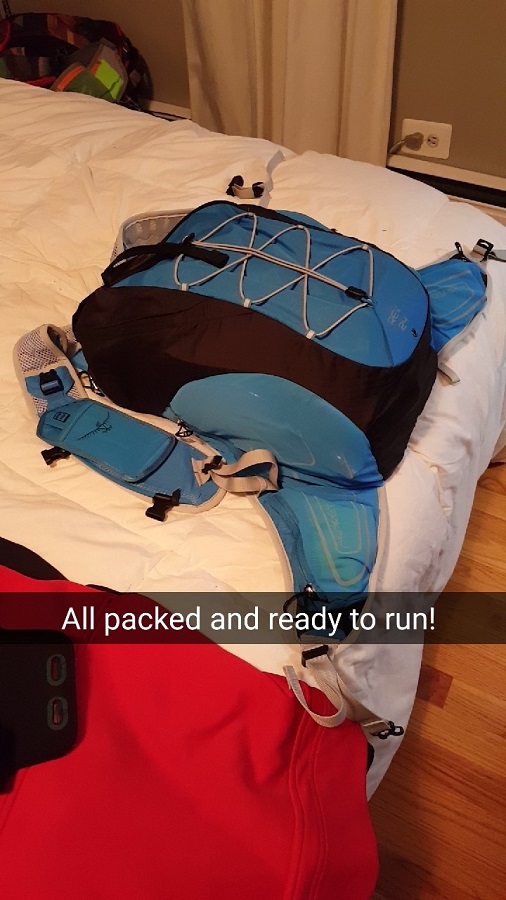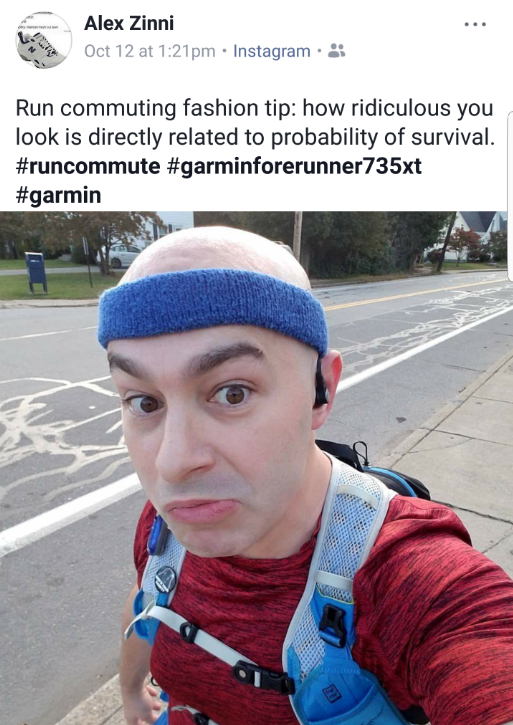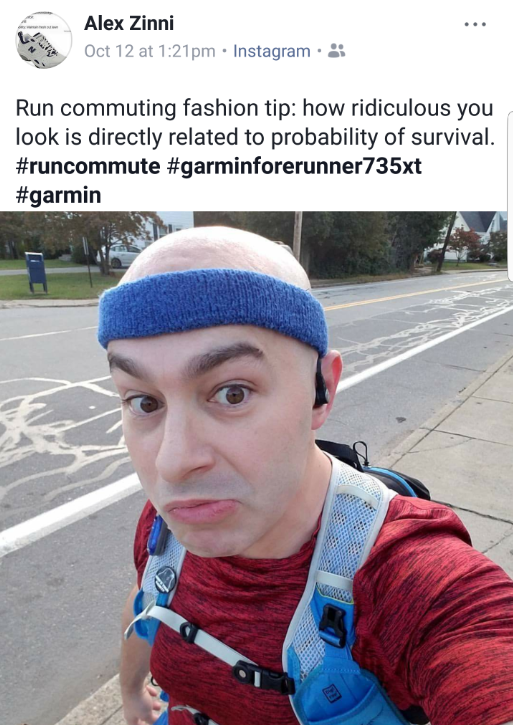 On Run Commuting
Why did you decide to start run commuting?
tl:dr = I'm fat and I don't have time to work out at a gym or run outside my work schedule. Full version… Run commuting has been the most efficient way to scratch the active lifestyle itch while maintaining our involved family life. With a wife (that works nights & weekends) and 3 kids at home, any time we have with each other and the kids is important to us and not worth giving up. But after putting on about 50lbs over the last 8 years and several half-hearted attempts to get healthy, I decided it was time to make serious change. I've been running after work and watching my diet more closely for about a year when I came up with the idea on my own to run to work. A quick search for running backpacks led me to TRC and others doing what I wanted to do. And, now, here I am…
How often do you run commute?
I'm a couple months or so in, and I'm running to work 2 times a week. As the chunkiness and shin splints decrease, I hope to add more days.
How far is your commute?
It's a little more than 3 miles one way if I take the most direct route.
Do you pack or buy a lunch?
Depends on the leftover situation, but I prefer to bring my lunch. I work really close to a supermarket, so either is not an issue.
What do you like most about run commuting?
Everything. The way I get to combine commuting and exercise. The challenge is motivating even though some mornings I just want to drink coffee and listen to sports talk in a warm car. The looks I get from people when I tell them that I run commute is priceless. Being outside is awesome. I'm so much more awake and focused once I get to work. I have an easier time staying active throughout the day, playing with my kids, sleeping, etc. Finally – my personal favorite – my wife is a fan of a less squishy me, though she promises me she loves the squishier me, too.
Do you know of anyone else in your area that runs to work?
Nope, I am the only one of my kind.
When not run commuting, how do you get to work?
Driving along in my automobile.
If you could give one piece of advice to anyone who was considering run commuting, what would it be?
I'd say the same thing that I heard in the beginning – start slowly and just do it. Do whatever you need do to ease yourself into it. For me, I was fortunate enough to need several auto repairs and my mechanic is a little more than 1 mile into my commute. Since 2 miles was my previously normal distance, it was a no brainer to drop off my car and run into work from there. It also saved me the hassle of finding a ride every time I dropped the car off. My situation was unique, but the approach would be the same – just get out there and do it. No excuses.
What are the weather conditions like for your run commute?
I live in New England, where blizzards in May and 85°F days in November are equally likely. The winters can get snowy with temps dropping as low as the 10's & 20's. The summers can get pretty hot and humid into the 90's.
Anything else that you would like to include?
I just want to thank my wife for putting up with my crazy ideas and being supportive. She's my inspiration, my quest, my love, and my friend. She is my gift and the world needs to know.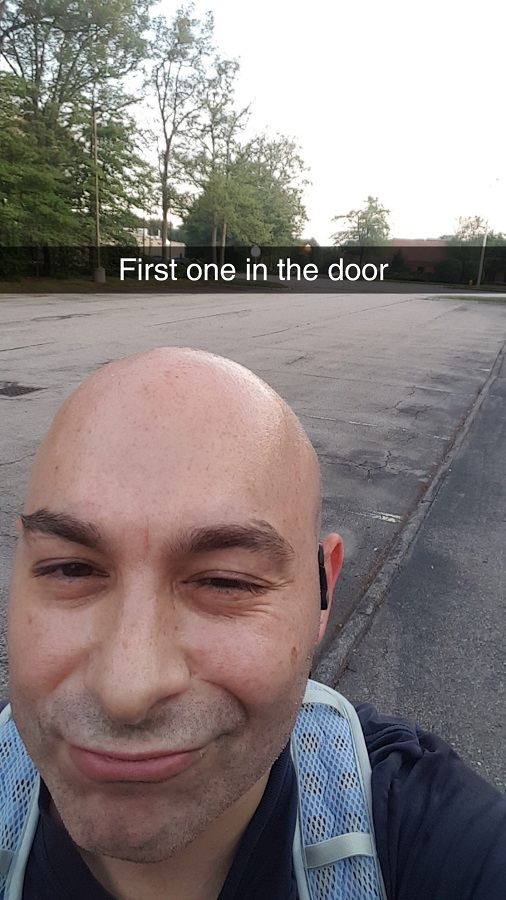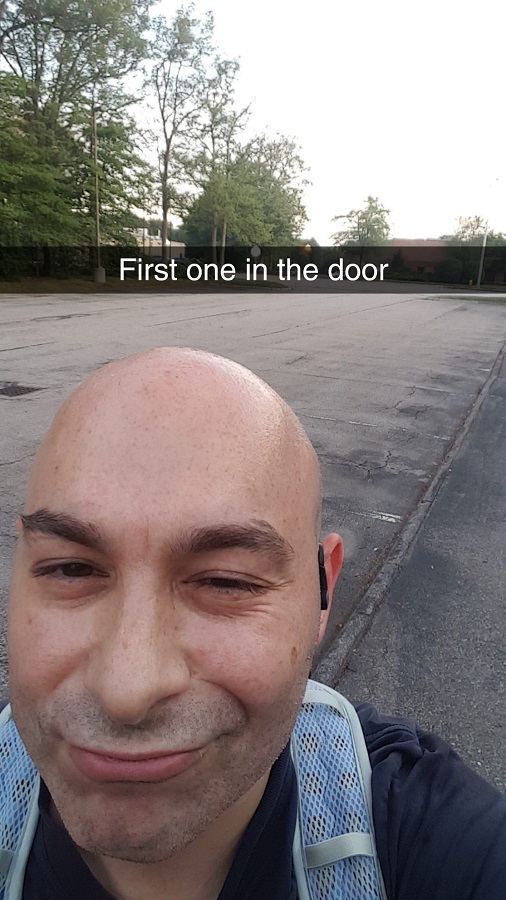 Are you interested in being featured on The New Run Commuters? If so, fill out the form below and we'll send you more details.
The New Run Commuters Submission Form