We're very excited to introduce you to Sylvia Cruz, an inspiring run commuter and passionate active transportation advocate from São Paulo, Brazil. The 29-year-old environmental manager only began running three years ago, but it had a major impact on how she sees the cityand interacts with others around her. Further, it inspired her to educate and encourage others to join the ranks of those who not only run, but run as a form of urban mobility.
She started Corridaamiga, or "running friends," as a way to connect experienced run commuters with those interested in using running to get around the city, with the overall goal of promoting active transportation throughout the country. We asked her about Corridaamiga, about running in France, Brazil, and South America, and how she got started. We hope what she is doing in Brazil can be replicated by run commuters in other cities around the world!
How long have you been run commuting?
I've been running since 2011, and started run commuting in 2012.
After your first run commute, how did you feel?
Free, strong, and even smarter!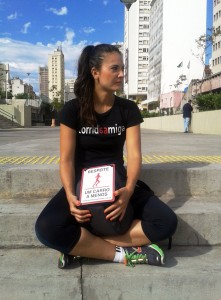 Corridaamiga founder Sylvia Cruz.
(Sign reads "Respect: One Less Car")
What other forms of transportation do you use to get around São Paulo?
If I am not running, I ride a bike. Sometimes, I need to take a bus or the subway, and less frequently, I take a cab.
In your video, you mention using running as a form of transportation while living in France – were there certain things that made running for transportation easier or harder in France compared to São Paulo?
In France, they have good quality pavements, the public places are cleaner, and the air is less polluted than São Paulo. This is obvious if we compare the urban statistics between Lille (France) and São Paulo (an unfair comparison). In São Paulo, and in Brazil in general, people are afraid to walk or run for several reasons.
First, we have a "syndrome" of insecurity. I know that we have high level of violence, etc., but I think that part of this "panic" arises from our television/newspaper that reinforces this issue too much. And, I am sorry, but according to the statistics, if you are in a car, you are not safer than me!
Second, our pavements are not of good quality, which makes it difficult – if not impossible – to safely run commute. Our public places are underutilized and badly-designed, not favoring conviviality and social interactions. We need to improve our city planning; after all, we all want to live in a better city.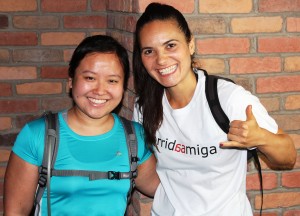 What is the state of run commuting in Brazil?
In Brazil, most of the initiatives that involve running are not related to urban mobility, but rather with running as a sport. For instance, most of big companies are used to providing running instructors as an employee benefit. Still it does not work exactly like run commuting. As far as we know, Corridaamiga is officially the first run commuting initiative in Brazil.
On the other hand, initiatives for other kinds of active commuting – such as Bike Anjo – are steadily increasing in all 5 regions and different states of Brazil. I believe this reflects a time of people power, i.e., a time where most of the more important solutions for megacity problems are being done by ordinary citizens, who utilize individual willpower and personal initiative to make something change, rather than waiting for the government to do something about it. An integration of all these solutions – individual and institutional – will give us a better scenario in the future.
How many run commuters do you know of in your city?
We don't have this number for the city of São Paulo. Since we started the network 4 months ago, we have had 48 volunteer runners (run commuters), and 54 people that requested Corridaamiga to help in their first routes, showing the best ways and sharing instructions and information about how to run in the streets.
What factors make run commuting appealing to you or others in your city? For instance, is automobile traffic terrible, or public transportation overcrowded?
Although Corridaamiga aims to have volunteers registered all over Brazil, it is based in São Paulo. São Paulo is known for its intense traffic, the incredible use of automobiles (people even use it for going to the bakery and we have bakeries in every corner of the city), and overcrowded, expensive, and inefficient public transportation. Because of this, different initiatives of different natures have come along over the last decade, aiming to be innovative solutions. Mobility is not the only focus – it is also about designing cities for people.
There are days in São Paulo where the traffic jams exceed 300 kilometers. Also, 4,000 people die annually due to problems caused by air pollution. The city already has more than 7 million vehicles circulating and Brazilians' weight has been increasing in the last years.
50.1% of men and 48% of women are overweight. We have seen a lot of initiatives in São Paulo that are geared towards increasing quality of life, while improving the individual mobility. Among these are Corridaamiga, Bike Anjo, Cidade Ativa, Colab.Re, SampaPé, Cidadera, Mobilize, Hortelões Urbanos and all of them talk about empowering people to bring innovative solutions for creating a city designed for people.
They are definitely essential, but the overall solution will come about as a result of discussions and collaboration between civil society and the public and private sector. This is what happened during the First Brazilian Run to Work Day (inspired by the Run2work day in UK): we invited people to take pictures of sidewalks in terrible conditions, so we could deliver this information to the governmental organizations responsible for fixing them, because broken, deteriorated sidewalks are also a mobility problem.
To the best of your knowledge, which cities in Brazil have the most run commuters? In South America?
I don't know of other initiatives, but in the "Corridaamiga" network, most of the run commuters are from São Paulo, Rio de Janeiro, and Curitiba. In South America, I really don't know.
Do employers or government programs provide incentives for employees who use alternative transportation, such as bicycling or walking, to commute to work?
In Brazil, some employers already stimulate the use of alternative transportation. Nevertheless, companies are usually only reactive (as opposed to proactive) and afraid of incentivizing people to use alternative – and possibly unsafe – modals.
I'll give a successful example: Riding a bike is seen as a really dangerous way of transportation in the city. However, given the context and great effort of bicycle activists, more and more people are riding their bikes to work. This is creating structural changes within companies, and sometimes the advocates even consult the employers on policies that could improve and make their life more comfortable. Some companies even try to increase the number of people who ride bikes through programs that teach cycling safety techniques. Even so, neither the government nor the private sector has made notable policies, such as tax-free incentives for alternative transportation that have been extremely successful in other countries. On the contrary, buying a car is getting even easier and cheaper in Brazil.
Corridaamiga
Why did you start Corridaamiga?
I started Corridaamiga because I wish more people would discover other transportation alternatives. I want to show them that it is possible to change their lives. We do not need to suffer stuck in the traffic, suffer for the lack of time to exercise, or lack of time to be with our friends and family.
In 2013, I did an interchange program in Lille, France. While there, I used to run as a way of moving around the city and benefited a lot from it. I got to know places and people, and saved a lot of money on subway tickets. It also helped to fight loneliness. I was thinking how I could make more people feel the same way I felt when I used running as a way of getting around.
Inspired by Bike Anjo (a volunteer group of urban cyclists that assists people who wish to learn to ride a bicycle in their city), the idea of "Corridaamiga" emerged, with the intention of helping and inspiring runners who want to use running as a means of transportation. In short, Corridaamiga is a voluntary initiative that emerged in early 2014, as a result of the idea of "Brazilian run commuters" that aims to assist and inspire individuals to use running for urban mobility.
It stimulates a low-CO2 form of transportation, as well, which is also responsible for increasing people's quality life, therefore making people happier. While running, the person has a totally different and (we believe) more pleasurable experience in the city. It is healthier, too. It is worth saying that Brazilians are getting fatter and more sedentary. Thus, our main purpose is to act as multiplying agents; spreading the practice of running as urban mobility, and passing on the complementary benefits (time optimization, reducing costs, improving quality of life, etc.) to other citizens.
How has the running community reacted to your initiative?
So far they have been very positive and curious about the initiative. It has been only several months since we started the network and already more than 3 magazines related to the sport and other organizations related to urban mobility have contacted us to promote the initiative.
What is the general background of the expert runners that pair up with beginner runners? Are they mainly current run commuters? Professional running coaches? Weekly group run leaders?[pullquote]I got it!! In one hour I did the route from work to my home! It is great for self-esteem! That's amazing! While I was running, all cars stuck in the traffic … I felt very smart, too. Thanks Corridaamiga! – Larissa Tega[/pullquote]
Right now, the runners are not professional running coaches. Our volunteers are common people that run and decided to help other people. In order to guarantee the best running habits possible, Corridaamiga is in contact with a nutritionist and some coaches that give weekly tips, voluntarily, for our website and Facebook page. In addition to general health tips, we also give tips about how to run to work, what to carry on our bags, which bags are appropriate for runners to use, and even the best routes for the runner.
Where do you see CorridaAmiga in 5 years? What does it look like? What does your city and/or country look like?
[pullquote]I always wanted to learn how to run on the streets! This is totally crazy (for me) because the route work-home has 7.5 km. During the trip many thoughts came to my mind "oh my Gosh, [it] is still far away from home", "should I have started with a shorter distance?", "I need to breathe calmer and slower", etc… Finally 7.5 km and 1h05m after, the challenge was completed. And I'm very proud of myself – Naomi Kawasaki[/pullquote]Around the world, we have seen a tendency to use running, walking, and cycling as a means of transportation, due in no small part to the large waste of time in the journey, increased personal risks, and detrimental health effects caused by the use of individual motorized transportation in big cities. Experts worldwide are beginning to discuss and recognize the role of "active transportation" as a healthy alternative to a sedentary lifestyle and its ability to improve the quality of life of the population.
Therefore, it is essential to expand the "Corridaamiga" network, so that more and more runners are willing to use running as urban mobility. In Brazil, this activity is still in the embryonic stage, so it is vital to encourage and spread the idea of run commuting, as well as recognize and minimize the barriers that still hinder running as a viable and healthy choice of transportation for all individuals.