We've got a great guest post for you today! Brendan Couvreux and his family of four run as their primary form of transportation. That's right. Rather than drive or use public transit to get to work or run errands, they primarily run to get where they need to go (they do have a vehicle for longer road/camping trips).
Brendan and his wife Chloe, both avid climbers before having kids, made a few changes to their lives after their first child was born to continue to remain active and maintain their fitness levels. It worked so well for them that they continued to run everywhere around their hometown of Boulder, CO after having a second child. They chronicle their running, camping, and climbing adventures on their excellent blog, A Climbing Party of Four. Here is the post that Brendan shared with us:
---
I am a regular guy who appreciates the simple things in life. Along with trying to keep things simple, I've always had an appreciation for alternative means of transportation. Through my college years, I lived in San Francisco and learned to love biking all across the city. It was definitely the best way to get around, considering the traffic, parking hassles, money savings and of course the added benefits of some physical activity and a great MPG rating. I eventually ended up in Boulder, Colorado where biking around town was even easier than it was in San Francisco.
Soon my wife and I had our first child. We were both active individuals and spent lots of time climbing, mixed in with some occasional running, skiing and hiking. We had heard of the challenges and frustrations people run into in trying to stay active with children. We had heard that it was the small things that would start to trip people up. Things like running errands and going grocery shopping suddenly became incredible time consuming nightmares while trying to juggle the moods, naps and needs of a potentially screaming child. Add in some traffic, full parking lots, inclement weather and things can become downright stressful and dangerous. Who really wants to go "workout" after spending a day of doing that?
My wife and I wanted to try and just learn as we went and try to adopt as few of these assumptions as possible. We invested into an expensive, high-end stroller we could use as a bike trailer and running stroller. We also found one where our little kiddo could be fully enclosed and bundled in times of inclement weather.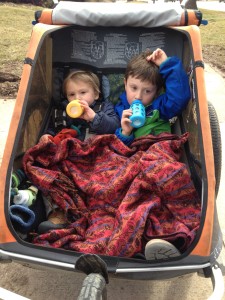 Soon after our first child was born, we began bringing him around town in the bike stroller a lot, and running with him in it on occasion as well. As time went on, we began running more and more. By the time our second child was born, we had learned and adapted to use running as our primary form of transportation.
Neither my wife nor I ever considered ourselves "runners." We would enjoy occasional trail runs but nothing too crazy. As our life with children evolved, we began to realize the potential "exercise" and movement that was guaranteed by our daily life chores, simply by running everywhere, instead of using the car, or even the bike. Running, for us, would prove to be more versatile than biking. No matter the weather or the terrain, we could always run with the stroller and the kids. The bike was more questionable in times of snow and ice. Riding on the road in the dark never felt very safe either. Running proved to be much easier, and quicker, to tend to the children if one was unhappy, needed a pacifier, snack water bottle, or whatever. We could just stop and take care of them. There was no waiting for a red light or undoing seat belts to reach the back seat. Parking was obviously a non-issue. Time of day and nap schedule was hardly limiting in that one or both kids could nap in the stroller and we could go about our errands (in and out of stores) without having to wake them up and take them in and out of their car seat.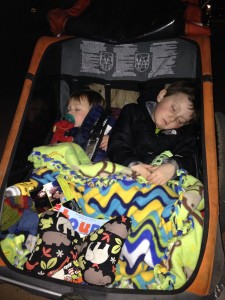 The miles would slowly add up through the days, through the weeks, and through the months. The kids became used to taking the stroller to go everywhere. Our bodies began to adapt to the running lifestyle. Running around town became baseline for us. We could always put one foot in front of the other while pushing the stroller. We adapted to all the seasonal conditions, and would run no matter if it was rain, shine, snow or wind. The kids could see this too, and started to become inspired on their own to mimic mom and dad.
When we marvel at people such as the Tarahumara and their incredible ability to run for long distances, and for it to be seemingly so consistent across so many generations; I wonder if this is part of what we are missing as a civilization. Something so simple, and so basic. Running is a wonderful form of transportation on its own, and it's amazing what starts to happen when we use it as such. Is it about being committed to fitness, to the environment, or just going back to basics? Maybe it's a little bit of it all.