While the post-Born to Run minimal running shoe fad began to slow a couple of years after it took the running world by surprise (seemingly overnight), some companies have prevailed as leaders in the industry, remaining solid performers while other styles and designs came and went. SKORA, a Portland-based shoe manufacturer, is one that has continued to thrive.
In a market once dominated by giants like Nike, Reebok, New Balance, and Asics, the demand for minimal, barefoot, and natural running footwear created new niches allowing smaller running shoe companies, like SKORA, to fill the void and provide an alternative to the clunky, heel-striking shoes that had been the standard for decades.
Recently, we were sent some SKORA Forms to review. We put some miles on them under regular running conditions, and – of course – while run commuting. Here is what the tester thought of them.
SKORA Form
Style: I love the black and blue color scheme of the Form. It looks good, and won't show dirt like lighter colored shoes. The Form are as fashionable for running as they are for everyday use as a casual shoe with jeans.
Design and Feel: The upper is made of goatskin, and has a soft, supple feel. The thickness of the material is consistent throughout, save for the heel/Achilles/ankle area, where the extra padding adds an even higher level of comfort to the overall feel (and is a necessity for longer runs). Heel fit can be adjusted to the wearer's preferred tightness by means of a small, elastic velcro band on the back of the shoe.
The tongue-like part of the shoe is fully stitched along one side and is open on the side facing the outer edge of your foot. One of the notable features of the shoe is the offset lacing. While not novel in the running shoe world, the stitching and laces on the Form conform to the natural arrangement of foot bones, adding not only to overall comfort, but to allow for a more natural running form as well.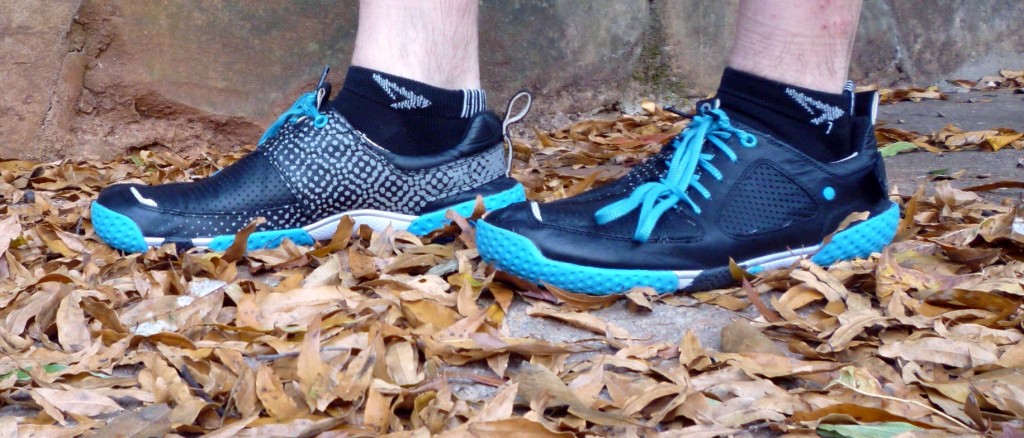 The inside of the shoe is lined with soft sheepskin, and underfoot, a thin Ortholite® insert, that can be easily removed if needed. The bottom of the insert is pockmarked, similar to the design of the sole.
The sole of the Form consists of several different types of material combined into one solid unit. The heel resembles half of a blue golf ball, with small pockmarks wrapping around and above the base of the foot. This design continues on along the sole, veering back and forth until reaching the toe of the shoe. Weaved between this are two other designs with different apparent functions. Small, black rectangular sections run horizontally underneath the toes and midfoot, and a futuristic-patterned white material lies directly under the arch of the foot. All of these sections are separated by strategic breaks in the sole, allowing the shoe to flex extremely well. These are zero drop shoes, and there is no arch support allowing for more natural running form.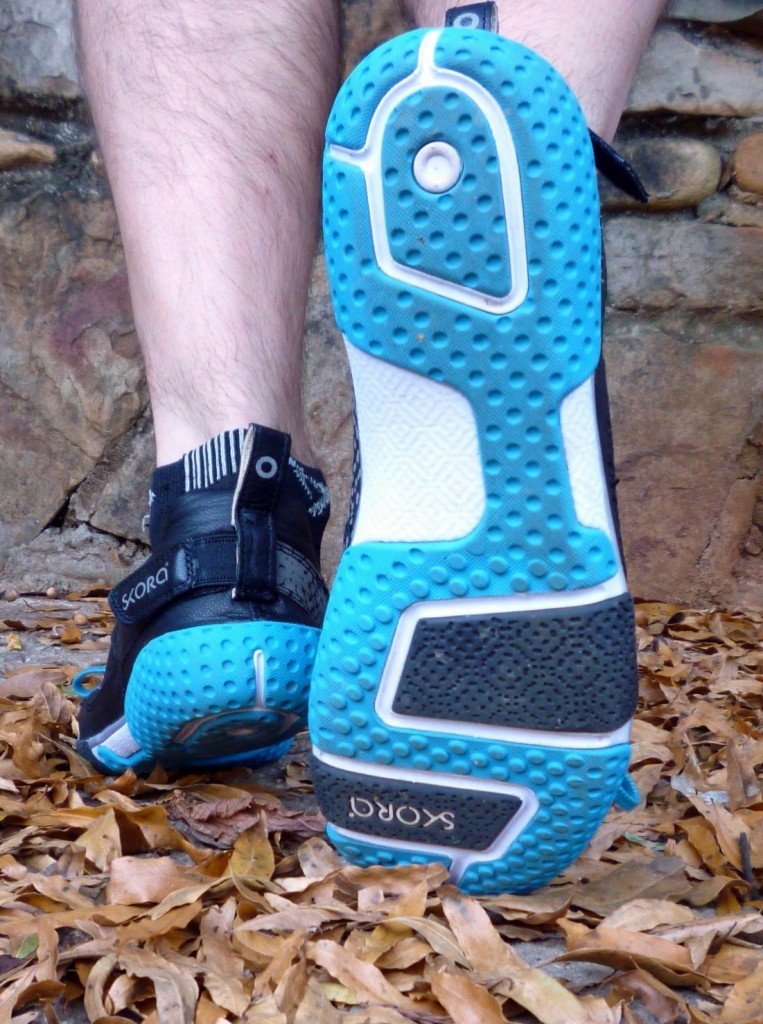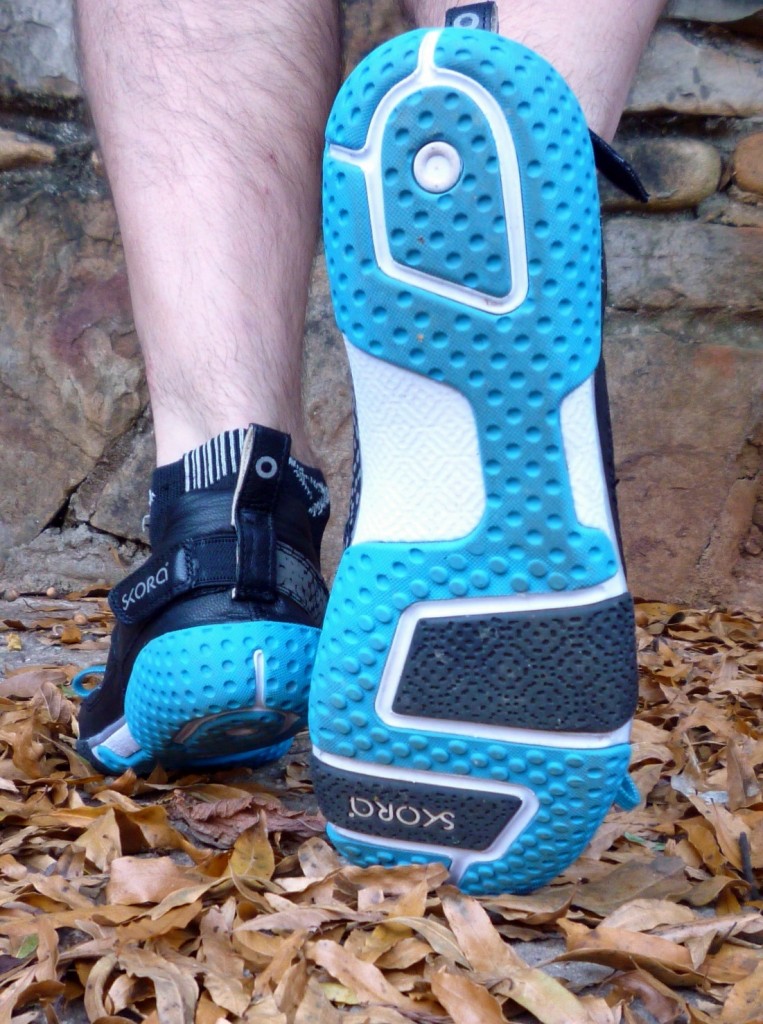 On the foot, these bad boys feel like armored moccasins.
Performance: The SKORA Forms felt great to run in! The thick sole did not allow for much "ground feel," but I actually prefer a bit more protection underfoot than what you typically see in minimal or natural running shoes like Vibrams Five Fingers. I always wear socks with shoes, to contain sweat and protect against blisters, however, these shoes felt amazingly comfortable without socks. I didn't feel any stitching against my foot, or notice any other potential chafing or blistering spots. I felt fine running in them with a backpack, as well. I believe that run commuting with a pack while wearing natural or minimal shoes compliment one other quite well – they both force you to run in a more upright position, while encouraging a midfoot strike.
Conclusion: If you are a distance runner, prefer a zero-drop shoe in between standard minimal footwear and barefoot, and are willing to pay a bit more for a high-quality shoe, SKORA Forms are for you.
Additional note: SKORA is running a site wide 25% off promotion right now through December 1st (use code "Save25"). And then on Cyber Monday, they have a 2-for-1 deal on the Base model!
For more information on SKORA shoes: