The Best Run Commuting Backpack Ever?
OMM (standing for Original Mountain Marathon) is a brand well-known to UK and Euro trail runners, but it has yet to become popular in the US, which is a pity. I would go so far as to say this is a 'best-kept secret' of running packs. The OMM 20L may be the best run commuting backpack ever, and for those so inclined, it doubles as the best multi-day trail running pack ever, too! It is relatively cheap, hugely comfortable, robust, thoughtfully designed, and has tons of storage room.
For these reasons, no doubt, it has been the backpack of choice for the winners of some epic races: this year alone Eion Keith was wearing it when he won the notoriously grueling Spine Race in England – 268 miles non-stop over snowy English high country in mid-winter. Elspeth Luke wore it to run 1100k over Scottish mountains in record time. And it's not just for cold-weather conditions: Aussie pro racer Samantha Gash wore it to run the 4 Deserts races across –as the name implies–four of the world's serious deserts. Many athletes use this pack at the 6-days, 250km stage-race in the Moroccan desert, the Marathon des Sables.
So, how does such a hardcore pack work for everyday run commuters who just want to run an hour to work through suburban streets? Brilliantly, that's how!
Test Model
Size: One size fits all
Carrying Capacity: 20L, 1220.5 cu. in.
Add-on: Dry-bag, 20L
Run commuters who carry larger loads on most run commutes

One backpack for both a daily run commute pack in the city and for epic runs/races such as the Marathon des Sables!

Run commuters with shorter torsos
Performance and Evaluation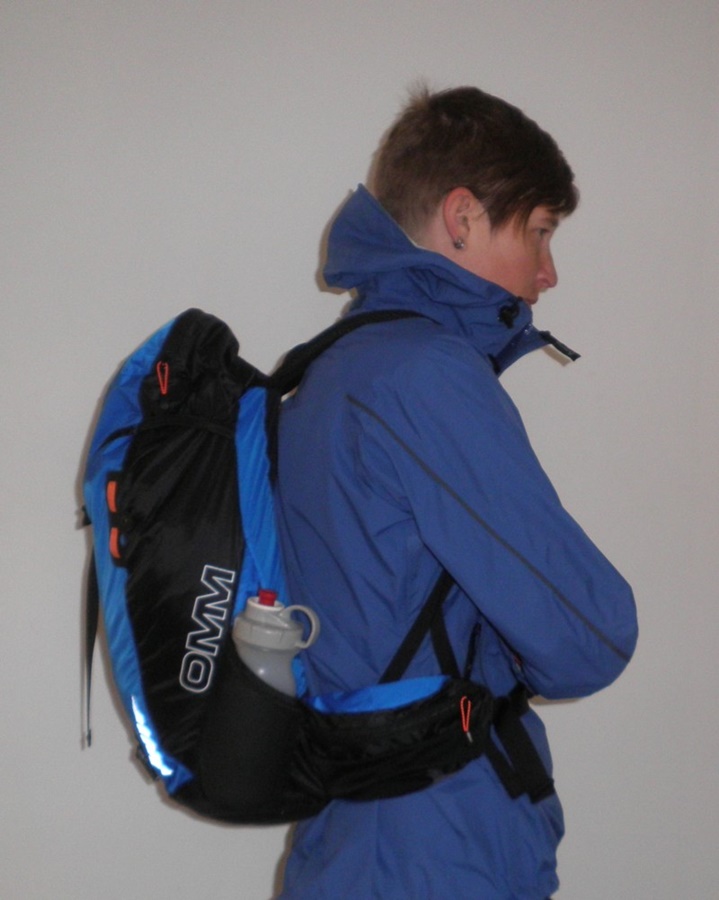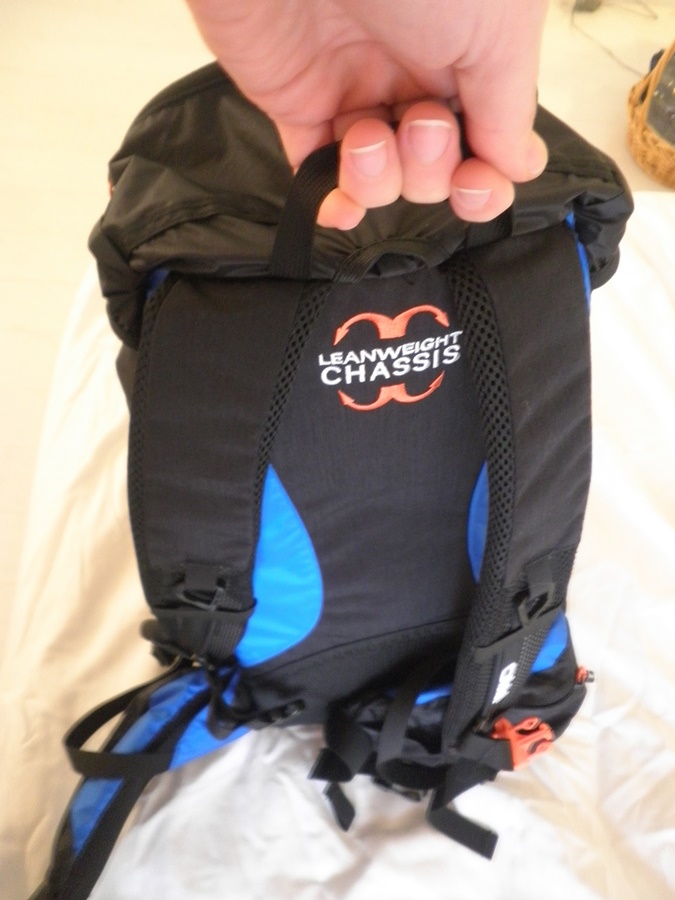 Outstanding performance in a wide range of conditions. The OMM 20L is very comfortable, and performs brilliantly as a daily run commuting backpack when carrying medium to large loads. Also performs at the extreme level when used as an adventure racing pack on multi-day or stage races such as the Marathon des Sables. It says something about the versatility of this pack that many runners have used it in stage-races in the climates of both the Sahara Desert in temperatures up to 50C, and in the British winter in high mountain snow in temperatures that drop to -10C. Clearly, the OMM Adventure Light can handle extremes.  It will easily handle whatever you can throw at it on a daily run commute.
For those who often run commute with a very small load, such as a shirt and thin slacks, it is possible to cinch down the OMM Adventure Light 20 tightly by running a thin elastic cord through the eyelets on the front designed for that purpose. There is no cinching cord included for this purpose, however. The front buckle strap does pull the pack quite tightly together on a vertical axis, but not horizontally.
While this pack is certainly one of the least obtrusive full-size packs to use even when carrying a small load (ie. it is not 'too much' pack as others would be), I'd go for a smaller pack if you really aren't going to carry much ever. A mostly-empty pack is just unnecessary now that there are so many smaller packs on the market which are designed to be comfortable with smaller loads. I have not tested the smaller OMM packs (13, 10 and 8Ls), but if their quality is similar to that of the Adventure Light, it would definitely be worth giving them a try.


Sometimes, it rains. We run commuters have to run in rain at times, as Kyle discusses in his classic 'How to RAIN commute' post.
To guard against sweat seepage or sudden unexpected rainstorms, a precaution is to always put your clothes into a dry bag — which will also compress them — before loading them into the main compartment. Or, there is the option of a small, external rain-cover instead.
As mentioned above, the main compartment and the waist-belt pockets of the OMM 20L are made from a very light material that appears to be water repellent. This makes sense, given that it is designed to be used in adventure/nature races, where rain and water are common. This material does work. A few times when I thought it wasn't going to rain I didn't bother to use a dry bag and got caught in brief showers. My clothes remained dry. However, in prolonged rain or heavy downpours, water would soak through onto the contents.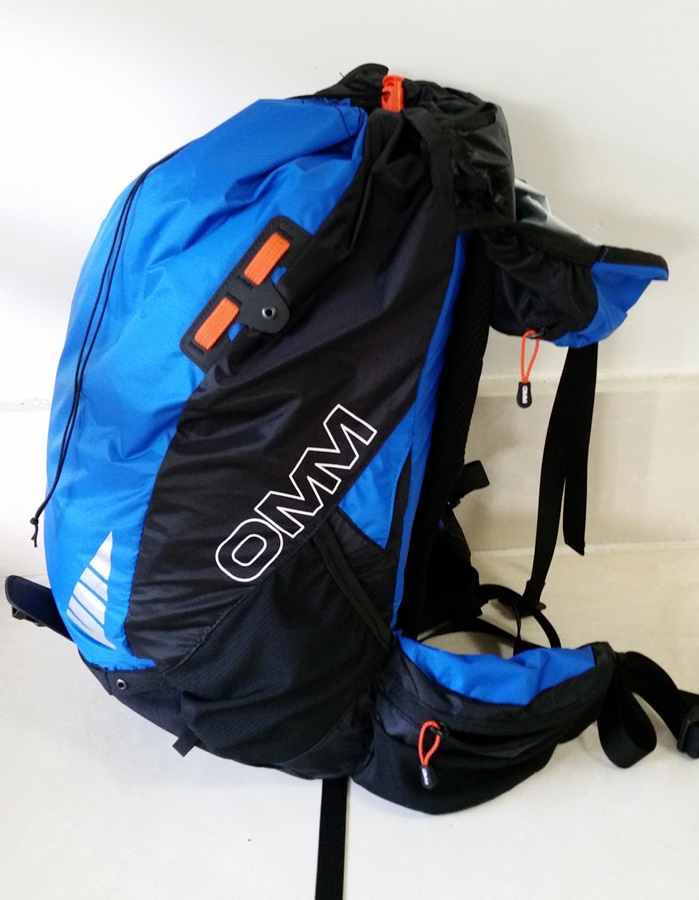 Comfort
Lightness
Size
Pocket distribution/design
Thoughtful overall design
Price
The location of the closing clip for the main compartment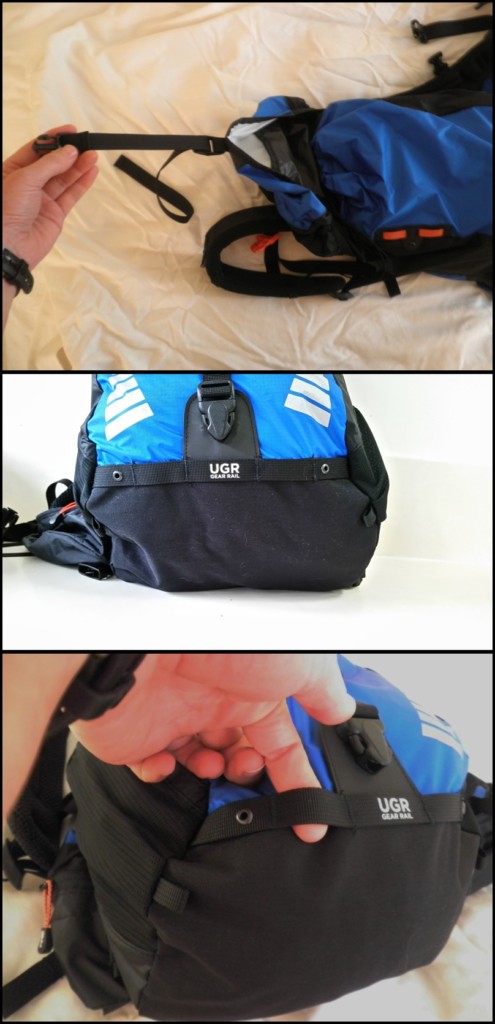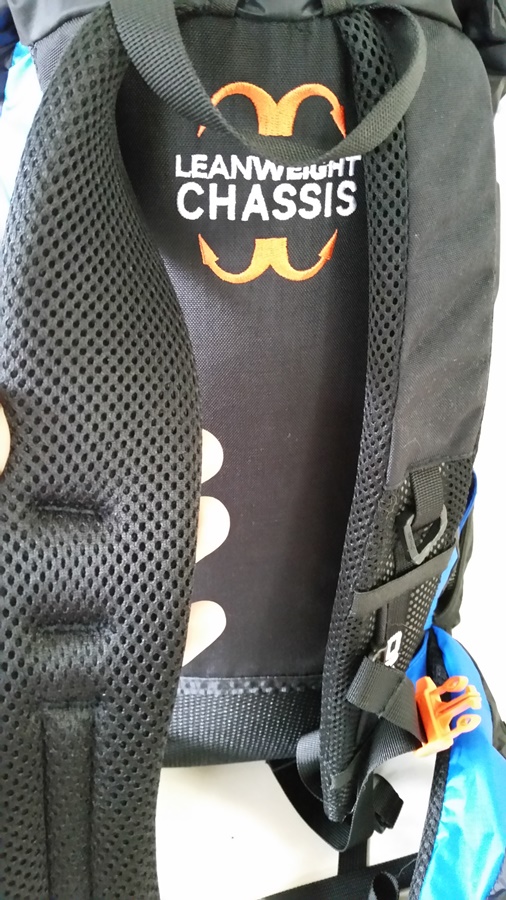 Front
The closing clip for the main compartment is at the bottom edge of the front of the pack, vertically. This is unusual. It took me ages to get used to, and for weeks I kept trying to open the pack using the plastic buckle that is situated on the top lid of the pack, where the clip is found on most bags. I'm still not convinced the bottom edge is a great location for the opening clip.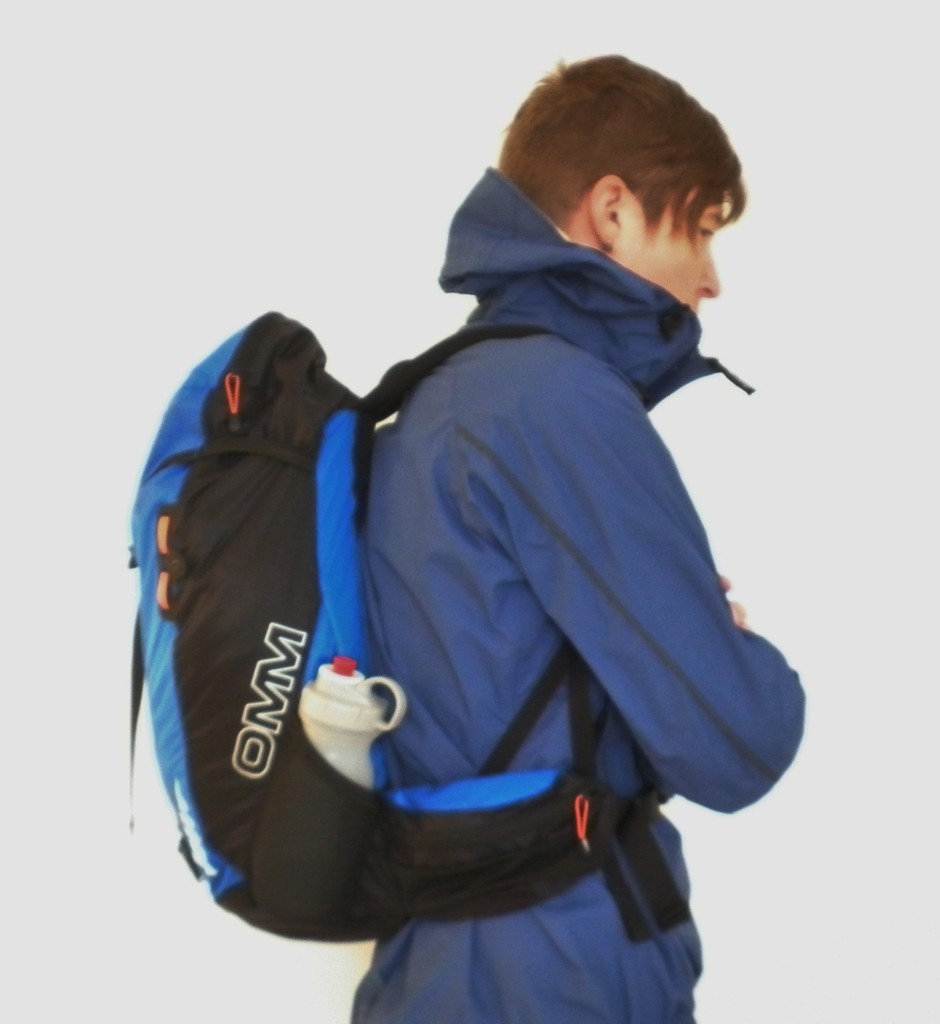 Sides
On the lower half of each side of the main compartment is a mesh pocket with elasticized top edge. They are water-bottle pockets, and have been designed with great consideration for the needs of adventure runners, for whom hydration is essential.  The pockets are deep, each amply holding a 600mL bottle. This is true even when the main compartment of the pack is full. The other brilliant thing about their design is that they are angled slightly backwards, so that the top of the water bottle is tilted fractionally towards the direction you are facing. This makes it easier to pull the bottles out and put them back in, while running. The bottles don't jump out of these pockets even when there isn't much in the main compartment of the pack. Overall, excellent design and performance.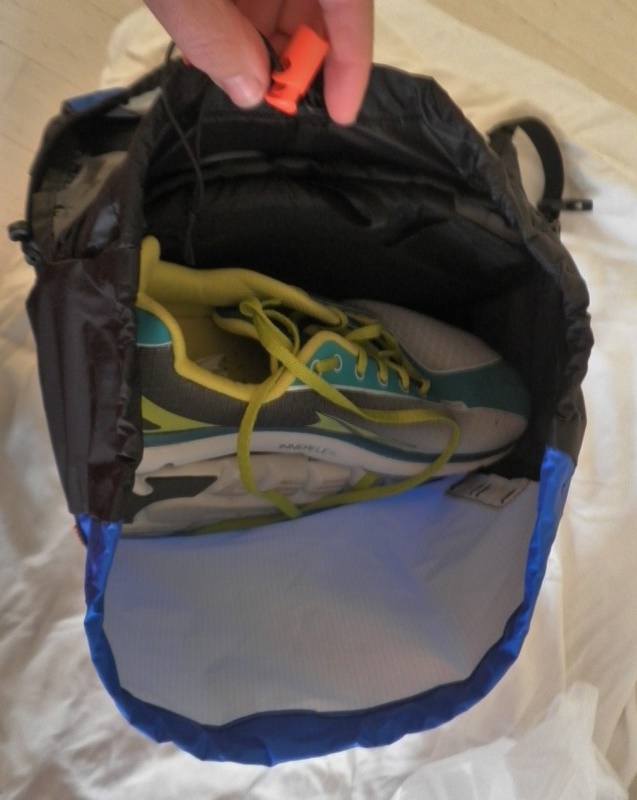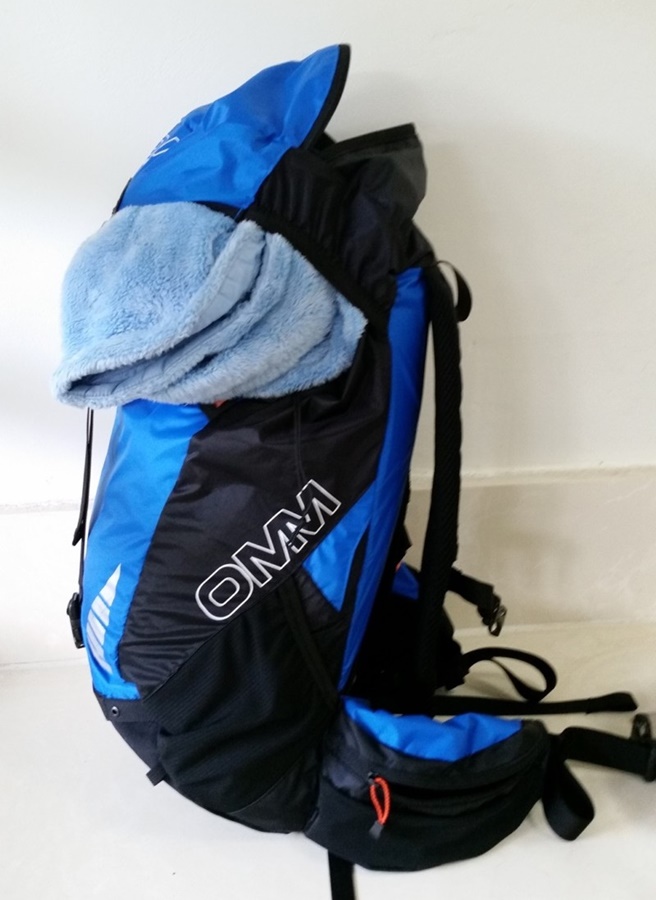 Main Compartment and Top Access Pouch
The main compartment is basically a cylindrical sack with a drawstring closure. Over this fits a hood that buckles down with a strap that runs vertically down the front of the backpack and clips to the lower quarter of the front of the pack (the 'weird' strap described above). The main compartment holds a LOT of stuff. You could easily get a medium-thickness winter coat in here along with shoes, clothes and lunch.
As you can see in the photo above, there is a zipped pocket on the top of the hood that covers the main drawstring compartment of the pack. This zipped pocket is almost the same width across as the hood itself, so it can hold a wallet and phone, or even a small Tupperware container, easily.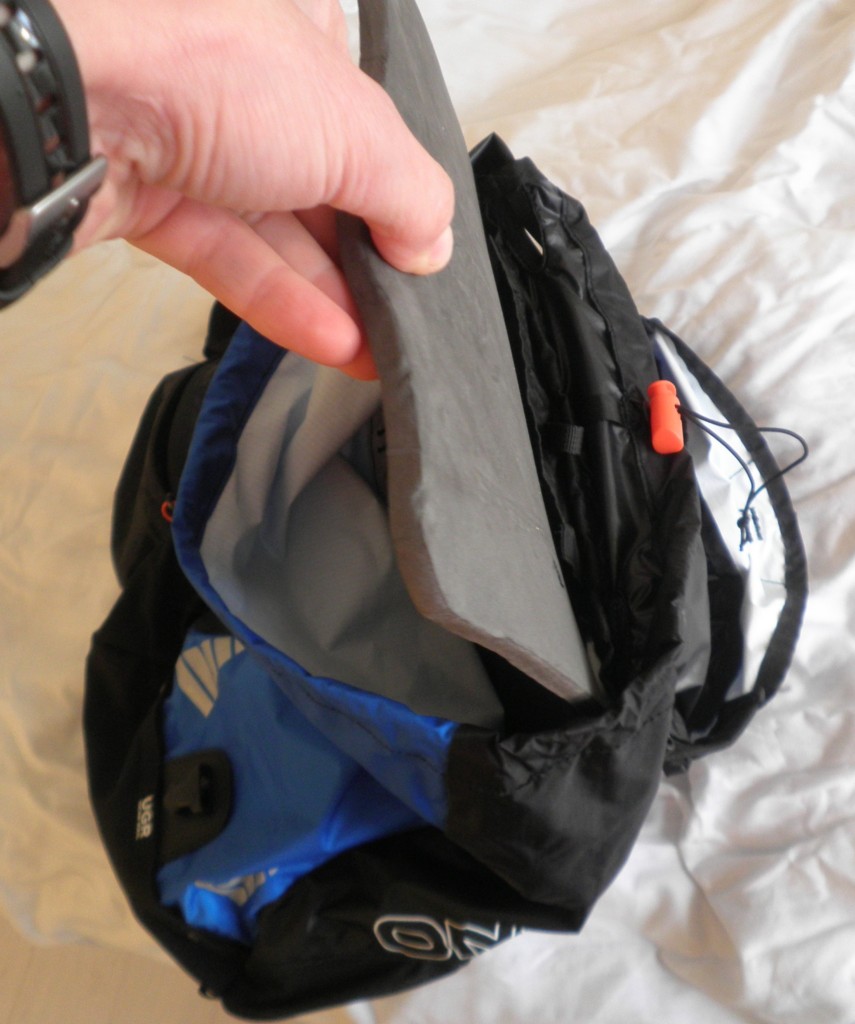 Back, shoulder straps and waist belt
The padding on the OMM Adventure Light 20 is generous, light and comfortable. It is also positioned where you need it and not where you don't. The back is kept firm and self-supporting by a removable foam pad that sits inside the main compartment in its own sleeve. This pad is so light, and helps keep the overall structure of the pack so comfortable, that after I tried running once with the pad removed I resolved never to do so again — it's simply more of a gain to have the foam pad in there.
There are two identical pockets on either side of the waist belt. Both pockets close with zips. They are large enough to fit a smartphone, and there is some flexibility as the lower half of each pocket is made of a mesh that stretches slightly. I found these pockets to be very useful for carrying my phone, food snacks, and accessories like gloves, hat or headlamp.
Hydration System
The OMM Adventure Light  20 does not come with a hydration bladder or bottles. As discussed above, the side bottle pockets are perfectly designed and executed for their purpose. With both bottle pockets carrying 600ml — or 750ml at a pinch — bottles, this would give you 1.2L – 1.5L fluid. You could also remove the foam back pad from its dedicated sleeve and put your hydration pouch in there. There is no other pocket in the main compartment to hold a hydration bladder, and unless you had a completely full load it would slosh around a bit if in the main area.
Conclusion
A top-drawer backpack for adventure running AND run commuting!