Two weeks ago, I got three comments while running home from work. It's not unusual: friends passing might hail hello; would-be wits and jerks in general offer more inflammatory fare, often from a passing car's window. One of the comments that day came from an addled homeless lady sitting spread-eagle in the middle of the sidewalk outside a warehouse down my street: "Did you just get off a fire engine?" she squawked. No, ma'am, I assure you: I did not. I am to firemen what Steve Rogers, pre-Super Soldier Serum, is to Captain America.
The other two comments were the same, hurled heartily from speeding vehicles on North Avenue, a east-west artery of rolling hills, several lanes, and one speed: fast. It was while I was huffing up said hills that the aforementioned comments came, both of them, "Go, Boston!"
Then I spied this on a viaduct not much further on that passes over North Avenue, and pulled up short to consider. That structure carries on its shoulders the BeltLine Eastside Trail, a spiffed-up rail-trail that is Atlanta's shiny new thing, universally adored by the city's yuppies (and, for some reason, parents who think such a busy multi-use trail is an ideal environment for their kids to learn to bicycle). On one side of the viaduct, Murder Kroger, a grocery store that perfectly ties together all qualities and characters of North Avenue's parallel thoroughfare, Ponce de Leon Avenue. On the other side, the Masquerade, a music venue-nee-cotton mill outside which suburban teens, greasers, Nth generation punks, emo kids, goths, and Hall queue to see their favorite bands.
One side of the viaduct has a colorful, well-crafted mural touting the BeltLine. This side, though, is a scratch pad for aspiring taggers, their handles like Crass, Squeak, Squeal, Queequeg, and Hall — seldom, if ever, seen again — snippets of bad teen poetry and the proclamations of self-fancied philosophers. Quite the contrast.
But the area is changing; North Avenue is changing. Developments like Ponce City Market, Historic 4th Ward Park, and the BeltLine are gradually, inexorably altering the areas in which they are situated. I saw Tuesday morning bags of trash piled high along that side of the viaduct that formerly served as taggers' collective scratch pad. Weeds were pulled. Dirt was swept away. And the wall was painted that Eastern Bloc gray-blue color that is rolled over all permutations of "Queequeg was here," and denotes that graffiti was there.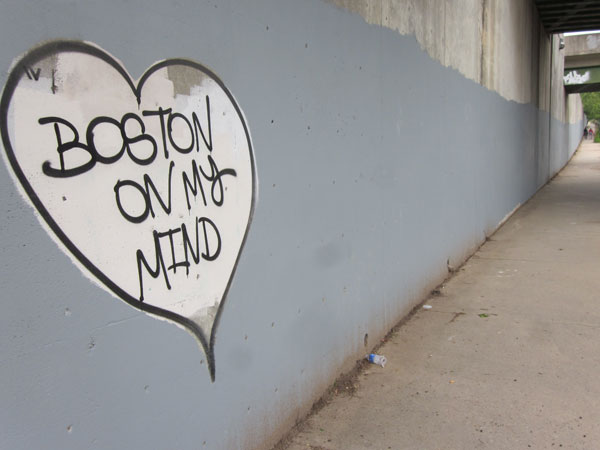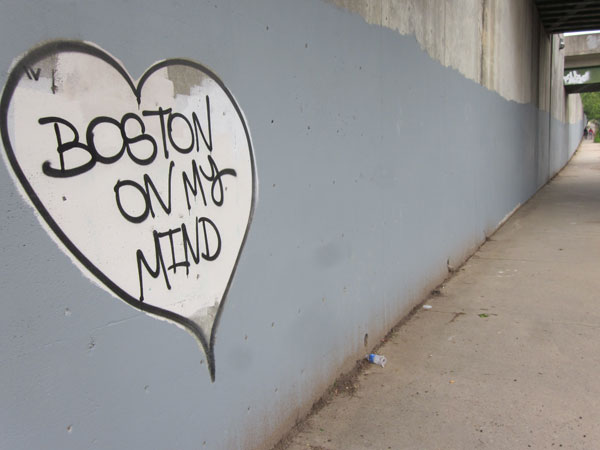 Except this. The entire length of the wall: gray-blue, then, bam: preserved with painstaking care, "Boston On My Mind" remained. And I hope it remains there for a long, long while. Community immersion is a benefit of run commuting, and running in general. Similarly, the marathon has been called the most democratic of sporting events, as it offers the least barrier between spectators and athletes, a minimum separation between those who cheer and those cheered on — including the former's entrance to that athletic endeavor.
Perhaps drivers that day spied this, inspiring them to call, "Go, Boston!" as I huffed over those hills, rather than something derogatory or deflating, or nothing at all. I enjoy when strangers shout encouragement. I enjoy that they engaged me, as a member of the neighborhood, as a fellow citizen and person, despite the odds that we will never know one another or even again cross paths.
Perhaps passersby of all kinds, everyone, will take note, keep those barriers down, and keep the literal and figurative Boston on their minds and in their hearts.