San Francisco is an excellent city for run commuting. I am biased: I regard it as the superlative. Rankings about running venues, purportedly objective, customarily list San Francisco in the top three within the United States and top ten globally. Here is a personal report. (For reference, the other settings I have lived in or spent considerable time in are Detroit, the Motor City dependent on the automobiles it manufactures; Ann Arbor, a quintessential college town to be experienced on foot; Baltimore; Cleveland; the District of Columbia, and New York City.)
San Francisco is not even a million people, in a metropolitan area shy of five million, unless San Jose, fifty miles south, is annexed statistically, which boosts the total to not quite ten million, behind New York City, Los Angeles, Chicago, and Washington D.C.-Baltimore, and ahead of Boston, Dallas, and Philadelphia. As a technology capital, it is flourishing. The city and the county are one and the same, expanded during the Gold Rush of 1849 to become the dominant settlement in California, which entered as a state the following year, 1850. Devastated by the 1906 earthquake and subsequent fires, it has continued to enjoy global significance: the United Nations was founded by 46 sovereignties who gathered here after World War II, and it is arguably the most Asian of American cities.
City Lab, a thoughtful blog published by The Atlantic Monthly, just released a study of the best metropolitan areas to exist "car free." San Francisco was at the top of the large cities. Their criteria considered not only walkability but also mass transit. According to their methodology, population and density are not the factors that turn out to be most significant. Liberalism, education, and the "creative class share of the workforce" all correlate more strongly to alternate modes of transportation. While you can do fine without owning an automobile in San Francisco, you also may need to get by without realizing the American Dream of owning your own house.
I am persuaded. The reason I moved to San Francisco is diversity and acceptance. That usually is interpreted as applying to race and culture. It is an easy context in which to be Asian American, LGBT, or both. In San Francisco, it is virtually impossible to be "weird" other than perhaps attempting to define normal. Where your family originated or how you live your life matters not, for all are embraced. The same tolerance extends to transportation choices. That is not to suggest the characteristics that have been the basis of discrimination are the same as choosing to be a run commuter. They need not be equated, however, to make the point that an open attitude promotes run commuting. Correlation is of course not causation, but avoiding the isolation behind the steering wheel of a car, instead interacting with strangers,  other passengers crowded together in a compartment or pedestrians on the sidewalk, probably compels adjustments toward sociability and away from self-interest. Policies influence individual behavior.
San Francisco has more means of commuting than anyplace I have ever lived, employed regularly by ordinary folks. Run commuting is among the many options. There is the BART system and the Muni system, the former reaching deep into the suburbs, the latter including trains and buses that middle class professionals are willing to rely on, both recently upgraded with sleek seating. There are ferries and cable cars that are entertaining enough for tourists to ride. The casual carpool coordinates volunteer participants. Ride share, bike share, and scooter share have been invented or improved by the entrepreneurs who define the region. When I am not run commuting, I ride a motorcycle, a vintage Honda Hawk V-twin. I can don a high-viz yellow full-body race track ready suit without attracting all that much attention.
The website Walk Score rates my home 57, "somewhat walkable," meaning "some errands can be accomplished on foot," and 78 for "excellent transit." The closest corner store is a half mile distant. My office earns 98, "walker's paradise," and 100, "rider's paradise." City Hall is the last landmark on my trip in.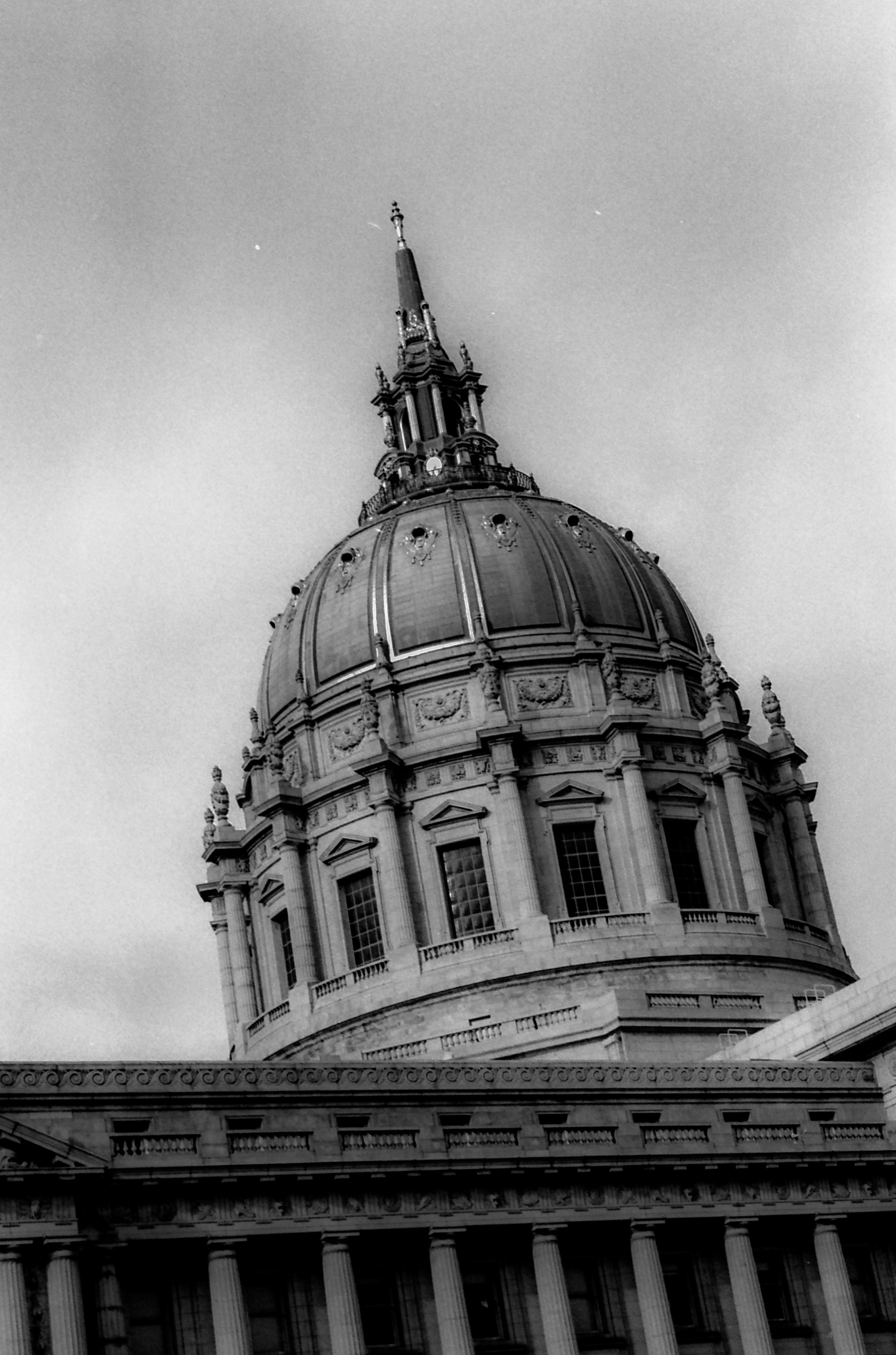 San Francisco City Hall shot on film by the author
The city is laid out on sort of a grid. There are exceptions. There are both numbered streets, in SOMA; and numbered avenues, in the Richmond and the Sunset.  There are alleys. By and large, it is "legible." An outsider can orient herself quickly. The ocean and the bay can be glimpsed with enough elevation. The prominent features also aid navigation.
San Francisco proper has an advantage: it is physically compact. It is a seven mile by seven mile square. Thus it is feasible to run commute between any two destinations. As I have become known as a run commuter, I have introduced running meetings. When I had an executive role, I enjoyed that active break to sitting in a conference room, and I have no desire to return to life confined in a chair, presiding over discussions that intrinsically are likely to generate stress. As a professor, I announce a standing offer to students: I am willing to greet them at any spot in the city, for a jog to campus. The early morning rendezvous, regrettably, deters all but a few.
The physical environment, natural and built, is beautiful beyond description and as varied as possible within finite borders. San Francisco faces the Pacific, sheltering the bay. The eastern side of the city includes the Embarcadero, the Financial District, and well-to-do neighborhoods such as Nob Hill, Russian Hill, Telegraph Hill, and Pacific Heights. Chinatown is historic and still authentically occupied. The western side of the city has Golden Gate Park stretching to Ocean Beach, with the former military base, the Presidio, and Land's End to the north, and Mount Sutro and Twin Peaks to the south, the "avenues" divided into the Richmond and Sunset districts. In between is the Haight-Ashbury intersection that was the center of the Summer of Love in 1967; Alamo Square Park, overlooking the iconic "painted ladies," the Victorian houses such as depicted in the television sitcom Full House; and Glen Canyon, a crevasse some locals have never set foot within, where coyotes roam and are reported to snatch cats and dogs. The Mission is Latinx encroached upon by speculative development to be sold off to the new rich. I love that every few blocks there is another designation for a community that perceives itself to be distinct. The structures to be seen in the background include the Golden Gate Bridge in its unique orange (mixed from Pantone 180), which seems to be a favorite for destruction in disaster movies, the Transamerica Pyramid, inimitable as how the close past foresaw the near future, in crushed quartz shining white; and the shimmering Salesforce Tower, proud symbol of the digital economy. There are always sights in the Tenderloin I pass through, the inspiring and the sordid of our society, and no doubt some are inspired by the sordid, for reasons better or worse.
My run commute traverses the Panhandle. That thin section of green space is filled with dogs out with their humans, among others, the three-quarters of a mile delineated on both long sides by one-way streets serving fast-moving motor vehicles the antithesis of our respite from such vacuous competition to reach jobs miserable but for exuberant optimism. For recreational running, Crissy Field is available in the Marina, an upscale locale atop landfill; and McLaren Park, an underappreciated wilderness surrounded by what remains of the working class quarters of a city where the median price of a home is a million dollars. At least everybody, without exception, lives within a ten minute stroll to a park. A new 17 mile "urban hike" trail has been created to encourage outings that are vigorous as well as sociable.
What might appear to be a disadvantage for the casual runner is an advantage or at least an opportunity for the serious one: hills. There are the vertiginous climbs, such as from Levi's Plaza up the wooden steps that are the roost of a flock of wild parrots, or the literal Grand View Park, and in neighborhoods whose names are obvious hints, Diamond Heights and Potrero Hill, both lately gentrified. There also are gradual but seemingly endless inclines. The six blocks leading to my house I run down constantly sans hesitation; in the other direction, I confess to having boarded the number six line to be carried up the slope. In Forest Hills, one of the boundary pillars of which rises from the corner of my property, there are enough stairs that visitors come around bearing maps to try to ascend them all. I remind myself I am lucky: I can access routes that others consider for destination races such as the "Bay to Breakers" which used to be run naked and drunk and now is run in costume and sober, against the school of "salmon" who proceed "upstream" (from finish to start). Last year, I saw a gaggle of RBGs (Justice Ruth Bader Ginsburg) and a Han Solo encased in carbonite.
The climate is suited to run commuting. It is mild year round, though it can feel downright cold in the summer and it in fact is windy to boot. There are a handful of days that are inordinately hot, but even those are not especially humid. There was one day in the past decade with ice on the street, and it did not last to noon. Most houses are insulated lightly as a consequence. Rain is not uncommon, including downpours, but it is nothing that a spare pair of shoes and extra socks won't overcome. The micro-climates mean there are enormous differences. In the Bay Area, stretching from the Marin County redwoods to Stanford University in Palo Alto and over to the port of Oakland and beyond, temperatures often range up to thirty degrees over and down to twenty degrees under what a thermometer would measure in the city itself. There can be a ten degree discrepancy within the city, with my home enveloped in thick fog, so thick that the giant radio tower, 977 feet high, that is approximately the center of the city cannot be glimpsed, even as my school is lit so brightly by the burning sun that the naked eye needs protection.
The run commute has made me more aware of the world around me and more mindful in general. As I alternate between sprinting and sauntering, I am humbled to run commute.
San Francisco has enabled it. That is no accident.