It's not often that we get to test gear made specifically for run commuters, so we were ecstatic when IAMRUNBOX sent us their latest pack to review – the Backpack Pro 2.0. While the pack looks pretty plain at first glance, it is packed with some really great features and add-ons. I had high expectations for this pack, so I tested it for longer than usual and was able to put it through a wider-variety of testing conditions.
Test Model
Size: One size fits all
Carrying Capacity: 12L, 732 cu. in.
Performance and Evaluation
I ran over 75 miles with the Backpack Pro 2.0, testing it under a wide-range of conditions including lengthy downpours, and temperatures ranging from 25°F to 70°F, and I can confidently state – this is the best backpack I have ever used for run commuting. It is entirely made for active commuters and every last detail is well thought out, including the built-in garment carrier, wide waist belt pockets (that will actually hold the things to which you need quick access), and suspension system that is not tight or restrictive while running.
I'm a big fan of larger backpacks for running, and typically run with a 22L – 24L pack, so I was very surprised that this small-sized pack worked for me. For the warmer, every day runs, I could carry a full set of work clothing, belt, lunch, a light jacket, and an assortment of accessories. However, once the temperature dropped into the mid-20's, I had no space left over to carry a winter jacket and vest for later in the day when I leave work to ride the bus and pick my kids up from school. And, of course, the designer thought of this, and created the Space Bag as the perfect add-on for situations where more carrying capacity is needed.
This pack really does have everything.
Let's look at some of the features in more detail.
Doesn't bounce while running
Great internal organization
Excellent garment holder
Rides high on your chest and back
Add-on external straps
Space Bag doubles carrying capacity
Waist pockets large enough to use and lined to keep contents dry
Comfortable on the run, while not feeling tight or restrictive
Extremely durable construction
Pack straps curve into underarm area and may cause chafing for people with larger upper torsos
Bottom of shoulder straps attract odor
Front
The front of the pack consists of a semi-rigid, water-resistant shell with the IAMRUNBOX logo. While no initial features are present, the kit includes two adjustable straps which can be attached to the back side of the pack that transform the front into a more useful component. I leave the straps on at all times, and attach blinking lights to them for better visibility in low-light conditions.
My test kit that I received included a zippered pouch called the Space Bag that can be added to the front of the pack using built-in MOLLE straps. This is an extremely useful add-on that increases the carrying capacity by 2L – 12L, allowing you to pack shoes, a winter coat, or additional gear that will not fit inside the pack.
It also came with a rain cover, which I was able to test out on three different days and everything underneath stayed nice and dry.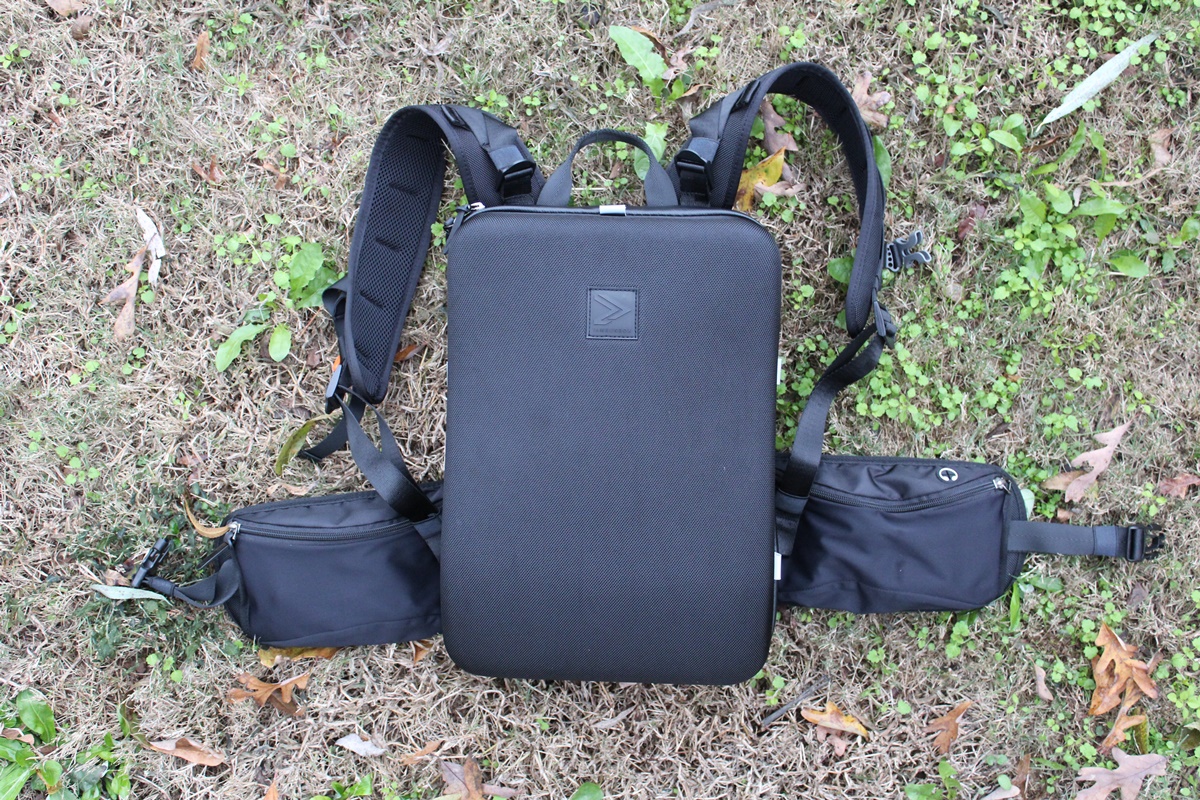 Front of the pack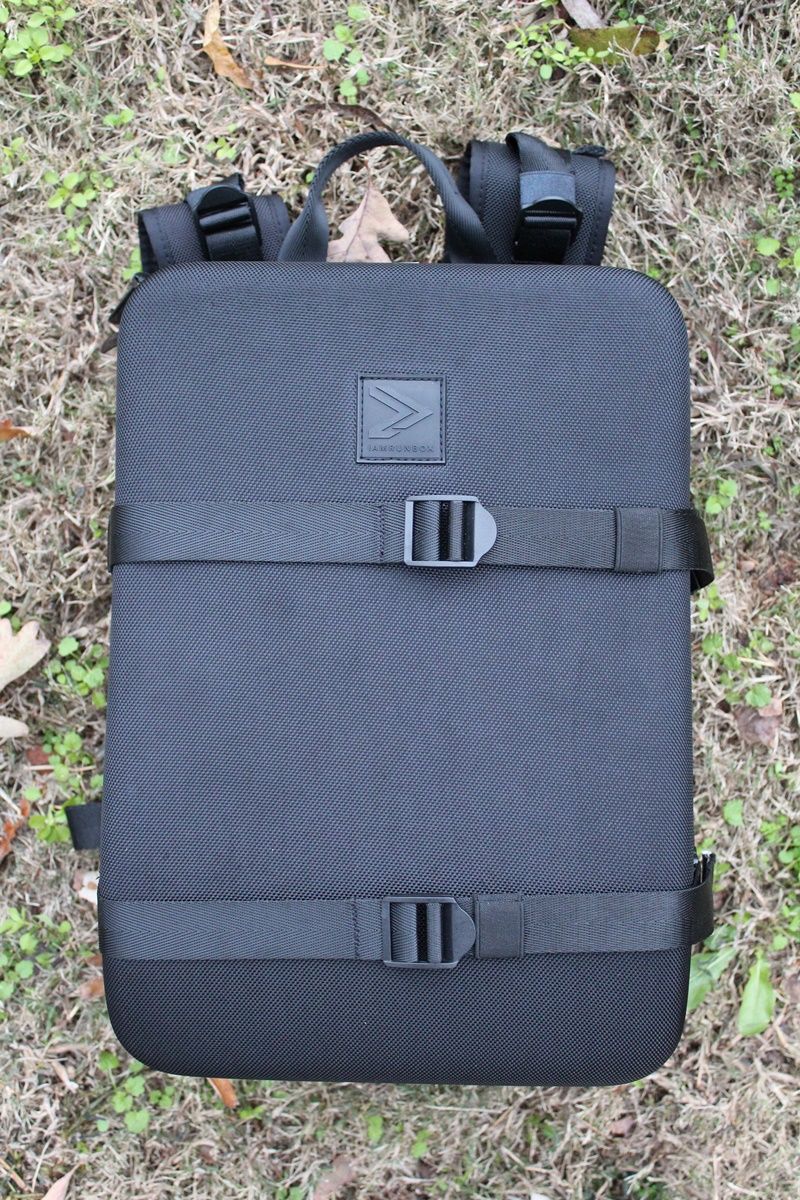 Pack with add-on straps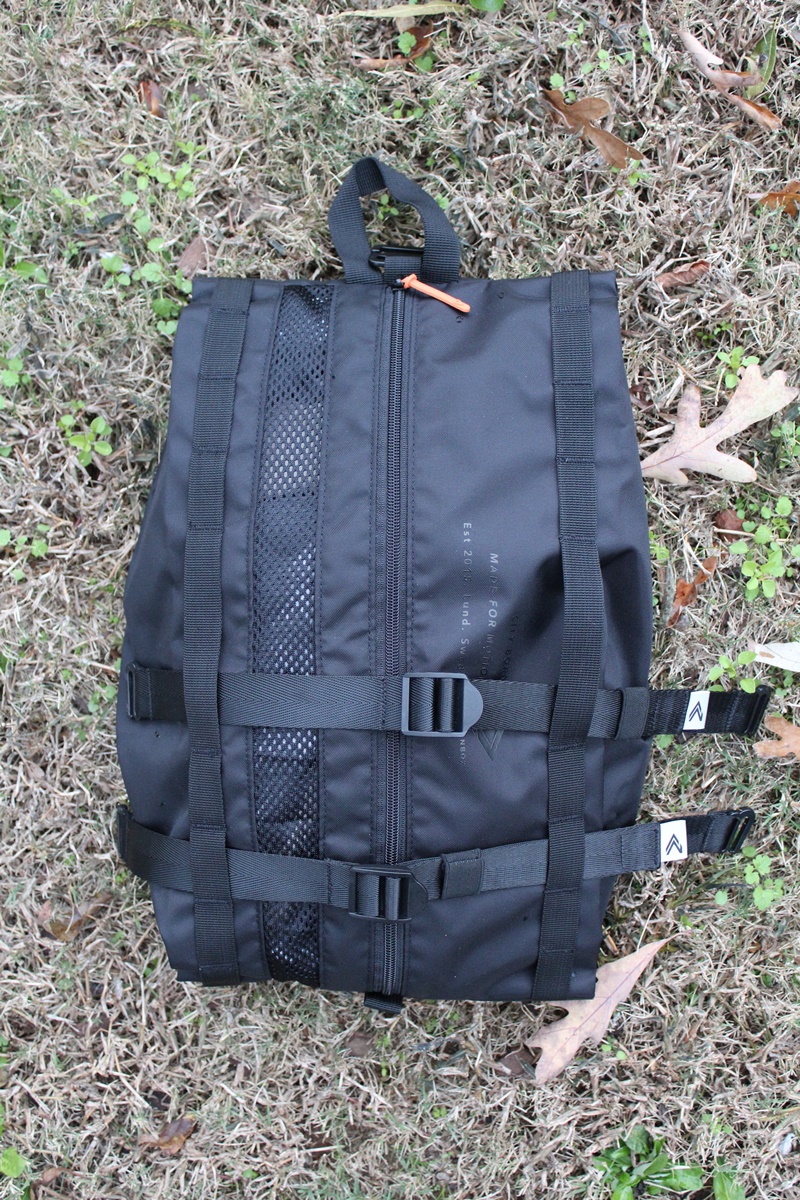 Space Bag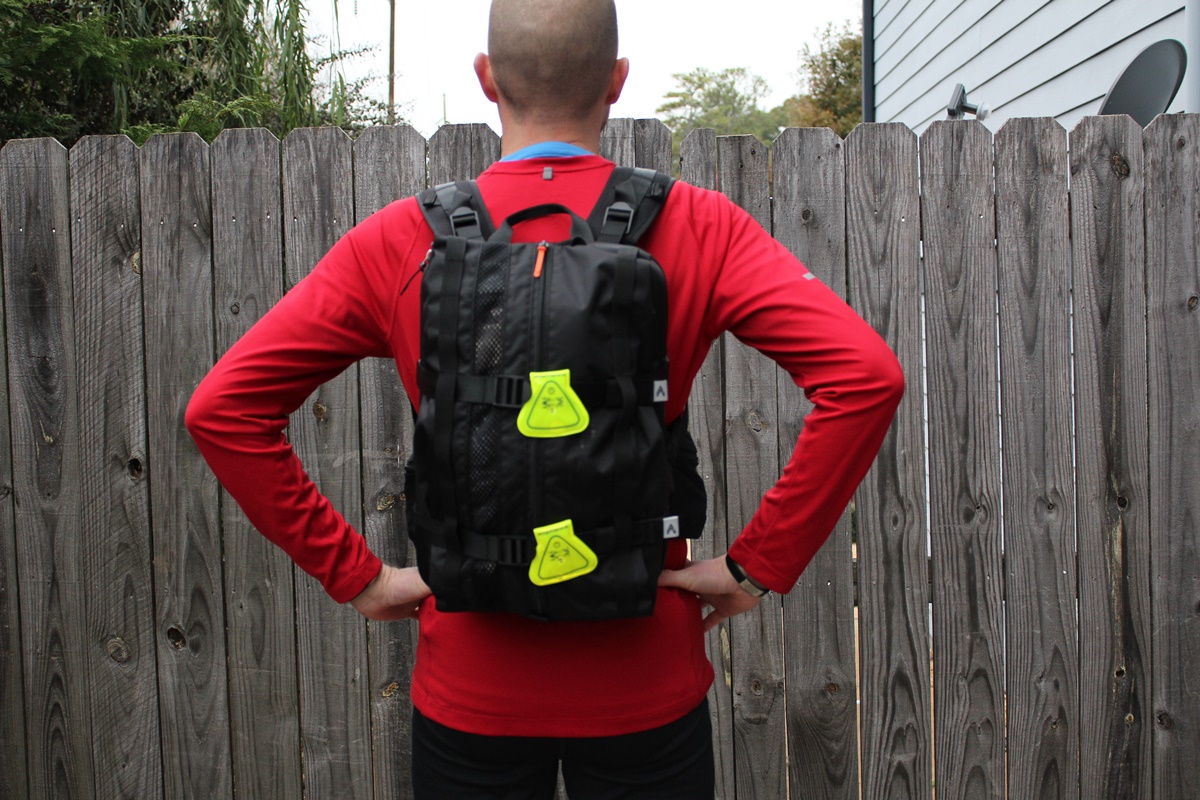 Space Bag on the pack (with Amphipod lights)