Efficiency is the watchword for Julien Delange, our first run commuter profile for 2016. Running to and from his workplace in Pittsburgh, Pennsylvania, Julien favours maximalist shoes, and structures his run commuting — in both principles and pragmatics — for greatest efficiency. In his profile, Julien also highlights the positive environmental, financial and training benefits of running to work. With his routine sorted, Julien run commutes high-mileage weeks as training for the trail races he enters. His commitment to leaving the car at home ("the car is simply not an option during the week") is an inspiration to all run commuters. As if all this wasn't enough, Julien maintains an active blog, complete with his own posts on run commuting – check it out after you read his profile!
As always, if you are interested in being featured in The New Run Commuters, contact us using the form at the end of this post. The only criteria we have is that you started run commuting sometime in the last year or so.
—————————————————–
Name: Julien Delange

Age: 32

City/State: Pittsburgh, PA

Profession/Employer: Researcher in Computer Science

Number of years running: 7

Number of races you participate in a year: stopped counting (list on my blog, here)

Do you prefer road or trail? Definitely trails. With a weekly mileage between 50 and 120 miles, long runs on flat and paved roads increase the likelihood to get an injury, so I prefer to stay on trails.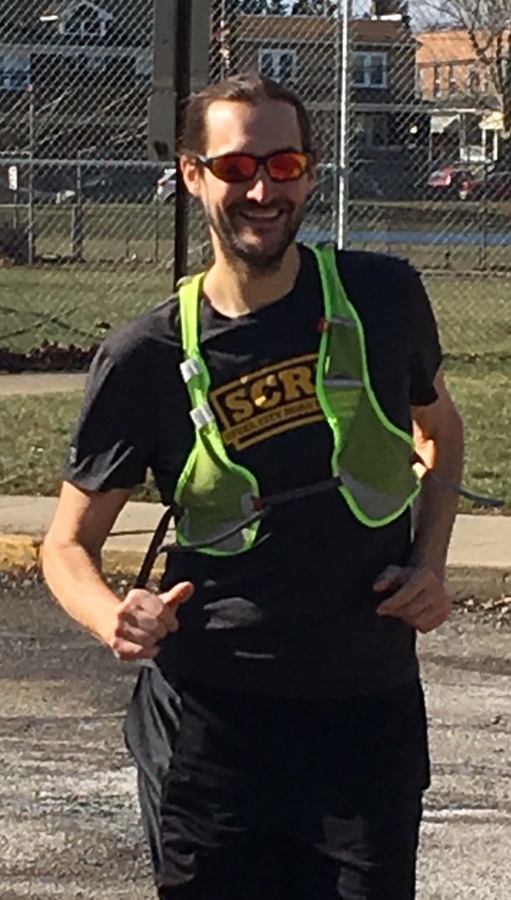 New Run Commuter Julien Delange
Clothing: Nothing special or fancy: a pair of shorts, a tech t-shirt, some tech socks (Smartwool or Injini) and that's about it. I also have a protective shell (for when it rains), headband (to protect my ears from freezing during winter). It is useless to overdress: after 10 minutes, my body is warm enough to run under the snow. And even having Raynaud syndrome that reduces blood flow in my extremities, I keep clothing as minimal as possible. The most difficult part is remembering to keep going for the first 10 minutes when it's freezing cold outside!

Headgear: A hat when it is really hot, but otherwise, nothing. I also always wear protective goggles or sunglasses when going on trails – to protect my eyes from potential obstacles.
Why did you decide to start run commuting?
Efficiency, sustainability, and financial reasons. Two years ago, I was taking my car to go to work (one hour per day), running one hour a day, and going to the gym. All these activities took two to three hours every day.
It was not time-efficient. I decided to run to work (45 min. each way) so that I could have more time to do other things I enjoy (reading, programming, playing, meeting friends!) and save money (no gas or parking). In addition, I would not be increasing the pollution (fumes and noise) in my community. I realized there were only benefits and suddenly became a run commuter the morning after.
How often do you run commute?
Every day! And I still do my long runs during the weekend :-)
I am very lucky that we have a shower at work: I bring soap, clean clothes and towels every two weeks to work, so that I do not have to carry them in my backpack.
How far is your commute?
The commute is between 4.5 (shortest route) to 10 miles (scenic view along a river). I have many routes I can take, so that I can adapt my commute according to my training needs (elevation, distance, mileage, etc.) I usually run between 10 to 13 miles a day with some days at more than 20 (when training for very long distances). It really is a fantastic way to train!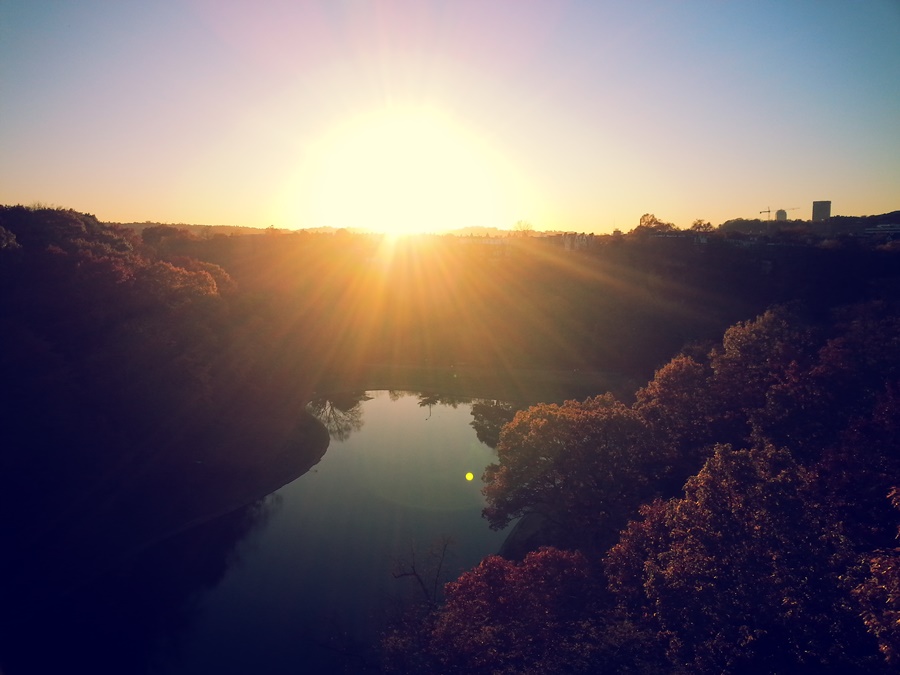 The sun rising over the river during Julien's run to work
Do you pack or buy a lunch?
I already have all my lunches prepared at work. Every two or three weeks, I drop a lot of clothes and packaged food. I eat the same thing almost every day: NuGo bars for snack and Tasty Bite Madras Lentils packages for lunches. Tasty Bites are easy to prepare (one minute in a microwave), are acceptable from a nutrition point of view (has some carbs, protein, etc.). It is very efficient from both time and financial perspectives. And, sometimes, I still go out for lunch with some colleagues.
What do you like most about run commuting?
This is a very efficient way to train: you can adapt your route according to what you really need to do (hill repeats, fartleks, etc.) and give yourself extra time for other activities. This is actually the best way I have found to train for long distances without impacting my social life too much. Also, you cannot miss a run!
Another underrated aspect is the predictability. Drive-commute times depend on many variables (traffic, issues with your car, etc.) and you do not have control over them. By running and choosing your route, you know exactly how long it is going to take to go to work.
But overall, I just do not like driving! To me, running is more natural than driving and the idea of sitting in traffic for hours is just not appealing. I prefer to be outside enjoying nature.
Do you know of anyone else in your area that runs to work?
Actually, there are some people that recently started commuting in Pittsburgh (special kudos to Alyssa and Sarah!). Pittsburgh is becoming more biker and runner friendly. We now have bike lanes, some dedicated fitness events for bikers and runners, and plenty of local running groups. The biggest running group in the city (Steel City Road Runner) started 3 or 4 years ago and today has more than 2000 members. Only a few of us run to work, but more people are getting involved and being active, this is what matters!
Beyond the decision to run to work, what matters to me is how we, as a society, use our resources (time, land, money, etc). Today, more than 76% of the US population go to work alone in their cars. In 2012, less than 3% of the population walked to work. Transportation impacts so many aspects of our community: schedule (time to commute and stay in traffic), health (pollution, noise, risks related to inactivity), even architecture (organization of the city with more roads). Choosing the least efficient solutions has a huge impact: does it make sense to take our car to work for a couple of miles when we can just bike/walk/run there? Especially considering the impact of the lack of activity in our developed societies.
Run commuting is just a means to change the way we usually commute, and there are other alternatives if you would prefer not to run (bike, public transportation, carpool, etc.), It is a good thing to see that some cities (such as Pittsburgh) are developing and promoting other ways of commuting.
When not run commuting, how do you get to work?
I only stop running to work when I am injured. In that case, I commute either by bike or (last resort) bus. The car is simply not an option during the week.
If you could give one piece of advice to anyone who was considering run commuting, what would it be?
Start easy and do it progressively. It takes a while to build the endurance to commute every day, but it is very convenient. Have fun, enjoy it. Stop half way to the pub, meet some friends, grab a beer. (re)Discover your city, its trails, and just have fun!
Anything else that you would like to include?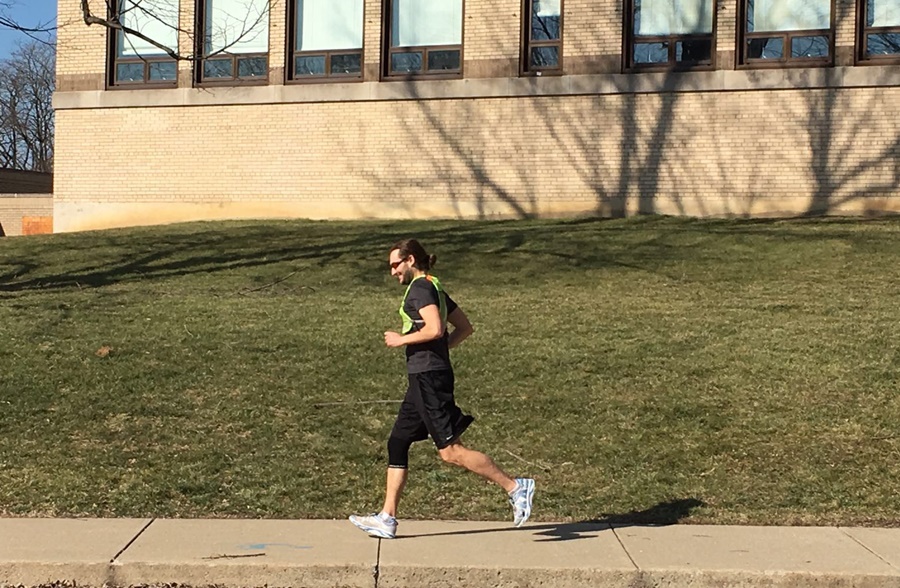 Interested in being featured on The New Run Commuters? Submit your info in the form below and we'll send you more details.
—————————————————————————————-
The New Run Commuters Submission Form