One of the things I do now is work with children having cognitive skills deficiencies such as Autism and Asperger syndrome.  The center where I help out is perfectly placed at a manageable 7 miles one way.
I only mention I work with children because for me it has significance to my story.  Doing the type of work I did in the past; I only did it for the money – period.  There's no kicking it around and I won't kid myself or you by attempting to make it something it was not.  I had a longtime fear of never having enough money so I did everything I could to make sure I was never without it.  That 'mindset' cost me dearly in all aspects of my life especially where health was concerned.
I would never have run commute to any one of my past employments.  There were many times I didn't even want to get out of bed much less contemplate the thought of getting up earlier and challenging myself physically to get there.  Even though I was very good at what I did, I did not enjoy it and the work relationship(s) were definitely one-sided.  Therefore, transitioning to do things which provided me real satisfaction, joy, excitement and which were in-line with a newly defined purpose of health and happiness drastically changed my outlook.  I began to contemplate taking on a run commute endeavor.
Firstly, it's hot here – real hot.  The children I dedicate time to all come in the midafternoon and early evening so running in 100 degree temperatures was/is something I just have to deal with.  I wasn't crazy about running in those temperatures and I wasn't willing to destroy my body for the run commute.  I went ahead and bought a bus pass so if I felt like I was going to drop out I could at least haul my limping carcass onto an air conditioned transport for some of the way.
I have taken mass transit systems in the U.S., Japan, Korea, etc., but I honestly had never taken the bus in San Antonio.  I was excited to learn though.  I hopped on a bus just to see how to navigate my way through stops and pickups.  I was happy and rode with a smile.  I will comment that it seemed like I was pretty much the only one enthusiastic about riding the bus.  Even though I was beaming with excitement, none of my smiles were returned to me.  As a matter of fact, one guy's look made me almost want to pin my lips over my teeth all together.
I didn't even know how to exit the bus.  This fact was graciously, but aggressively, pointed out to me from a large burly fellow who yelled, "Push the door open!"  I told myself, "No sir, you're not going to steal my sunshine" as I skipped off the bus steps.  Obviously, I am kidding there.  But, it really didn't shift my mood all that much.  What I was doing was for me.  It was something I wanted to do so my want of doing so squashed any bad feelings which would have risen up and gotten out of control.  Besides, after being to a variety of places around the nation where people tend to interact with you more antagonistically, this guy with his sparkling attitude seemed rather charming.
I am a first time run commuter.  I mean sure I had been on long hikes, camping trips which required me to haul a lot of gear, ran with a hydration pack, – I won't go into the entire minutia of activities.  But, I had never run to environment where I had to look presentable and then instead of relaxing, refueling and cleaning up, transition straight into performing a task.
So naturally my first time run commuting I over-packed and over-prepared.  I packed all the things I thought I might need: extra food, toothbrush, tooth paste, night lamp, extra socks, sunblock, water bottle, reading material, bus route maps, air tight food bags, dry clothes bags, wet clothes bags, and on and on.  I had an insane amount of stuff on top of the things I would actually need like my dress clothes, shoes, belt, lunch, snacks and drinks.  It was like I was going on a three day excursion! Needless to say, I stuffed all my items into an old dilapidated North Face backpack which I had modified (i.e. disassembled for makeshift parts).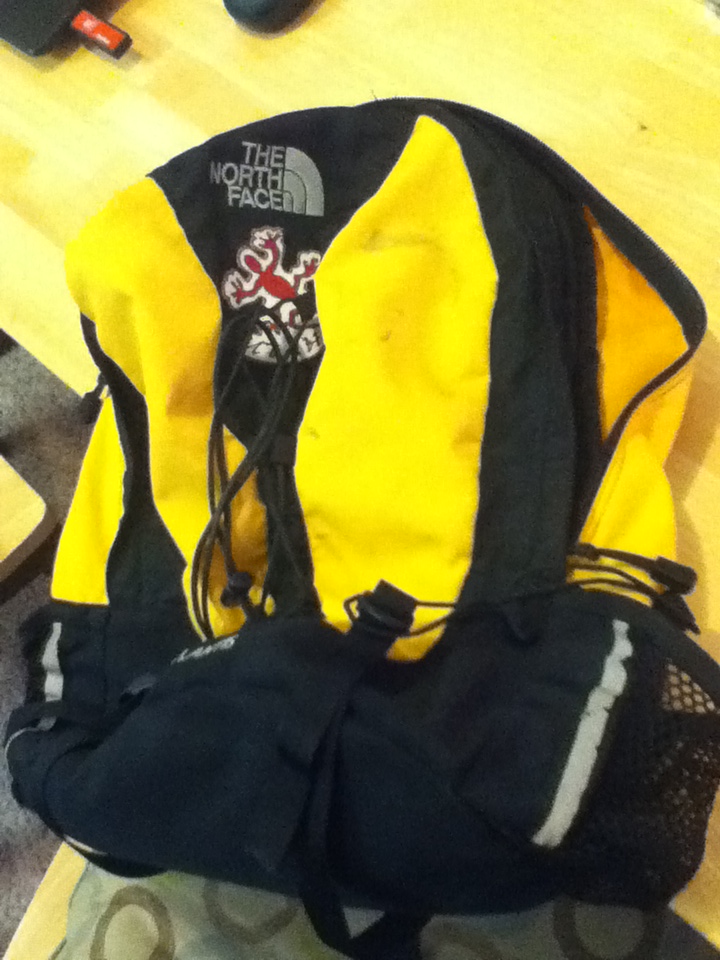 The elastic side-mesh pockets were all stretched out and did not function anymore to hold items.  There is only one center holding area with its failing zipper system.  The center synch bungee on the back didn't really do anything but roll the bottom of the backpack up away from my body.  There is no waist belt because I cut it away years ago to be used on something else which I cannot remember.  It does however, have a sweet Utah gecko patch from an old Moab trip, so that pretty much alone spits coolness and makes the bag a keeper.  Okay, maybe not, but it is what I have so I use it and I am grateful for it.
Am I getting a new pack?  Yes, eventually.  My outlook was/is I want to learn from the run commuter experience(s) so I get exactly what I really need.  I think this is important because only I know everything I really need on a daily basis.  There are the basics items you want to have with you of course.  I won't go through the items I take/use right now but definitely check out the posts Josh's Gear, Kyle's Gear, and Sophie's Gear for some great gear information and also the 'How To Get Started' section under the contributor's block starting here.
"You don't have to have everything all figured out.  Just get moving…"