Do you mind the sound of keys jingling?  No?  I bet you would after you heard them make that noise over 5,000 times in 45 minutes.  That's how many times the loose keys in your backpack could make noise on a 45-minute run to work.  How's that for some early morning ear candy?
Well, fellow run commuters, we're going to show you how to silence your commute.  No more key jingle.  No more water sloshing.  No more tink-tink-tink sounds from your zippers – just a nice, quiet pack for your run to work.  Let's tackle them in the order of annoyance:
Top Noise Makers
Keys
Belt Buckles
Zippers
Hydration Bladder/Liquid
Loose Items/Food
Solutions
1.  Keys
I have a lot of locks to open, so I have a lot of keys on my key ring.  And, key ring cards.  And, doodads.  All of those together make for a baseball-sized bundle of noise.  I've found that there are two ways to effectively silence keys.
I had one of these lying around unused, so I tried it out one day and found it worked very well.  As a bonus, it has a small zippered pouch that my metal watch fits into nicely.  You can easily find one that will fit your keys, no matter what size they may be. Simply go to a camera case display at any store and try it out with your own keys to find the best fit.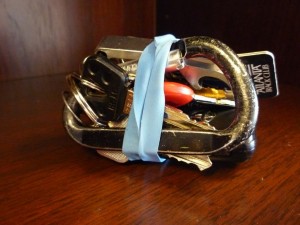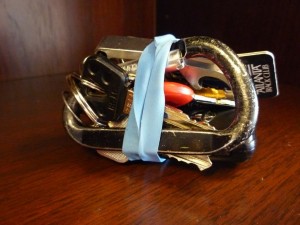 Rubber Band
For the especially frugal or minimalist run commuter, you can use a rubber band.  The one pictured here was holding some store-bought vegetables together (either asparagus or broccoli).  It's wide, short and durable, making it an ideal combination to bind your keys together.
2.  Belt Buckles
There is one particular type of buckle that will annoy the crap out of you when you're running – the web belt buckle.  There is a little metal bar inside the metal buckle that will bounce around clanging and jingling, almost like the sound coins in a cup make.  For this solution, we turn to our old friend rubber band.
Once again, it does the trick.  Just be certain to pin the metal bar down under the rubber band or it won't work.  You can also secure the entire belt by wrapping part of the rubber band around the coiled belt and buckle.
3.  Zippers
These pics should be self-explanatory.  There are probably a few more techniques I missed, but these are the main ones (and pretty simple and low-cost.)
Add a Zipper Pull
Use Some String/Cord
Wrap Them With Tape
4.  Hydration Bladders
This one is pretty simple.  Turn the bladder upside down and suck out all of the air.
5.  Loose Food/Items
This one is sort of simple, too.  The key is to eliminate the empty space.
Loose Food
Loose Items
The first thing you can do is to ensure that the items in your pack are arranged properly.  One of our favorite companies, Osprey, created a handy graphic that shows you how to pack items based on weight.
When run commuting, however, we don't always run with a full load.  So no matter how well you arrange things inside, there may still be plenty of empty space for things to bounce around.  That's why we recommend a pack with compression straps:
Compression straps allow you to change the size of your pack by squeezing the outside layer of material closer to your back, which in turn pulls items inside together tightly.  No more bounce!
———
Hopefully you found some of these tips useful.  If you have any other suggestions, let us know!