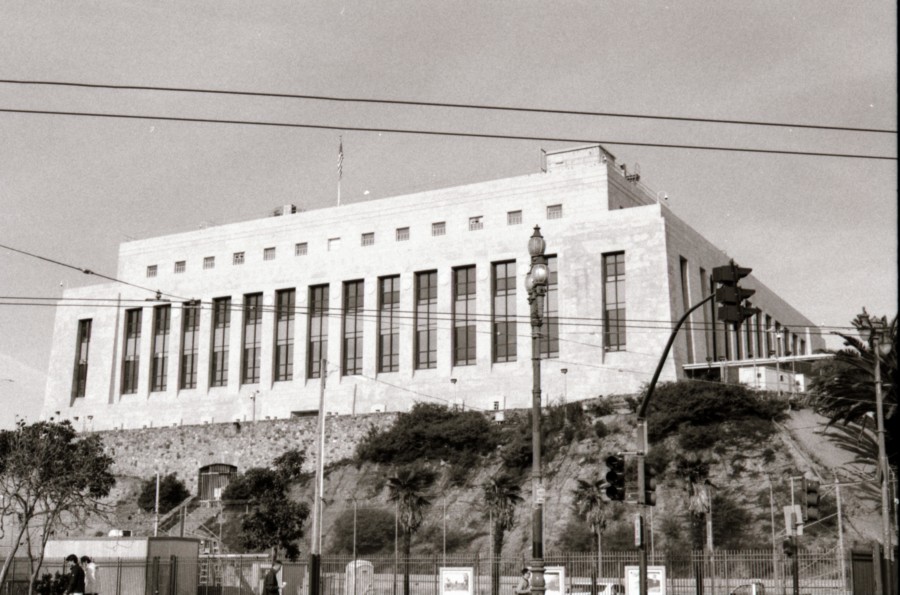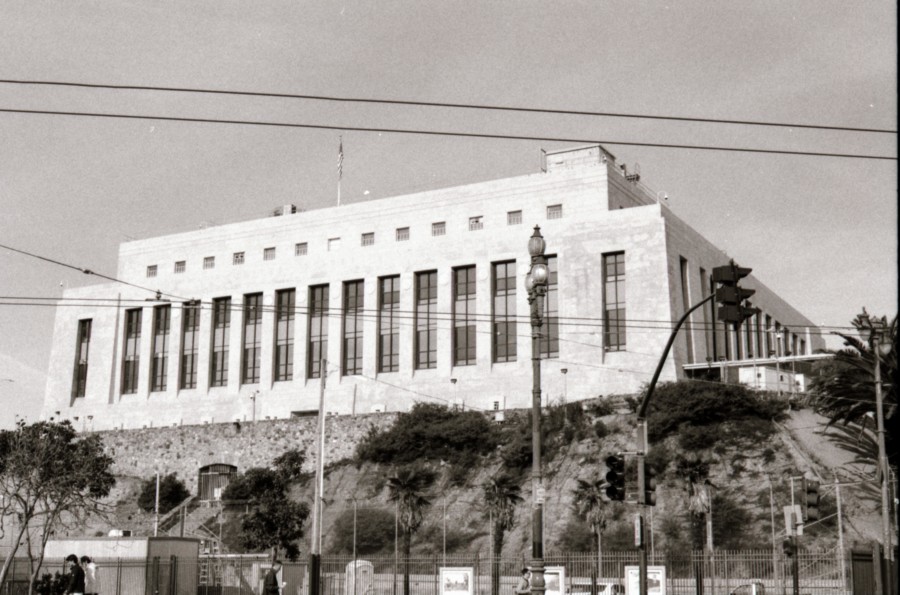 The US Mint in San Francisco, which I pass on the most challenging route I can take, up and over between Mt. Sutro and Twin Peaks.
Run commuting has made me a better person. I am not who people believe I am. To wake up early and trek into the office on my own locomotion is intrinsically worthwhile. Yet it also is consistent with my plan for self-improvement. Please allow me to explain.
People regard me as among the hardest working individuals they know. I once said to a colleague that I felt I wasn't hard working enough, and he replied explicitly that there was something wrong with me if I were sincere in the statement. That is no brag. Throughout my career, I have worked so much that people who have commented on it have not intended it as a compliment. When I practiced law, albeit briefly half a lifetime ago, I billed at a 2750 hour per year pace. I'm told that remains a respectable amount even now.
But here is my secret. I am among the laziest people I know too. I can cite various examples. If I am working, I won't bother to leave my desk if I am thirsty or need to use the facilities. In the interest of efficiency, I wait to rise from my seat until both conditions are satisfied. Observers assume I am ambitious. To the contrary. I'm an idler. I like to sit at home with the dog.
There is no contradiction between being hard-working and being lazy. The hard-working persona is cultivated; the lazy one, natural.
When I was a kid, I enjoyed the T.H. White retelling of the King Arthur legend, entitled The Once and Future King. Written with World War II ongoing toward an outcome that seemed at best uncertain, the tetralogy of novels has endured as the version of the myth for our era, featuring Camelot, the sword Excalibur, the wizard Merlin, and so on. It was the basis for the Disney cartoon. The monarch is an orphan transformed into various animals to learn by allegory. What made an impression on me is the defining dialogue between the ill-made knight, Lancelot, and the Queen, Guinevere, who are carrying on, certainly within the awareness of Arthur, who regards the French chevalier as his only friend and the champion of the round table. Lancelot, asked by the Queen why he strives to be so virtuous, confesses it is because he is so wicked. The sentiment is profound, for any of us who aspires to personal progress. Our perfect selves are not our true selves, and although we might not achieve the former within our lives we need not be as awful as the latter.
Social scientists now have data about how we make decisions that suggests we can change the architecture of our choices. The Nobel Prize in economics this year went to the professor who has promoted the concept of "nudges." We can alter, in the aggregate and on average, behavioral outcomes while respecting free will, by changing defaults from opt-in to opt-out and otherwise being conscious of the framework within which we pick among options. We, many of us anyway, will save money if enrollment in the retirement program is automatic — though within our ability to change, since we won't bother. We will tend to control our portions by putting out smaller plates and consume less sugary soda by insisting on smaller containers. These are important insights about how our brains function, whether we consent. We can fool ourselves, not necessarily for the worse.
Run commuting has become my means of enforcing discipline for myself. It is effective. You can structure inertia to favor continued activity. In my fantasy life, I have long been a runner. It was easier to implement my imagination than I had supposed, following Lancelot and using "nudges."
To begin, I set appointments with others to walk, eventually adding speed to the stroll. The commitment made all the difference. I had to live up to it. Otherwise I'd be disappointing a colleague. In some instances, we dubbed it a "walking meeting" — I was thrilled to discover that, like run commuting, the walking meeting turns out to "be a thing" as kids say nowadays. I even arranged, as a teacher, to lead groups of students, adding a coffee break at the end, though fewer than half who RSVP'd typically showed up for the 7am start.
Then I became known as a run commuter. The security guards on campus become accustomed to seeing me arrive in my hi-viz yellow windbreaker and a cap soaked through with sweat, disappear into my office for a moment, then show up once again in my regular outfit for the day. The expectation of others is vital to my motivation. It might be less enthusiastic than the cheering from the crowd during a race, but it serves the same purpose of inspiring. Even though run commuting is becoming more popular, anyone who engages in it likely is enough of an outlier to develop a bit of local fame. It's only slightly more common than, say, riding a unicycle.
Here is my discovery — not original, even to me, but rather one of those aspects of human nature I keep realizing after forgetting how integral it is to all of us. Repetition forms habits. These can be good practices, despite our more acute awareness of their bad counterparts. I run on my own now. I run without people taking notice, even to "run" errands.
Run commuting has trained me. It has become a mindset. Its value extends beyond the exercise. I have become more deliberate in planning my day and more mindful in carrying out activities shown on the calendar. I appreciate both the moment and the surroundings.
In a sense run commuting has become my philosophy of life.