I have not decided if running is a solitary activity that I engage in within a community, by racing half marathons; or if it is a social activity that I engage in alone, commuting back and forth. I have concluded, however, that it is a contemplative activity. For me, running naturally promotes thinking, and thinking naturally leads to writing. I am not alone: Haruki Murakami, the avante garde, Western-influenced Japanese novelist, turns out to be a marathoner. A decade ago, he published a memoir about training as well as how he became a runner, a writer, and then a runner-writer who blends the activities as many of us aspire to do. It deserves the acclaim it received. I loved it.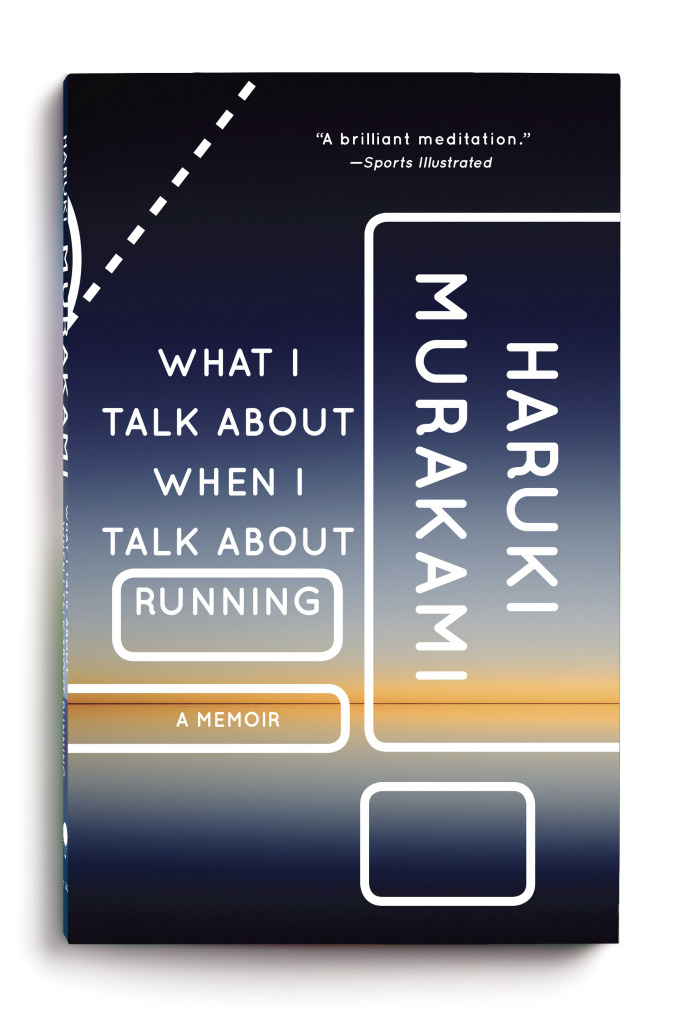 This book, What I Talk About When I Talk About Running, made clear the difference between doing something on the one hand and talking and writing about it on the other hand. When I was a kid, I wanted to be a magician. I tried to persuade my parents that I should give up piano lessons for the magic equivalent. I bought treatises and supplies and tricks and those boxes of everything including a wand, which were advertised on television. As I delved into coins and cards, trying to palm them, force an audience member's choice, drop or load, I became intrigued by the histories and the stories. No doubt that was an excuse: I have to admit I was too lazy to practice the manipulation needed to fool anyone but the especially gullible. I was curious, but by character preferred studying to performing.
Since then, everything I have attempted to do, I have wanted to document, no matter how well it turned out. I have written about motorcycling, for example, and I once rode across the country, a journey I recommend heartily; I also have blogged about photography, a pastime that I have combined with running, and which I took up in earnest at the same time in life. So I am more analytic than athletic, more abstract than practical.
Yet the run commute and writing match perfectly. I want to run commute as much as I want to write, daily. The point of the run commute is more than either the exercise or reaching the destination in order to work. I could exercise elsewhere, including by running for the sake of running, which I confess I rarely undertake. I could travel through San Francisco by motorcycle or MUNI train or my wife's car or on a bicycle.
The run commute is magical though. I feel as if I have made a discovery. I suppose since it is new to me, it can be described as such, belonging to that category of revelation about life that you need to experience for yourself, even if it would be foolish to suppose it is in fact unique to you. It is personal. You cannot gain the insight by any education other than experience.
I enjoy the run commute so much that, while as a matter of principle I deny having any regrets, I am willing to acknowledge that I wish I had embraced the run commute much earlier in life, or at least the long walk. When I was in college at Johns Hopkins University, they had housing only for first year students, and after that I lived off campus what seemed a great distance away, all of six blocks, far enough to excuse missing class too often. I had a friend in the dorms with whom I lost touch, in part because the following year he moved around to the other side of campus and that hike of what likely was less than a mile was too much to manage for the geek I was back then. For that, I look back in disappointment at myself, acknowledging the cliche that youth is wasted on the young, because I would be in such better shape today if only I had developed this good habit much earlier, not to mention still being acquainted with a fellow who was an amiable conversationalist when I was able to work up the will to go for a saunter.
That is why it is wonderful to learn from Murakami. His book is easygoing, as if he were accompanying you and encouraging you to continue pushing forward. I imagine it would be great while running to listen to the text in audio format. Then it would be as if his thoughts had become your own thoughts, giving that illusion of being faster as a runner and smarter as a writer too. It's like an extended interview, as in the Paris Review, about how a writer does what they do (Murakami has been the subject of just such a session). Readers, in particular those who wish to be writers, enjoy that, as if copying a mechanical routine in turn will produce a manuscript: talent, we are told, is not the same as focus and endurance. Murakami is a bona fide celebrity. He also became a recluse. He and his wife agreed, when they moved to a rural area early on, that they would see people they wanted to see and not bother with people they didn't like. That is as admirable as it is difficult.
Son of a literature professor and grandson of a Buddhist monk, Murakami the young man had been proprietor of a jazz club. He recalls how at a specific moment, he decided to enter a contest to write a novel, sending away the only copy, the original manuscript he had handwritten in Japanese with a fountain pen, then being surprised he won, coming into consideration for a major prize. He then set out on a career, which seemed speculative against the established success of the jazz club, a comparison that indicates how risky writing really is as anything but a hobby, but supported by his wife, who otherwise scarcely appears in his story. The running was a self-imposed compensation for sitting all day to practice his craft (he also quit smoking). The book title is a reference to the late Raymond Carver's definitive short story collection, What We Talk About When We Talk About Love — Murakami is Carver's Japanese translator. In addition to magical realist fiction, he has published a book length conversation with conductor Seiji Ozawa and a journalistic study of the terrorist attacks using Sarin gas on the Tokyo subway system in 1995.
Perhaps he, and any reader of this minor scribbling, will forgive me for envisioning myself as a junior colleague to Murakami. I have always figured I was a writer with a day job. The reason he is inspiring is his thoughtfulness about how running is integral to writing. His running is directly related to writing both because as his blood flows the ideas course through his brain, which he can record later, and since running itself is the subject of writing. I feel the same. It is inevitable that a good run will produce a good piece of writing. That is my definition of a good run, that it generates such a result. Running is reflective. There is so much to a simple act that, if you pay attention, can be discussed. I'm merely imitating Murakami. That is fine, because running is sincere rather than snarky; you cannot be ironic about the activity despite the costumed crowd at events such as Bay to Breakers, the festive race in San Francisco.
Murakami is no slouch. The guy is a bit of a nut. He tested himself by running around the Imperial Palace in Tokyo seven times, for a total of more than 22 miles. His PR in the marathon is a self-reported 3:27. He has even, solo and on commission for an article in a magazine, completed the original marathon, i.e., to Marathon in Greece albeit short by a mile due to the straight route being not quite the distance imputed to it (his time was 3:51). At the time of his book, he had finished the Boston Marathon six times, and in the concluding essay, he is preparing for a triathlon. He said in an interview that finishing, then eating clams and drinking beer is among his happiest moments. He enjoys American rock music, the classics extending into the 1980s (he mentions Duran Duran and Hall and Oates, which are not the same genre at all). He's not a team sports participant despite being a baseball fan, following one of the less fashionable Japanese franchises, and he has jogged with fellow novelist John Irving, famous for his enthusiasm over wrestling. However, running is now "like brushing [his] teeth."
I am sure not everyone will agree about running and writing. Some will suppose I am too philosophical. You write about motorcycling or photography, and some readers take you to task for not being out there riding or taking pictures. It is academic, pedantic, and pretentious, to be literary about what they would prefer to lack such self-consciousness. We all have our own dispositions.
Murakami gets it. I am disappointed, however, that he disapproves of the run-walk. That is my mode. His epitaph will declare he never walked. I also don't have the same style. He goes topless. Since I do not know Japanese, I am not sure if it is Murakami or his translator — even though he gives speeches in English and does the reverse of turning English into Japanese, he has relied on someone else to transform his prose. He sounds colloquial, contemporary, as if he is "shooting the breeze" alongside you; that is the sort of phrase that appears, "shooting the breeze," with an everyday tone.
For me the run commute has taken on the qualities Murakami has identified. I intend to write more and to read more. After Murakami, there are many others who have documented excursions. If you are open minded, attentive to details, even the same route to the office will be epic.