If you are from London, you may have recently noticed a significant increase in media coverage related to run commuting. And, if you dig through the deluge of television stars and top athletes touting their love and support of running to work in the London Evening Standard and elsewhere, you'll find one man behind it all.
The founder of #run2workday (June 5th, 2014) and health advocate behind a tax-free running gear petition in the UK, Gordon Lott, 40, believes people should ditch the Tube and instead turn to run commuting to help maintain their fitness and ease overcrowding on London's transit system. And, he's not alone. The Mayor of London has gone all-in on the idea…
We asked Gordon about his beginnings, his vision for #run2workday, and what the future holds for cities and politicians that support running to work as a regular commute option.
—————————————–
Tell us a little about yourself. What is your background? Are you a runner?
I've always loved ball sports and I only got in to running when I decided to do a triathlon 6 years ago as a new goal for myself to get fit. I now do two or three Triathlons a year to help keep the weight off – I weigh 95kgs, so I'm not naturally built for running; I drink too much, I've smoked; I love chocolate and food, so running is a necessity for me to stay fit and keep the weight off, and I love the feeling of achievement having been on a run.
How did the idea for #run2workday and the tax petition originate?
I felt running needed a campaign to attract more people to it – not just those already predisposed to running. There are lots of 5ks, 10ks, half marathons, and great events like Tough Mudder and triathlons, but too often these events speak to people who are already fit and running. What we haven't done well is engage people who don't naturally consider running or jogging, however far, to be active and healthy. Many, like me don't 'love' running and probably never will, but I certainly enjoy the sense of achievement when I do it, and running to work, even just two or three times a week, is an easy way of keeping fit within your daily routine and can save people a lot of travel money.
[pullquote]Our mission is to help get 1 million more people running at least once a week by 2020 (currently it stands at 2 million, so its a 50% increase).[/pullquote]So I set up www.run2work.com as the first dedicated hub to helping people run to work in the UK. The Route Planner shows you the quickest and shortest route to take, and you can set up run2work Groups with people at home or work who will keep you motivated. #run2workday is an idea to help people try running to work, and with our Partners including the
Evening Standard
,
Virgin Active
, and
Amazon Audible
, we're giving people information and incentives to do so.
However #run2workday isn't a long term, sustainable solution. To create real change, we need to provide more information, the right kit (such as ruck sacks to carry laptops), and environment (such as more showers at work), and incentivise people. That's why we've launched the petition for the cost of running to work to be tax-free which could save people over £100 a year. The long term savings to the National Health Service and Transport system far outweigh the tiny reduction in tax income. In the UK, Cycling to Work is already tax-free – you purchase a bike and equipment through an employer's scheme before tax on your salary is deducted. Over 500,000 have signed up to one of these schemes, which is 65% of all people who cycle to work, so it has clearly worked and cycling as a sport is experiencing fantastic growth.
Why did you choose Thursday, June 5, 2014 for #run2workday?
Thursday 5 June is the first #run2workday – we're holding them throughout the summer on the first Thursday of each month, so we help people make it a habit and not a one off. They all fall between a number of running and mass participation events, so we hope people can use Running to Work as a way to train and stay fit.
Is #run2workday mainly for the people of London and the surrounding area or is it open to runners from around the world?
The offers people get for taking part in #run2workday are just for the UK, however people all over the world are taking part in #run2workday which is great – the more the merrier!
How did the mayor of London become involved with this project?
One of the Mayor of London's biggest priorities is to reduce overcrowding on London's Tube Network – he wants fewer people to use it because there is only finite capacity, so for him and TfL (Transport for London), more people running to work can help them achieve this objective.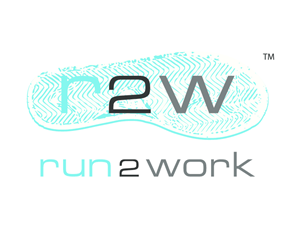 Do you think participation by the mayor and star athletes will increase public buy-in?
We certainly hope so, and we also hope David Cameron, the UK's Prime Minister, will also take part – he regularly runs in London's Parks, so maybe he could run to the Houses of Commons or another meeting.
Cycling to work typically faces a social barrier: drivers vs. bikers, and who owns the roads; however, run commuting's bane is usually that, unless one's workplace touts showers, people see it as unhygienic. Do you think that will be a significant barrier to run2work?
I don't see a lack of showers being any more of an issue for running to work than it is for cycling to work. Yes, there are some people who cycle only a short distance and don't need a shower, but many who do cycle in need a shower, so the shower facilities issue is really important for everyone who wants to get fit running or cycling to work. As well as tax-free running kit, we also believe the government needs to regulate or incentivize builders to put more shower facilities in any new-build or redevelopment project.
The Route Planner is fantastic! Do you see any future applications for it beyond #run2workday?
Absolutely – we want to do much more with it, such as create printable versions, expand the map size, and show alternative routes. We also hope to create an app once we get additional funding.
What would it take for you to consider this scheme a success: several dozen who participate the one day, as something of a novelty or one-off; or conversion of some commuters to dedicated run commuters, from their other modes?
[pullquote]In the long term, success will be when more people than don't say that running to work is an easy way to commute and stay fit, whether part or all the way, and however regularly they run. [/pullquote]Great question! In the short-term, we're hoping 10,000 people will join in #run2workday over the summer 2014 – we have just shy of 1,000 already signed up in just three weeks since launch, so we're on track. Making running to work tax-free, incentivizing more showers, helping people set up run2work groups and other initiatives such as these will helps us achieve this ambition.
For more about #run2workday visit their website and join the run2work Facebook Group.