This small, light backpack is simple yet sturdy and is perfect for a certain type of runcommuter. It is about as basic as you can get in a pack designed specifically for running/sports. The Speedlite 10 is a great runcommuting pack for those who value durablity, quality, and simplicity, but more significantly, those who want a pack that they can forget about while running. This is one for runners who don't want to access much whilst on the run.
Test Model
Size: One size fits all
Carrying Capacity: 10L, 610 cu. in.
Runcommuters who don't want to access phone/water whilst on the run

Runcommuters who carry small to medium loads

Runcommuters with longer torsos
Performance and Evaluation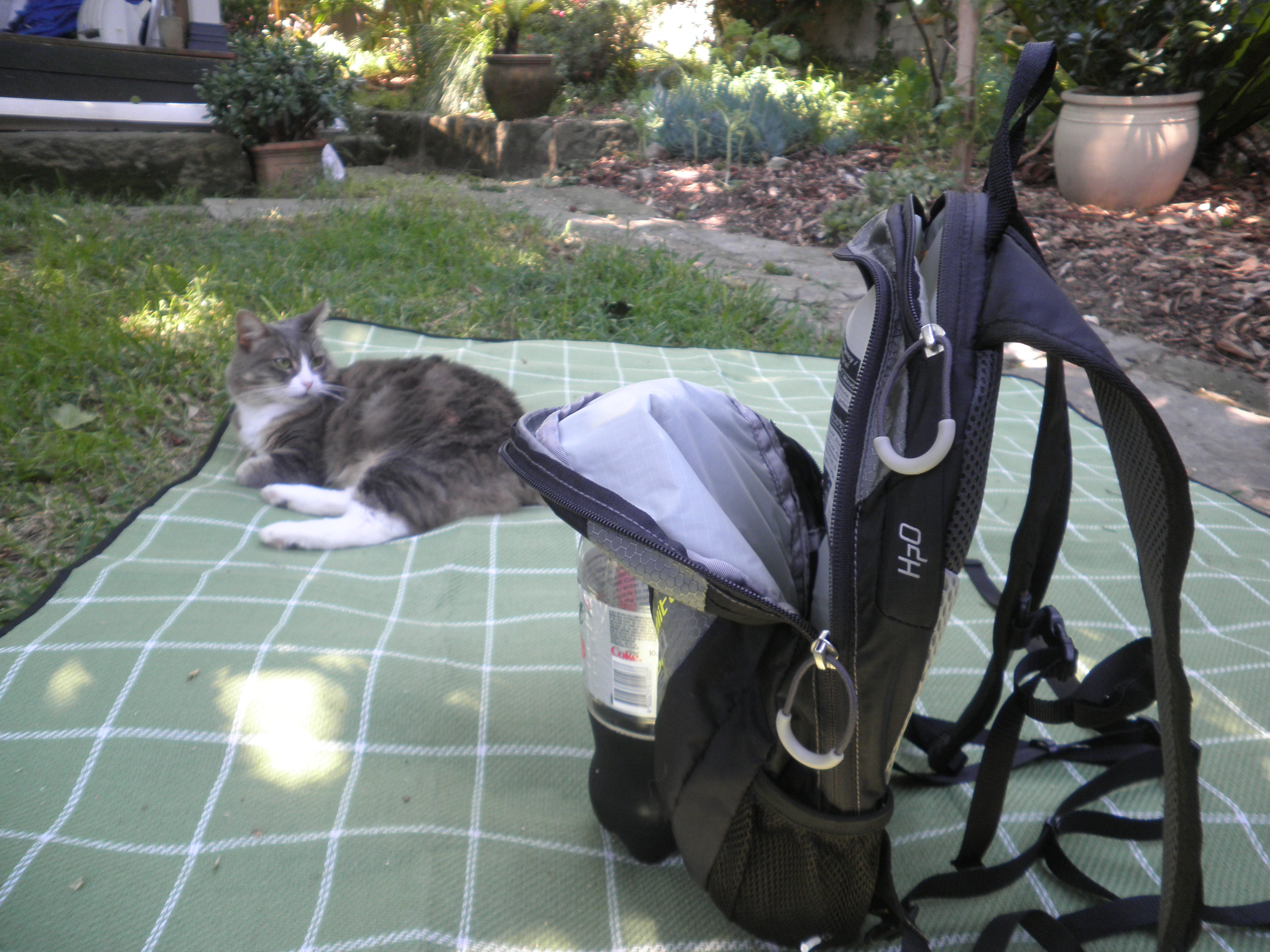 The Speedlite 10 comes in a range of colours and has classic styling. If you choose the black version this a backpack that does not look too 'sporty' for the office. Whichever color-way you choose, you'll notice that the Speedlite 10 is not floppy when not being worn. It has a soft foam-and-mesh back, and an internal, sewn-in bendy plastic wire running around the rim of the back panel. This frame is unobtrusive and not stiff – you can still bend the whole pack in half – but it holds the pack in a shape all of the time, meaning the pack doesn't flop over in a sweaty heap when you put it down. This is a great quality in the pack. Many other small-size lightweight packs have no skeleton and as a result collapse like a badly-built sandcastle when not on your back. Several of the packs of similar load volume (see list below) are very floppy in this way. Floppiness is not a problem for trail-running or casual purposes, but some runcommuters don't want their pack to be a puddle of sweaty fabric when they're carrying it around. I runcommuted with a trail-racing 'vest' for a while, and it was great on the run but terrible to lug once off my back.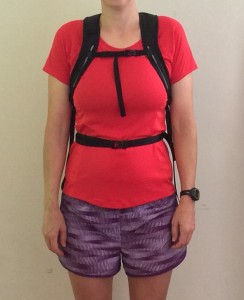 Performance
Performance is good, with little-to-no bounce when running with the pack. However, to prevent side-to-side sway I have to tighten the straps until they are basically too uncomfortable and have me 'corseted in' to the pack in a very stiff way. Personally, I prefer a tiny amount of sway to extremely tight straps, and that is the choice to be made for this pack, on medium to smaller-framed people. This brings me to another issue for performance: fit. Although the actual size of this pack is small in terms of how it looks, the positioning of the sternum strap would fit larger people best. This is because for smaller people who want to wear the pack up high the sternum strap may not slide up high enough to be comfortable.  See the photo above for the sternum strap at maximum height. It's not a huge problem for me, but it might be for anyone smaller than me (particularly ladies, for whom the chest creates specific issues). I'm not small, either: 170cm, with a broad frame (though my torso length is small/medium, rather than medium/large). So, although the Deuter Speedlite 10 looks like it would suit a smaller person, with its compact size and clean lines, this is deceptive: it would fit best on larger/taller/size 'L' torso runcommuters.
Sometimes, it rains. We runcommuters have to run in rain at times, as Kyle discusses in his classic 'How to RAIN commute' post.
To guard against sweat seepage or sudden unexpected rainstorms, a precaution is to always put your clothes into a dry bag — which will also compress them — before loading them into the main compartment.
There is the option of a small external rain-cover for instead. I did not try this method on the Deuter Speedlite 10, but I would guess that the rain cover would need to be super-small, and even then there might be problems getting the cover to stay on with the usual drawstring method used on rain-covers, because there isn't much prominent edging for the rain cover to cling around, due to the pack's compact design.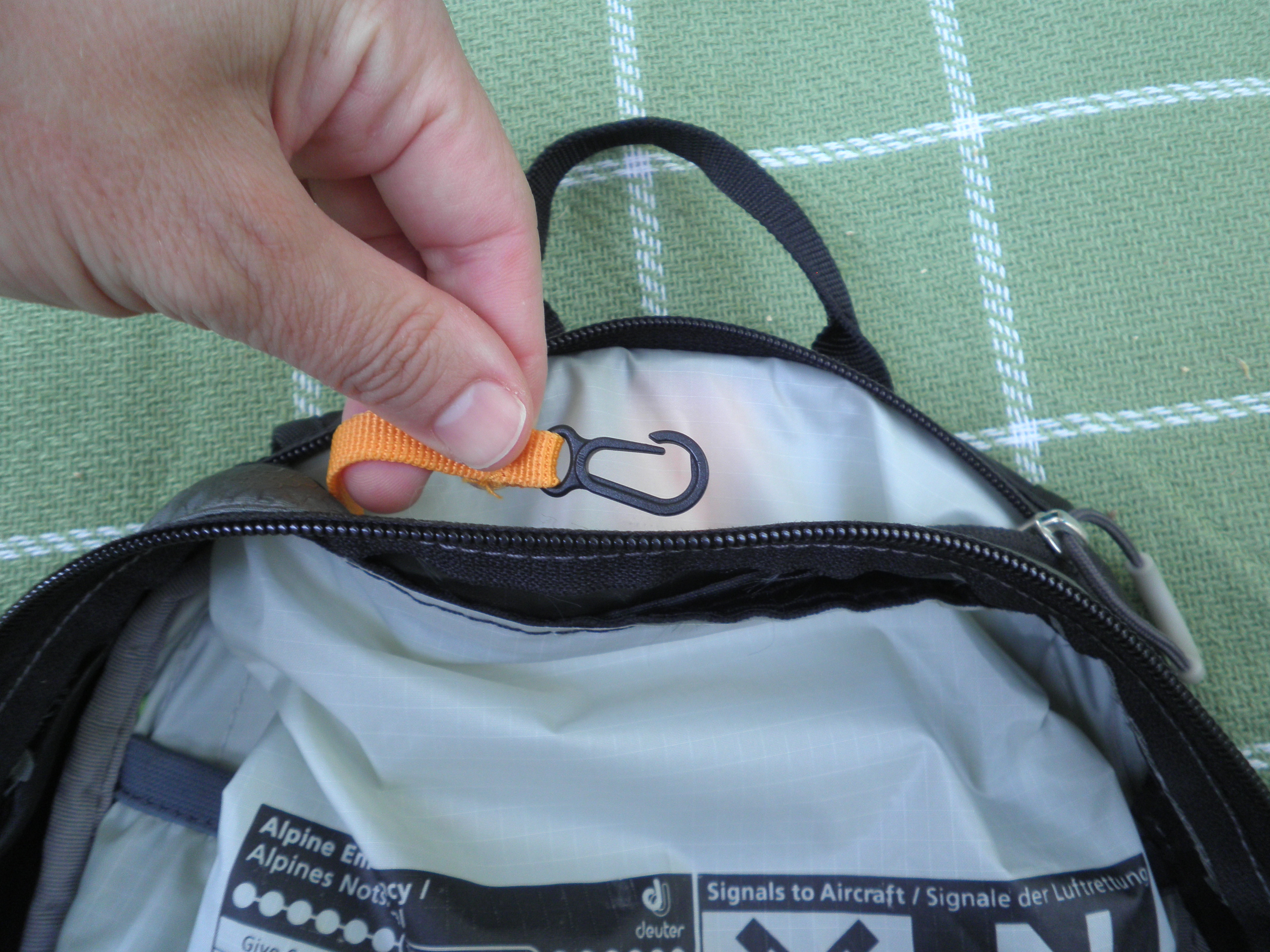 Key clip inside top stash pocket, on which are instructions for signalling airplanes for help!
Durability: high-quality materials and construction
Grab-handle for hanging pack on bathroom hooks
Lightweight, bendable 'frame' tube that gives a shape to the pack
Key hook inside…
….nicely-sized top pocket
Cool English/german instructions for signalling to aircraft for help if stranded on desert island! (the ink on these starts rubbing off pretty quickly though, so you'll want to be marooned not too long after buying this pack…)
No pockets at all on shoulder straps/waistbelt
Shoulder straps a bit 'harsh' and may chafe neck on longer runs
When the main compartment is full the side mesh drink-bottle pockets are virtually unuseable for carrying drink bottles
Tiny anti-slide clips on waist belt don't really work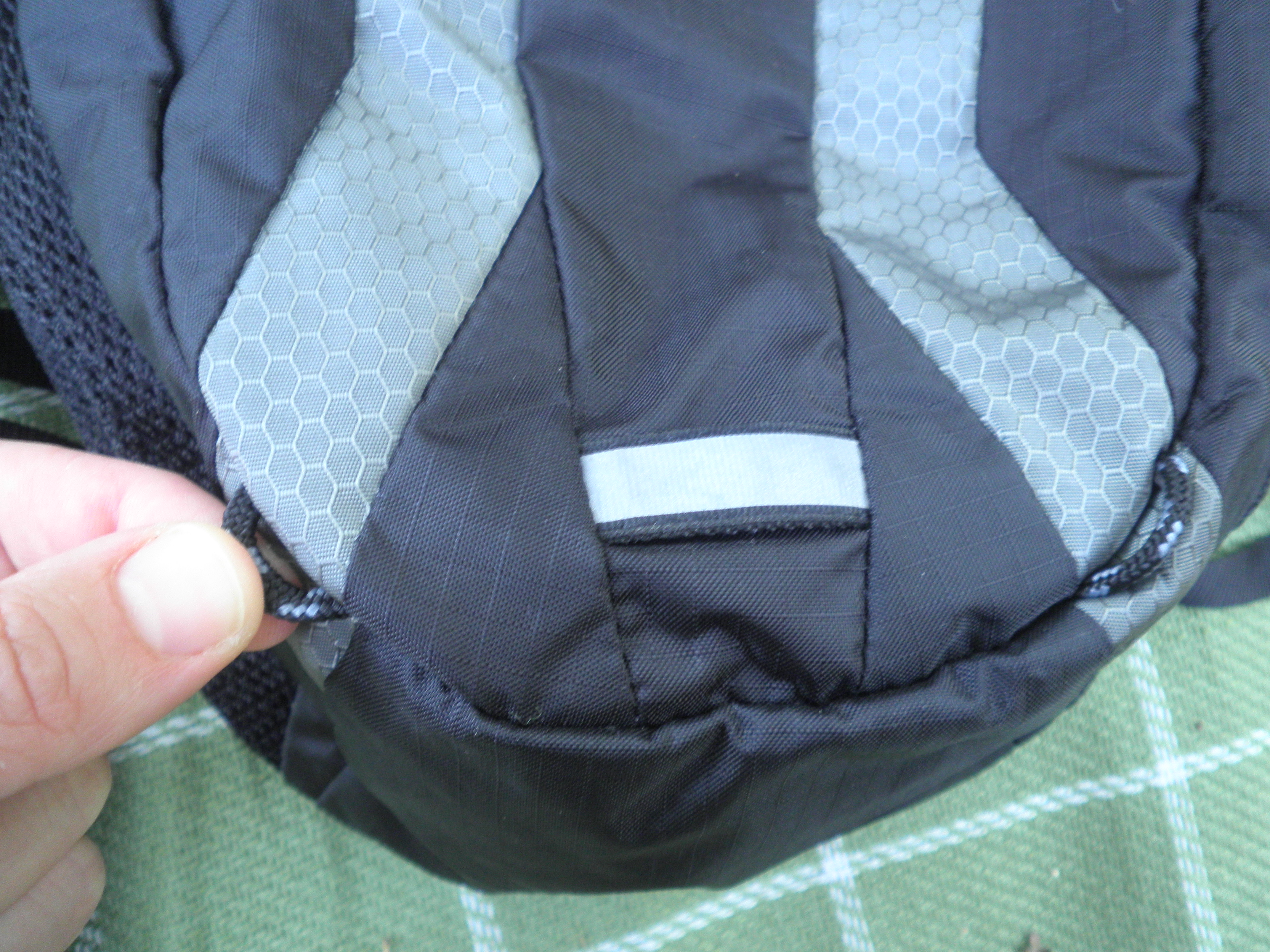 Front
The front of the pack has four light attachment points, one in each 'corner'. It also has a small strip of silver reflective material in the lower quarter. There is no bungee cord or straps to cinch down the pack if it is fairly empty. However, this is not a problem, as the pack material keeps its shape well and doesn't flop around or sag if there's not much in the pack. If you had a single delicate item such as a camera in the main compartment it would bounce around, but in that scenario I don't know whether an external bungee or compression straps would help, either.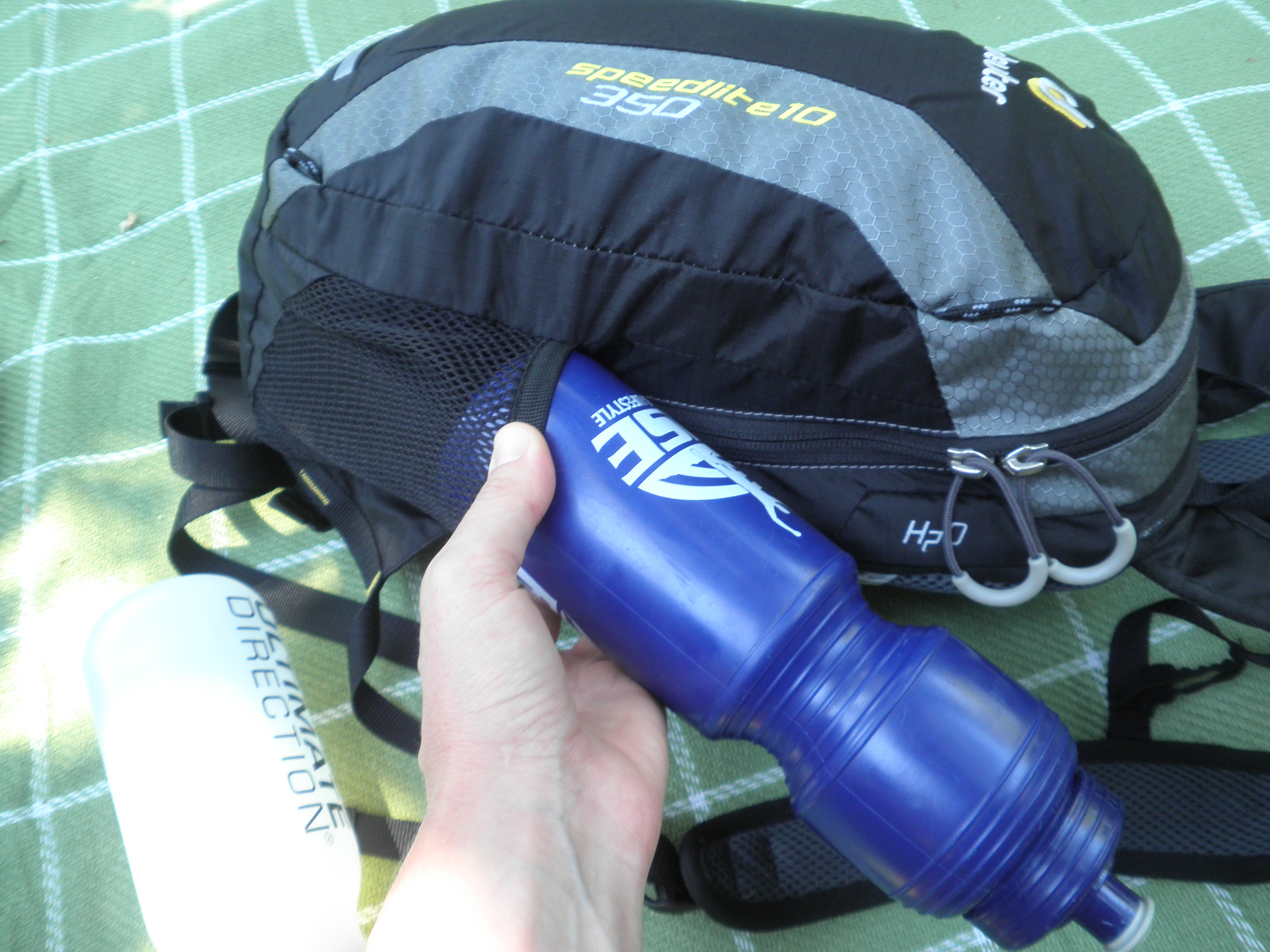 Sides
The top zip opens the main compartment from halfway down each side of the pack. Below the zip on each side is a mesh pocket with elasticized top edge that keeps the pocket in close to the pack. These mesh pockets work fine when the pack is relatively empty. When the main compartment of the pack is full, however, it's very difficult to get a drink bottle into the pocket. This means that if you want to carry water to drink while runcommuting it has to be either a very small bottle (like 150ml) or you'll need to use a hand-held. This could also be annoying if you are using the pack during the day and just want to have somewhere to put your full-size water bottle.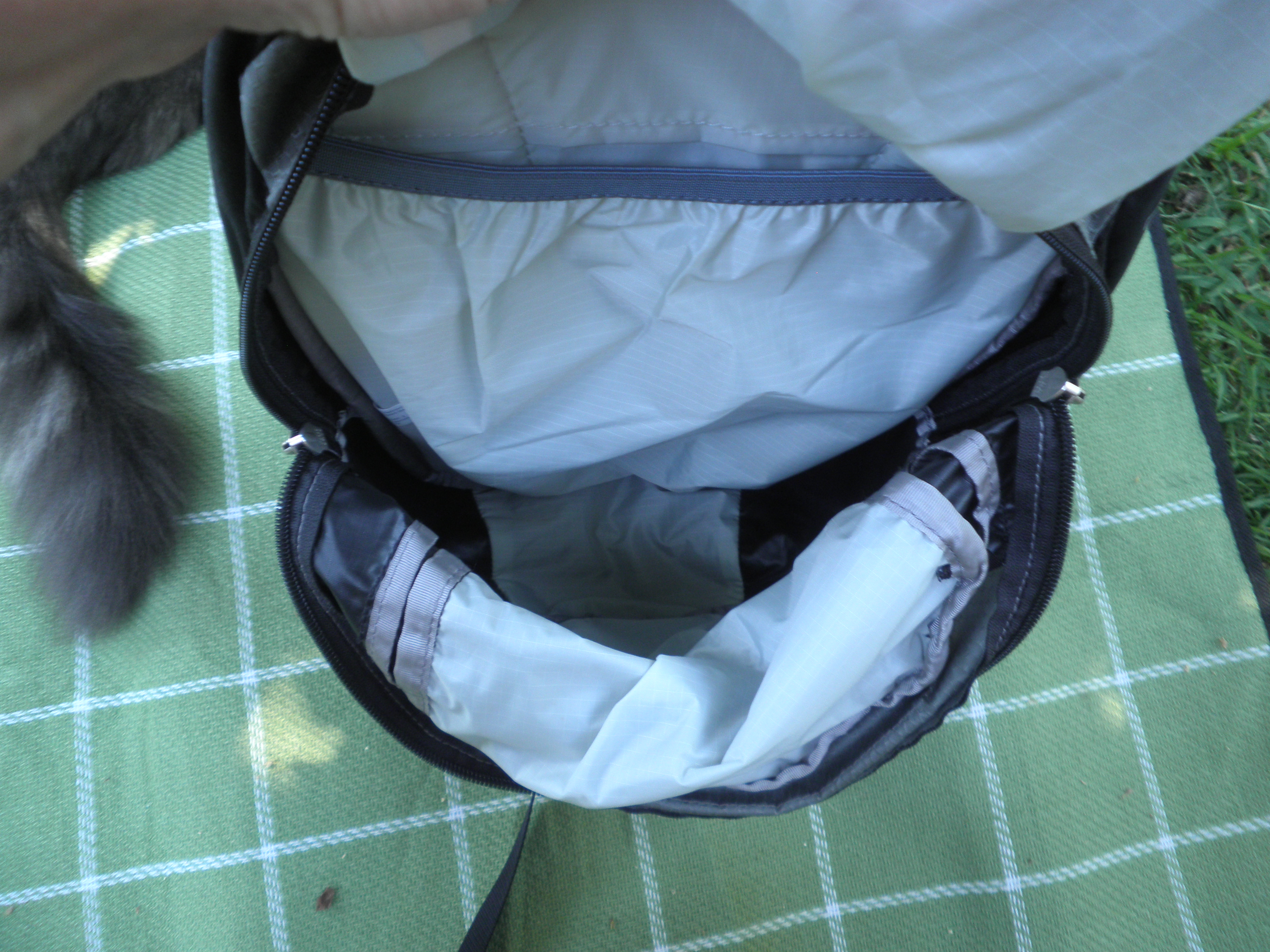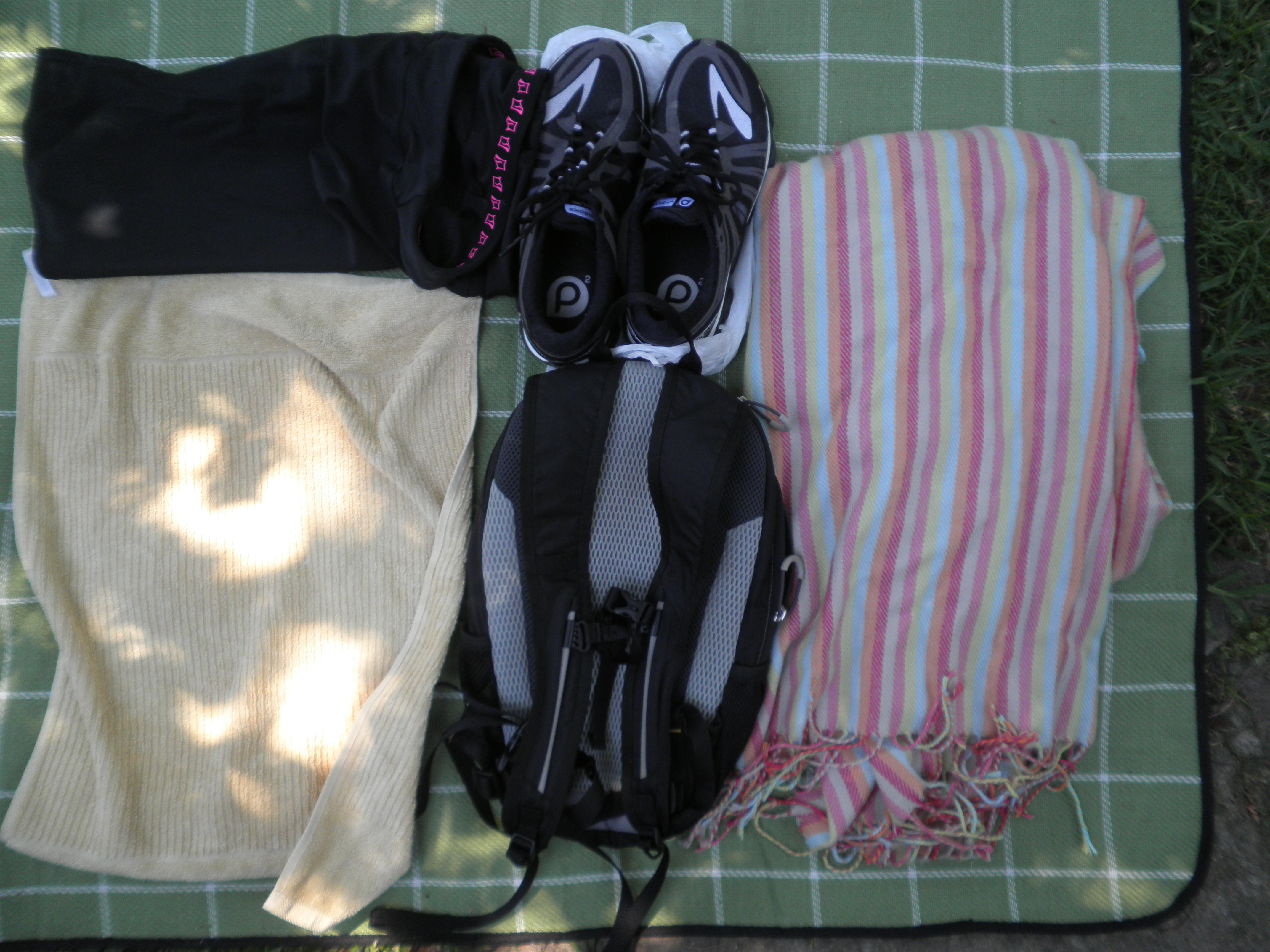 Main Compartment and Top Access Pouch
There are no compression straps on either the front or sides of the pack, but this is not really a problem, as the pack is not very deep, and this –combined with the fairly stiff fabric – means that even when the main compartment is entirely empty there is no swinging or flopping or dragging.
For its compact size, this pack holds a fair bit of stuff — enough for many runcommuters. It will take a pair of size US9.5 (women's, US8 men's) shoes, and a full set of pants or skirt, underwear and shirt. It won't have room left for a jacket, however. Without the shoes, the main compartment will fit the pants/skirt, underwear, shirt and lightweight jacket.
I have used this pack in hot conditions, with my work clothes loaded in the main compartment with no plastic or other dry-bag covering. Despite my ladylike perspiration, the clothes remained dry and fresh. This is due, I think, to the thick-ish mesh back panel and the water-resistant inner coating of the main compartment. Together, these features kept sweat from soaking through. However, my longest run in these conditions was one hour, so people running longer or who are more serious sweaters (though I am not a lightweight!), may find moisture transfer occurs. A dry-sack to contain your clothes before you put the whole sack into the main compartment will also serve the function of compressing your clothes to prevent rumpling and load-bounce. (As a related point: the Deuter Speedlite 10 is too small for the iamrunbox clothes organizer).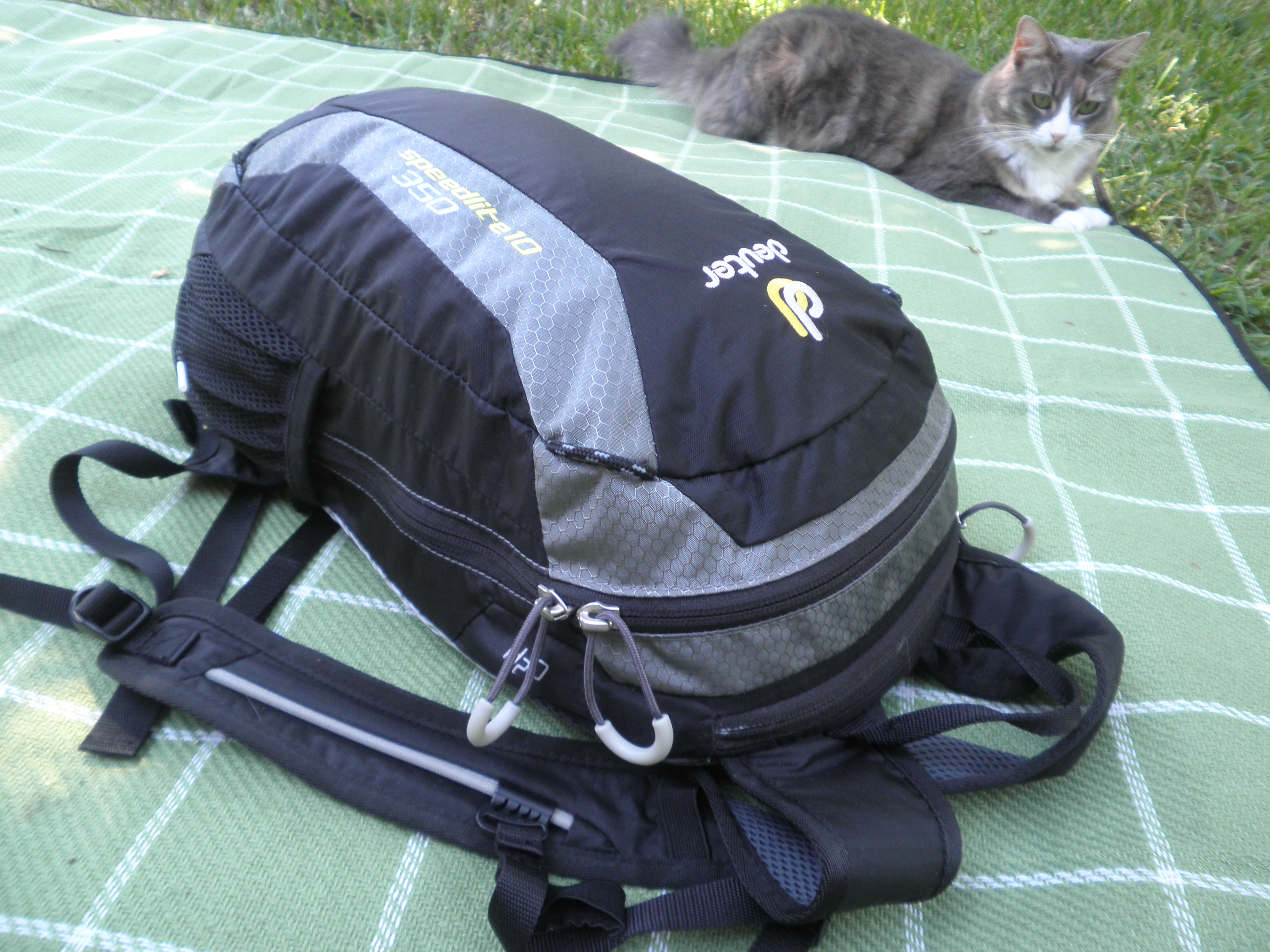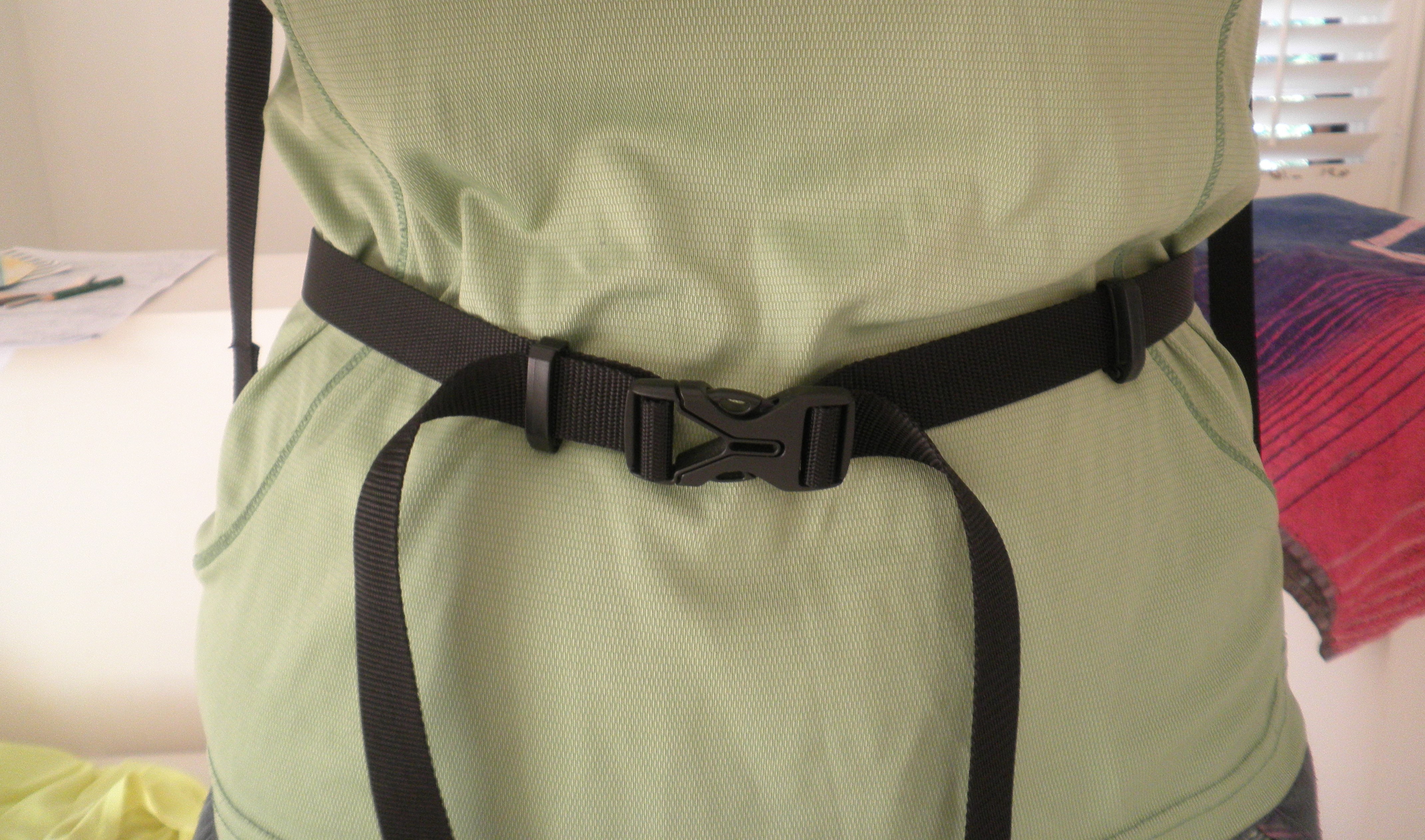 Back, Shoulder Straps and Waist Strap
For me, the main down-sides to this pack are related to the straps. The shoulder straps have a little bit of mesh on the underside, but are not actually padded, and the material they are made from, while robust and durable, is quite stiff and harsh. Several times I have ended up with chafing on the sides of my neck from the straps, after runs of over an hour. However, this was always when I was wearing collarless, thin running t-shirts as my only layer. I think this would not be an issue for people wearing jackets/second layers/rain shells etc. I suspect, also, that the chafing is related to the size of the straps/positioning of the sternum strap on me specifically.
The waist strap also has an annoying problem.  While the waist strap itself is basic but comfortably unobtrusive, there are two little plastic holders, or 'strap wranglers', on the waist belt, one either side of the main clip. These are supposed to keep the extra waist-strap lengths from flying around, unfortunately, on my pack they don't really work. As I run they quickly either slide along the waist strap right up to clip, making them useless. Or, the excess strap 'jumps' out of them, again making them redundant. If you look at the photo on the right, above, you can see how the strap-wrangler has slid almost up to the belt clip on the left. On the right is an example of the extra strap simply falling completely out of the strap-wrangler and dangling to its heart's content.
       This is not a pack for the technology-attached. There are no pockets on the front straps of this pack, so forget about checking your phone whilst on the run.
This pack would be perfect for runcommuting if you don't want to drink, eat or text whilst on the run.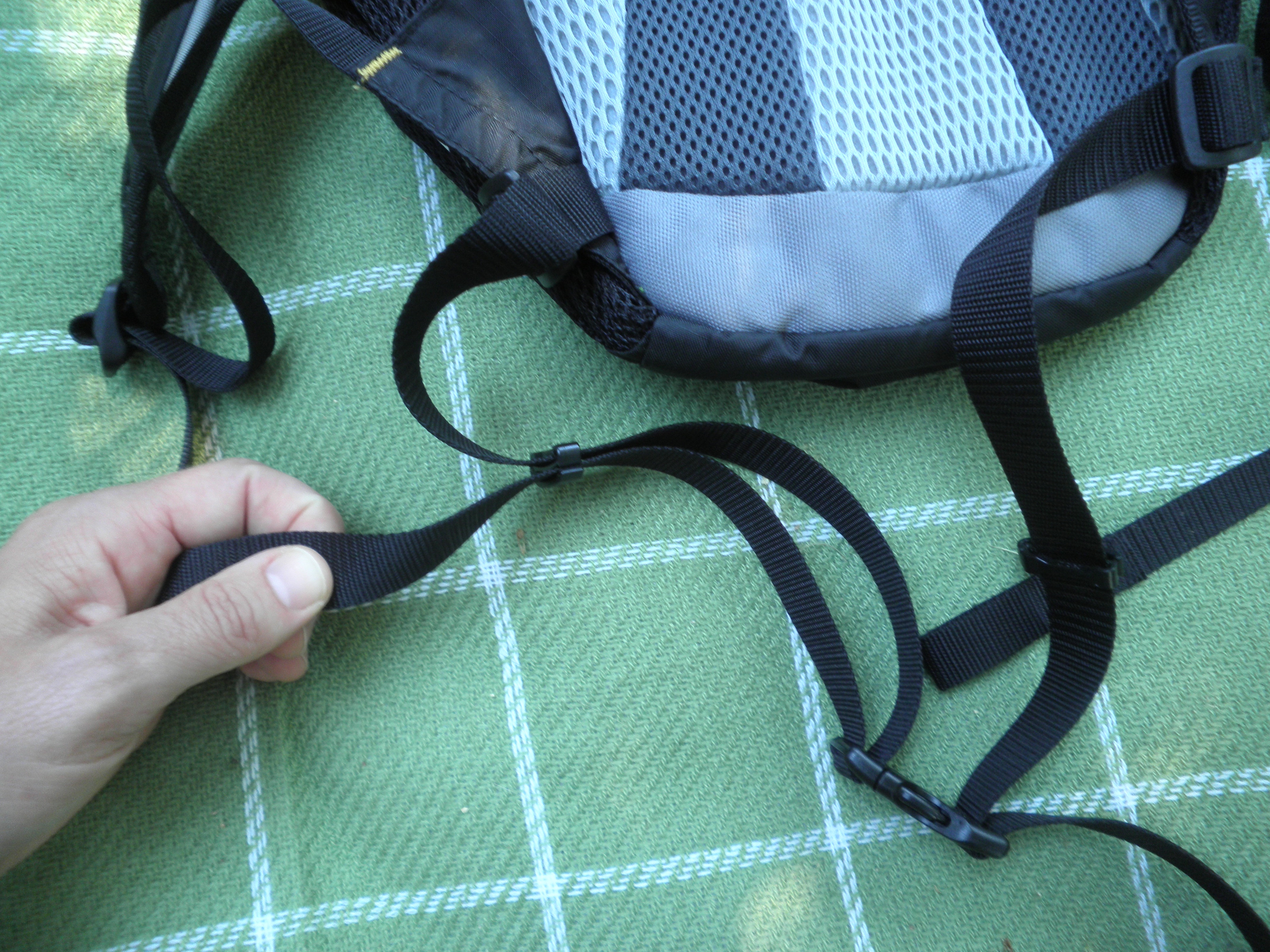 Hydration System
The Deuter Speedlite 10 does not come with a hydration bladder, so if you want to use one it would need to be bought separately. I said, above, that this is a great pack for those who don't want to drink on the run. This claim could be modified to: this is a great pack for runcommuters who don't want to drink on the run, or, for runcommuters who think they might like to dabble in trail running as well. You certainly can drink on the run without taking off the Speedlite 10, as it has a hydration tube opening at the top edge (right hand side only). Inside the pack is a dedicated pocket in which to put your hydration pouch. However, when I put a full 1.5L bladder into the pack there was no longer room for a runcommuter's clothes + shoes combo. But on a trail run there's no need for clothes storage room, and the pack is a great size for the trailrunning necessities: food/gels, rain jacket, space-blanket, hat, map, etc.
Comparative Packs