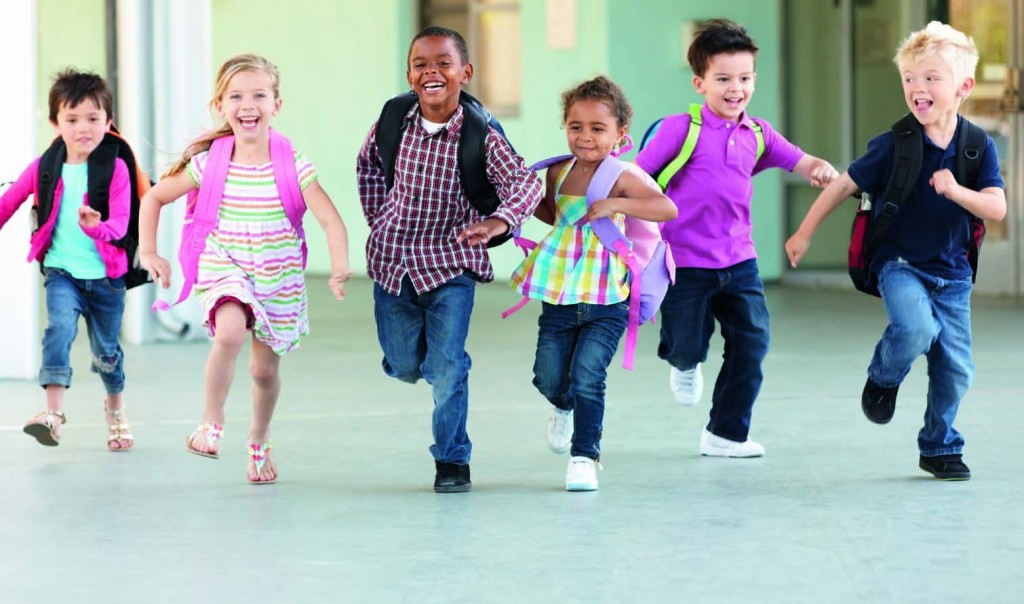 Learn as much as you can while you are young, since life becomes too busy later. ~Dana Stewart Scott

I love the smell of juice boxes in the morning. ~Robert Duval

I think that when you get dressed in the morning, sometimes you're really making a decision about your behavior for the day. Like if you put on flipflops, you're saying: 'Hope I don't get chased today.' 'Be nice to people in sneakers.' ~Demetri Martin
Are you one of the elusive run commuting parents out there? Do your days now look something like this?
Both of my kids are now in school. Our 4.5-year-old and 11-year-old started Pre-K and 6th grade (respectively) on Monday. In a flurry of planning, packing, lunch-making, and last-second coordination, they were off and arrived on time for their first days at school. On days where everything goes well and as-planned, life is good. But nevertheless, their new schedules affect our old schedules. Here is what a typical day in a running and cycling household looks like.
5:30am: Josh wakes up, gets ready for work, packs lunches

6:00am: 11-year-old "wakes up", prepares himself for the day

6:45am/7:00am: 11-year-old needs to be out the door to catch a bus

7:00am: Rebecca and 4.5-year-old wake up, start getting ready

7:30am: Josh's No Later Than (NLT) time to leave in order to run commute

8:00am: Rebecca leaves with 4.5-year-old to drop him off at school

8:15am: Josh arrives at work

8:20am: Rebecca drops car off at home, gets ready for work, bike commutes to office

— Kid's in school, adults at work —

4:30pm: 11-year-old arrives at drop off point 1 mile from home

4:50pm: Josh leaves work, catches train, runs home from train station nearest home

5:30pm: Josh arrives home, hops into car and heads out to pick up 4.5-year-old

6:00-6:30pm: Everyone is finally home…
This isn't terribly different from what our schedule was before they were in school, since there was daycare and summer camp, but we have definitely had to make some adjustments this week. And this makes for some interesting conundrums; like this one – How does the 11-year-old get home at 4:30 while we're both still at work?
Walking, our preferred method, is unfortunately dangerous – traffic is ridiculously fast, red light runners are rampant, street crossings are inadequate, and there is very little foot traffic at all. Thankfully, we have an awesome neighbor whose son in our son's class that he catches a ride with once he gets off the bus. We may be able to pair him up with another walker or two as time goes on, but for now this will work. Aside from a couple of quirks like that, there are time constraints that we have to deal with, too.
I pick up the 4.5-year-old, but what if I have to stay a few minutes late at work? Will I be able to catch a train and run home with enough time to make it to his school without incurring exorbitant, ransom fees and (equally painful) cold, hard stares from his keepers?
And another – Running behind schedule. If I can't make my 7:30 hit time for leaving the house, I can only run part way to work. I have to run to a train station a couple of miles away and ride transit in to work to make it in time. It's frustrating cutting a run short early in the morning.
So while we, as parents, celebrate the return of our children to school, hopefully, we, as run commuters, can still make our preferred commutes happen on a regular basis.
For the run commuter parents/child-rearers out there – Does your kid's school schedule conflict with your run commute? What are your challenges? How much do you adjust your commute to make things work? Are you a seasonal (school breaks) run commuter?