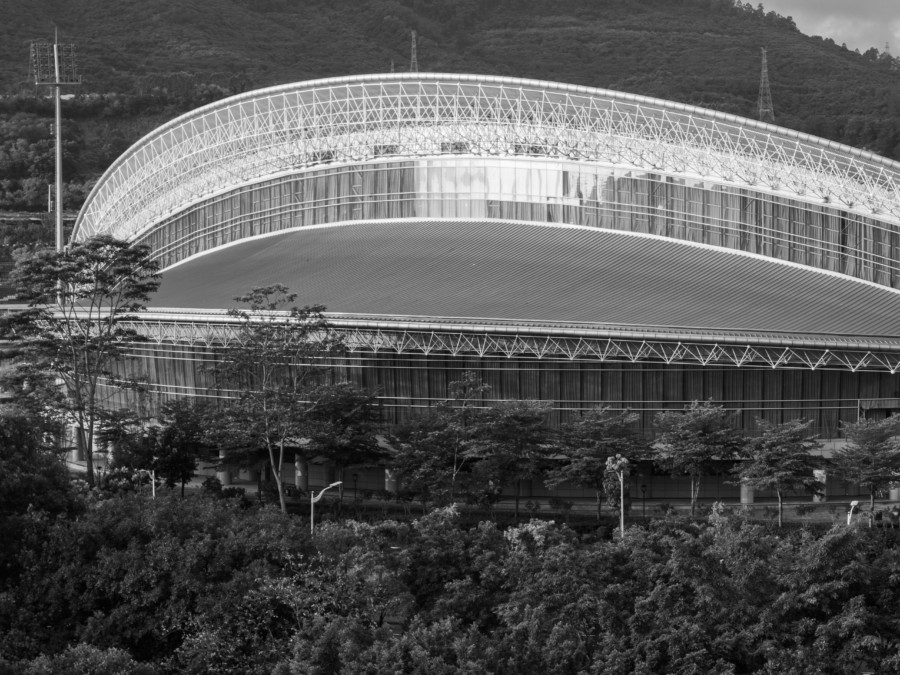 The gym of Peking University's Shenzhen Campus
I find myself in an unlikely place to resume running. I am in Shenzhen, China this summer. For those not familiar with the boom town, which boasts one of those stories that defies belief but exemplifies the power of the global economy, it is on the mainland next to the former British colony of Hong Kong. After being granted permission to experiment with capitalist markets early on, it developed into the third most significant city of a nation that continues its rise, ranking with Beijing and Shanghai. Like everything else that happens with a population exceeding a billion, the place is one of those you-have-see-it-to believe-it phenomenon, with the constant of change promising opportunity to all who would pursue it. As many skyscrapers and apartment complexes have gone up in short order, there remains more foliage and open space, less traffic and pollution than you might expect or fear, relative to rival metropolises.
While here to teach American law at Peking University's southern satellite, in English — itself a test of how the world will come together — I am trying to recover from a health challenge. This is not easy. The heat is much higher than I am accustomed to. The humidity too. Climate change likely is worsening matters. The locals complain that it is worse even than they can withstand.
But thanks to jet lag, I need no alarm to cajole me. I am up before dawn whether I'd like to be or not. At that hour, however, I still feel assaulted by the air. It is clear that the mugginess will be overwhelming later in the season.
The first Monday, I met a new colleague, also from the States, for a walk. We had made arrangements via email before our respective departures. I had anticipated I would need to be up and about, as soon as it became light outside. We met at the business school that is a new start up even among new start ups. The Starbucks in the corner of the building was a convenient landmark. It offered a means to ask for directions without Mandarin language fluency.
Our morning meander was easygoing. There were multiple outdoor tracks we could visit. Three different universities, all leading institutions of higher education well established elsewhere, had been recruited by the local government to considerable acreage near the zoo. Each school had its own facilities. There also is an impressive gymnasium opened especially for a major athletics competition a few years back. That is on the list of attractions to check out. Its first-class equipment apparently is under-used. Perhaps the indoor course will be the best venue for further training.
We saw a few others exercising early. One or two solitary figures were engaged in qigong rituals, calm and calming to observers, with the silent fluidity of contemplative motion. A couple male runners, shirtless, were making good time. Street sweepers were finishing their shifts, construction workers beginning theirs. Female students riding bicycles or strolling arm in arm carried umbrellas to shield themselves from the sun. A few guards kept an eye out. There were fisherman hoping for a bite, their lines cast into a canal that ran along the perimeter of the grounds. Signs warned of snakes. They are mildly poisonous.
By a permissive standard, I have become a run commuter again. I am housed in a dormitory for, among others, foreign experts. I can mosey along the paved path to the law school in about three minutes; probably a jog would take me there in under two. It could not be more convenient for a short stay. Immediately upon arriving at the office, I had to return to my residential unit, because I neglected to bring an appropriate adapter for the electrical outlet. I thought briefly of doing without until the battery was exhausted, but I realized it would be unconscionably lazy to avoid the extra trip.
According to my GPS watch, I logged ten miles. An additional adventure was finding my own way to the administrative office to load credit onto my ID card. The campus is cashless. I did what I do while in Asia. I accost random non-Asians for help. A young European pointed me toward the proper office for my errand.
My initial plan was to shower twice. I figured I would sweat enough to need it. I instead am on a schedule of thrice. I wonder if I will adapt. Otherwise, my wife has warned me via our international video calls, I will dry out my skin and wash away essential oils. I cannot resist though. Even well short of the environmental maximums that will be hit in mid-August, I cannot make myself comfortable. I am aware of my body, in that manner that impairs the mind doing anything else other than dwelling on the flesh that constitutes one's self.
Nonetheless, I am glad. This is progress.