Run commuting in the cold, dark days of winter can be challenging. If you keep normal hours, you often start and end the day in darkness. Footpaths are often not as well-lit, which make running on the road itself safer, but that renders you vulnerable to passing traffic who can't see you. In an effort to make myself as visible as possible, I looked for the brightest backpack I could find, and strangely enough found it in the black backpack produced by ProViz Sports.
ProViz Sports are a UK-based company that specialise in highly reflective gear, using 100% CE EN 20471 certified reflective material to produce clothing and equipment designed to highlight users in low-light areas. They chiefly focus on cycling and cycling products, but recently produced a backpack tailored to running (and run commuters): the REFLECT360 Running Backpack.
Test Model
Size: Small
Carrying Capacity: 10L, 610 cu. in.
Cost: AUD $95/US $70
Add-on: None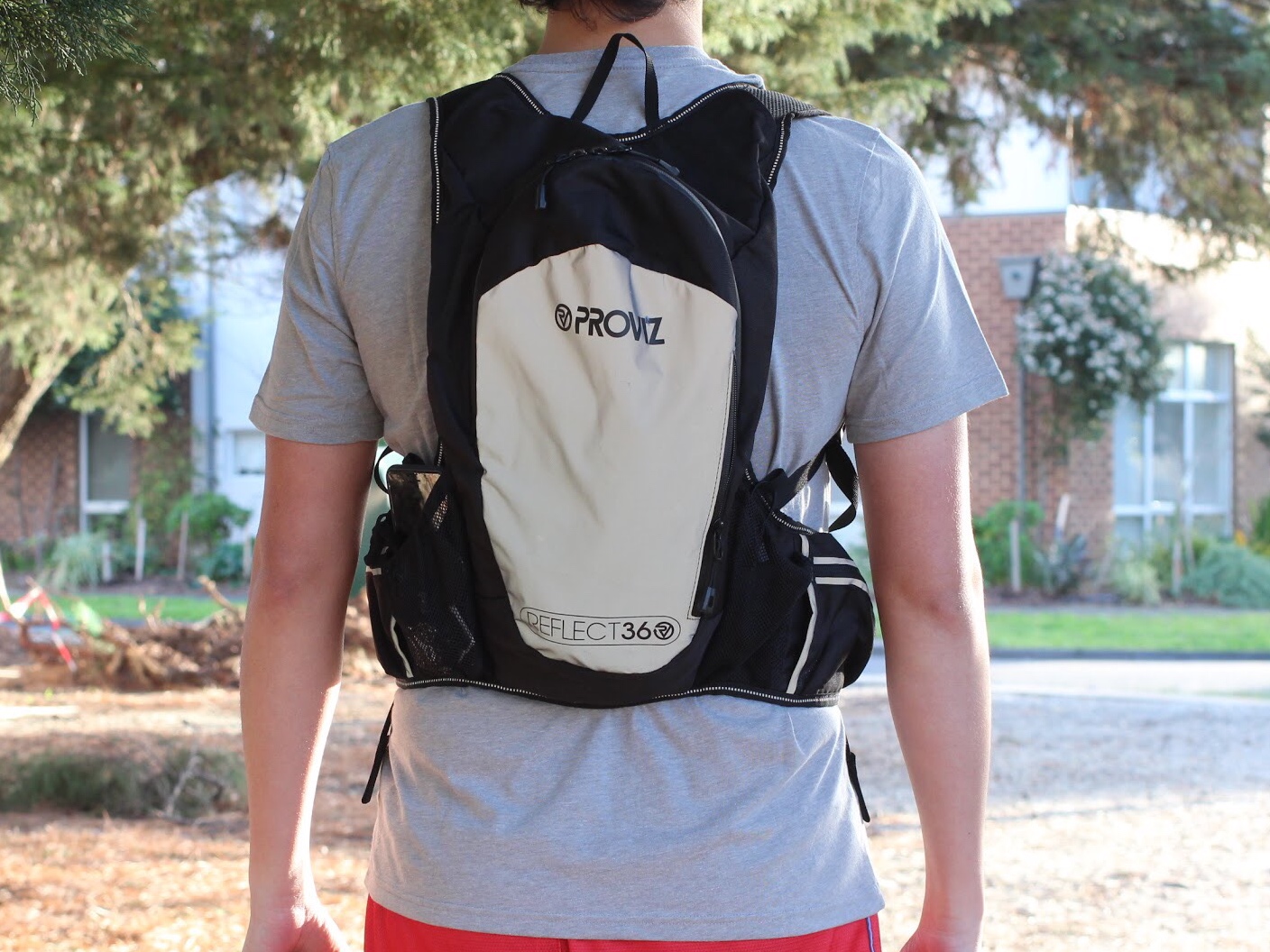 Performance and Evaluation
It's worth noting here that I travel light as my work clothes are on site, so I tend to go for bags 15L or smaller. As of writing I have covered over 100km with this pack, carrying my lunch, spare clothes, phone, stethoscope and important documents. The average weight for my setup is about 2 kg or 4 pounds.
I really liked the feel of this backpack. When packed well and adjusted correctly, the bag sat really snugly against my torso, and didn't feel too loose or too tight. Despite the lack of external straps to tie down the main compartment, there was minimal bounce, which I think again throws back to the design of the backpack, which is quite compact. The back of the backpack is ventilated, and while there are no panels separating the backpack from your back, it is made of a firmer material which holds its shape quite well. I have had minimal issue with sweating or heating up so far.
The backpack has held up over sun, wind and rain, without getting too wet or soggy. It apparently can resist a 1500m water column so I guess you could go deep sea diving without wetting your belongings. But jokes aside, once it rained three times on route to work (that's Melbourne weather for you!) and I arrived soaking wet with bone dry belongings.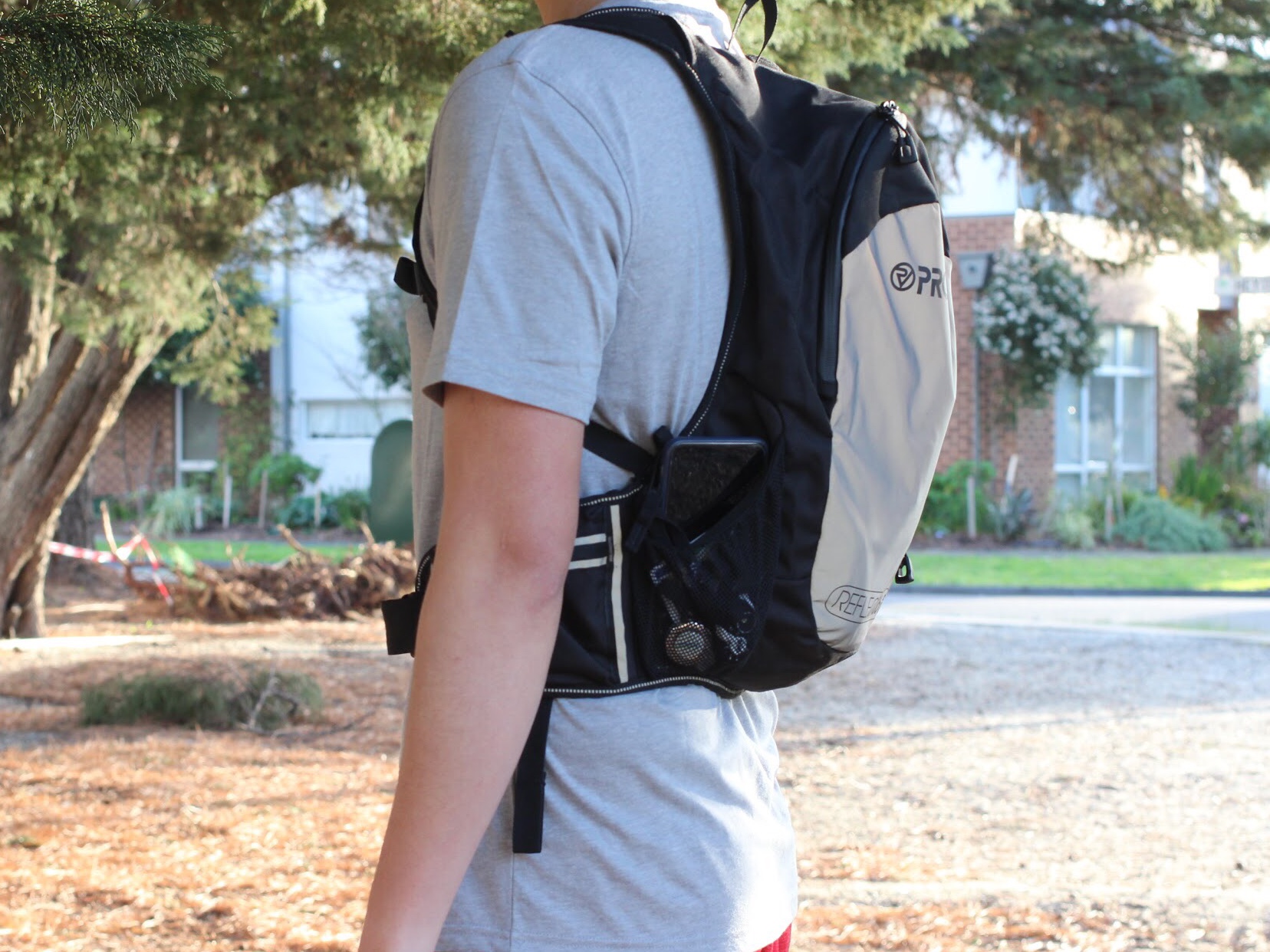 The backpack has shoulder straps, waist straps and sternum straps. It has a central compartment, a smaller front compartment, two side pouches and two mesh side pockets. It did not come with a hydration bladder, although there is an option to insert one, which you have to buy separately (I did not).
The chief pulling point is the reflective fabric that covers most of the back of the backpack, several stripes across the front straps, and the stitching of the backpack itself –  something I didn't even realise until I reviewed this article
.
I don't claim to be an expert on reflective material, but it certainly does reflect the light from streetlights, car headlamps and even torches very well, even more so than the neon-colored fabrics that make some some other bags. Interestingly enough, it doesn't reflect the glare of indoor lights or sunlight, which means that you won't blind your fellow co-workers or other commuters, should you decide to take this pack out in the daylight. One amusing thing, though: I've also discovered that you can use the reflection of the ceiling lights on the fabric to turn on sensor-operated faucets from quite a distance, making this a useful party trick if you're the sort of person to have parties in the bathroom.
Reflective material aside, the quality and design of the bag really impressed me. I've used several run packs over the 15 or so months, and it became clear very early on that this bag was designed with run commuters and cyclists in mind. For one thing, there is very little excess strappage. The loose ends of the waist straps are designed to be tucked into side pockets, and the sternum straps had very short loose ends, which did not bother me at all. The shoulder straps and waist straps are nice and wide. Another serious plus point for me were the zippers. The
AquaGuard®
zippers open and close smoothly without catching no matter how contorted the bag is, which makes it really easy to access stuff from the waist straps on the go.
I have a few minor issues with the bag. The mesh side pockets are quite shallow. They look like they're designed to hold water bottles but I didn't dare to put any in them, for fear of the bottles falling out during the run. They probably would hold small (150ml) water bottles, but I don't think the standard 600ml drink bottles sit very well. I mainly used the mesh pockets to hold small items such as my headlamp. Secondly, there is no compression strap over the main compartment, which means that you have to really pack your bag well. Also, the waist strap pouches, while quite roomy, could not fit my gigantic iPhone 6+, but I don't really hold this against the pack because I've never found one that could! Also, it only comes in black, but this doesn't bother me.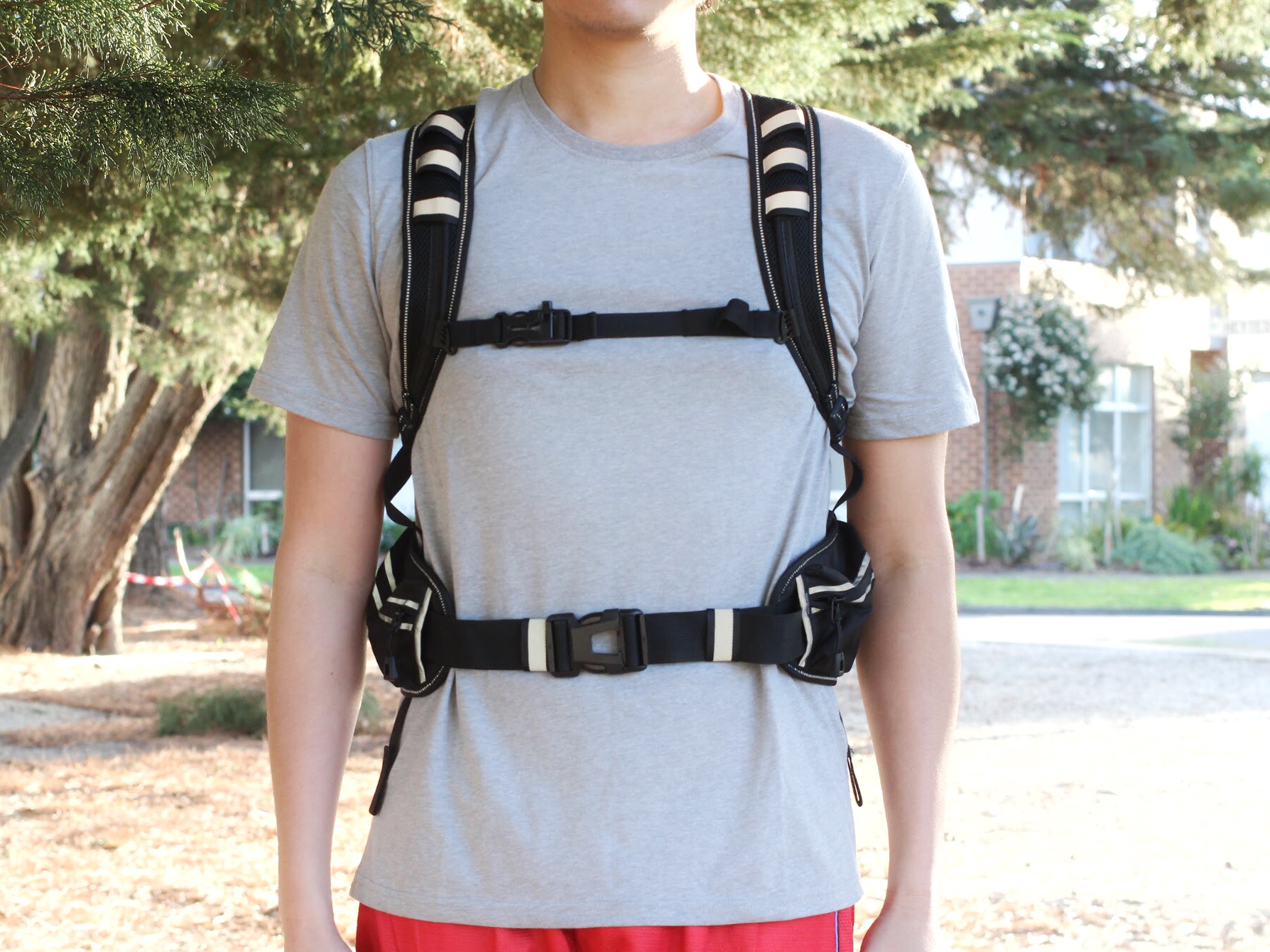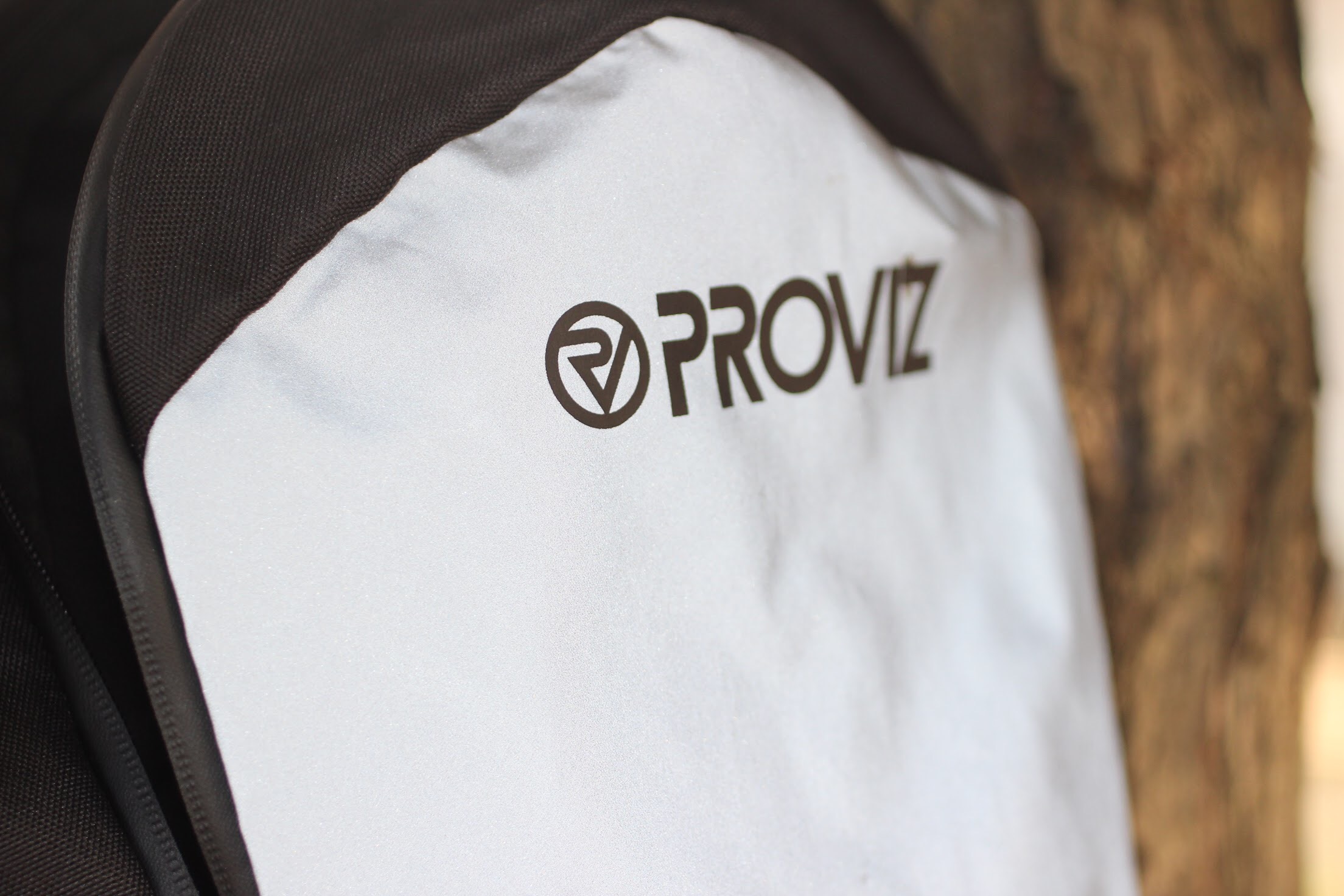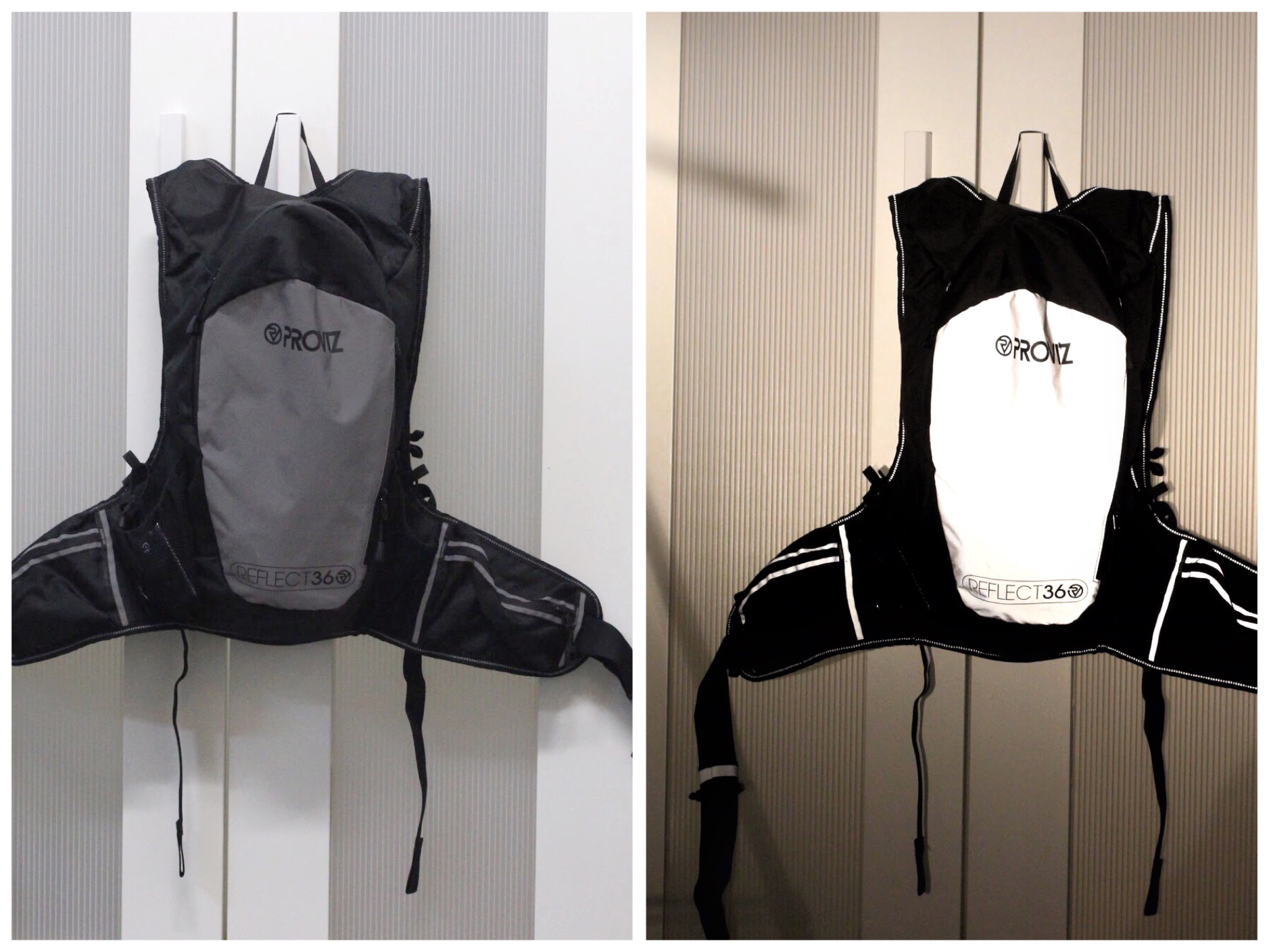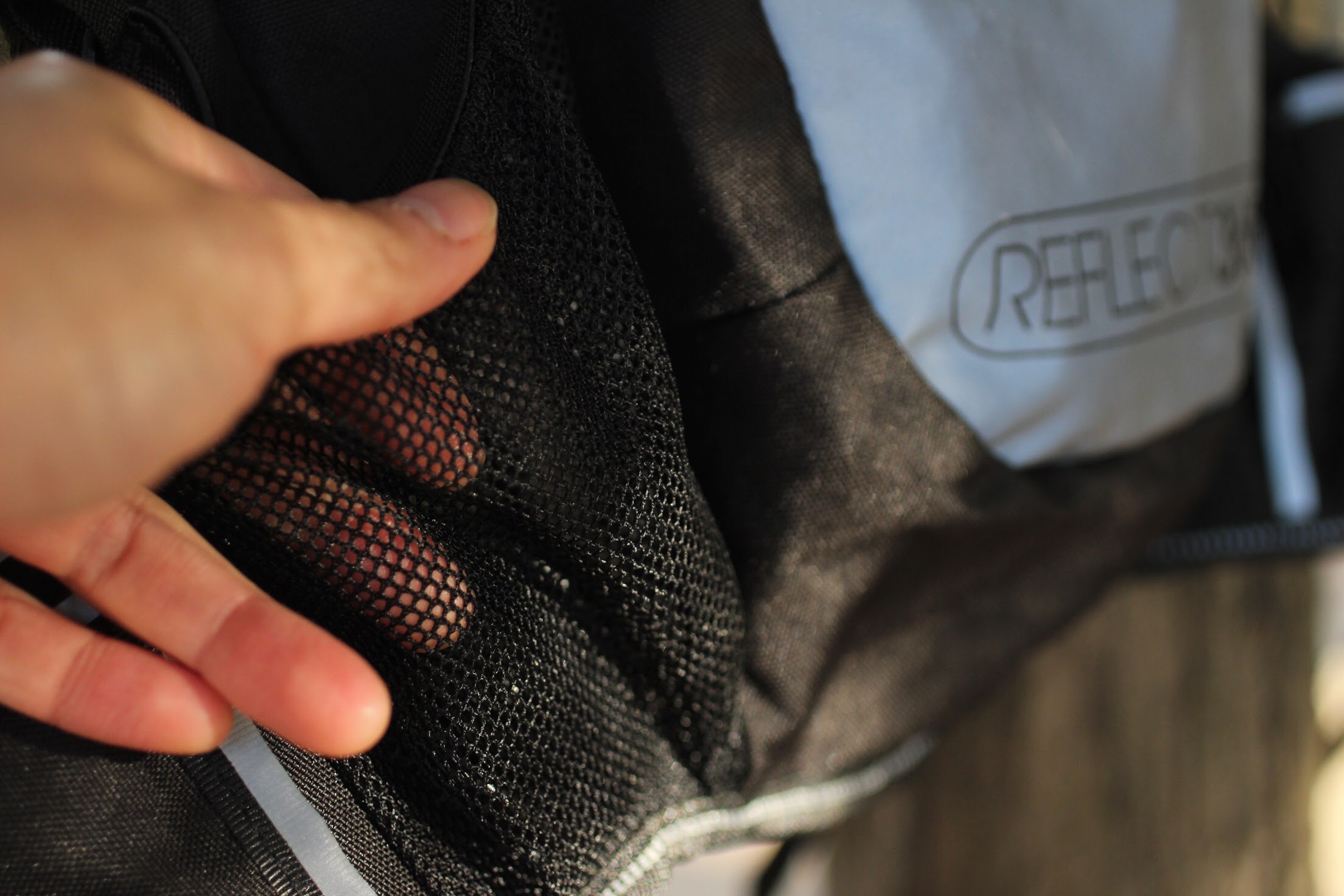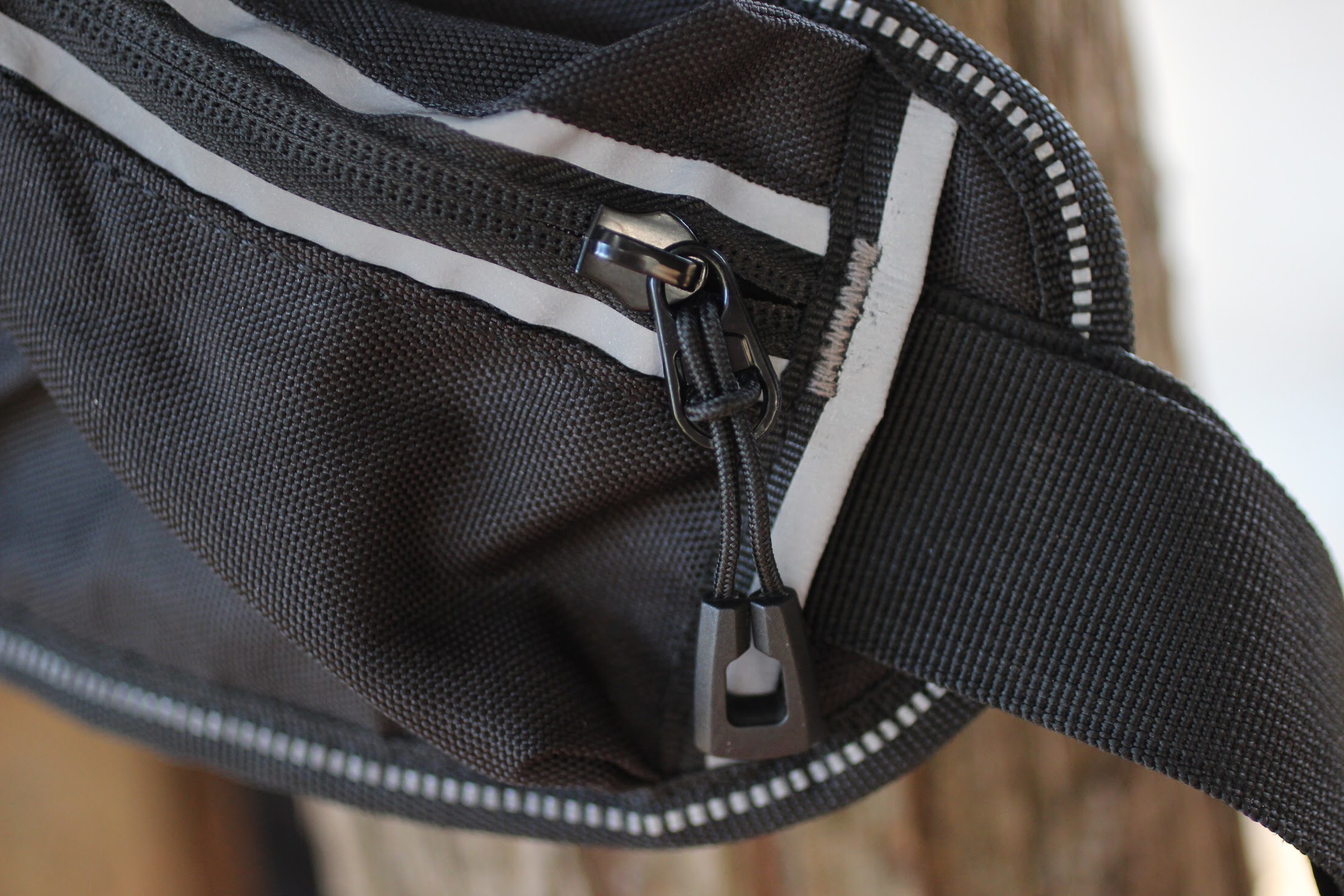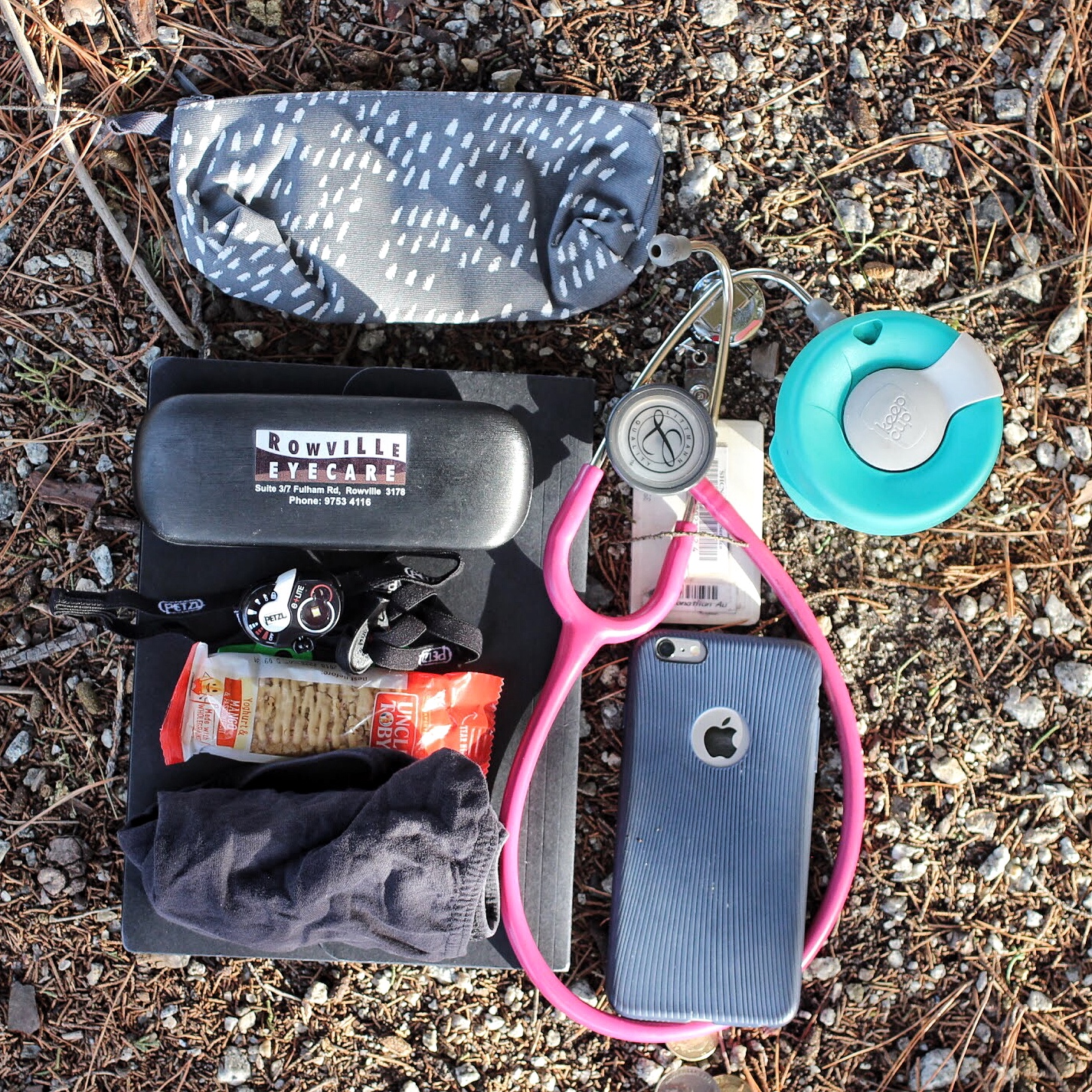 What I carry on a typical day
Very visible
High-quality design
Water resistant
Breathable material
No tie down straps
Side pouches still can't fit my ginormous phone
Minimal front access pouches
Shallow mesh side pockets
This is a decent run pack, with only minor issues that I think are more of preference than necessity, and would fit the run commuter with minimal luggage wanting to run at any time of the day, all year round. It definitely lives up to its claim of being visible, but also functions well as a backpack for people serious about getting to work on foot.