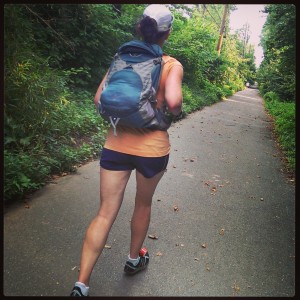 Hi all! I am an avid run commuter and think it changed how I run completely, for the better! This is what I use.
Backpack: Osprey Sirrus 24
(aquamarine)
Rain cover: Integrated into the Sirrus pack
Lights: Road ID Supernova
Apparel: Oiselle anything! I own multiple tanks and tops from Oiselle, but their roga shorts have taken over my closet. They are everywhere!
Hat: Oiselle Superfly cap
Sunscreen: Juice Beauty SPF 30 Tinted Mineral Moisturizer
Shoes: New Balance Minimus Zero
(road); Nike Free (medium sole); Vasque Mindbender (trail)
Socks: I'm not particular to a brand, but I am particular about my socks being low cut tab style.
Sunglasses: UVEX Blaze. I absolutely love the interchangeable lenses. I used the clear lenses during a Ragnar leg on a dirt road once, it really helped cut down on dust in my eyes.
Watch: Garmin Forerunner 910 XT
Water bottle: Nathan Quickdraw Plus
Electrolytes & Gels: Mostly, it's whatever I can steal from my fiance's bike closet!
I hope to see you out commuting some day! I'll be sure to greet you with smile and a runner's wave.