Runner's World magazine (Oct 2016) recently gave Seattle the silver medal for number 2 best running city in America (behind San Fran). Aaron Mercer, our runcommuter for this month, is a Seattle resident who uses his runcommuting to make the most of what the city has to offer. He braves the state's rainy, wet conditions to runcommute almost every day. Aaron is helping his work colleagues stay healthy, too.
A scientist at Novo Nordisk, Aaron is also the Wellness Committee chair and promotes running to other employees. Aaron says he enjoys exploring his city on his runcommutes. He manages to incorporate cafe-testing into these runs as well, taking advantage of Seattle's abundance of coffee joints. An excellent idea for all runcommuters: the combination of running and coffee is a classic, and what better way to start (or end) the day…especially when it's raining!
—————————————————–
Runner Basics
Name: Aaron Mercer

Age: 33

City/State: Seattle, WA

Profession/Employer: Research Scientist, Novo Nordisk

Number of years running: 17

Number of races you participate in a year: 4

Do you prefer road or trail? Trail, but I have learned to love the road again with all of my run commuting.
Run Commuting Gear
Backpack: Formerly an Osprey Manta AG 28, but I recently made the switch to the IAMRUNBOX Pro.

Shoes: Anything around 7 – 8 oz in weight from Brooks or Saucony. Their shoes fit my narrow feet better than most companies'.

Clothing: A mix of tech shirts and shorts, as well as race shirts. I never match, because run commuting is about form over fashion!

Outerwear: I have a few running jackets from Brooks, but I typically layer a short sleeve and long sleeve tech shirt because winters are pretty mild in the Pacific Northwest.

Headgear: I typically don't wear a hat but I will wear sunglasses in the warm/sunny months.

Lights: Black Diamond Sprinter. It has good lumens for the dark and drizzly evening commutes in Seattle.

Hydration: I'll hold a water bottle if I bring anything at all. I tend to only bring extra hydration for runs longer than 10 miles (16km), or when the temperatures get too warm outside (above 75F).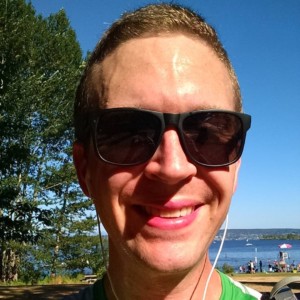 Aaron Mercer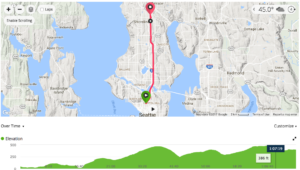 Aaron's runcommuting route.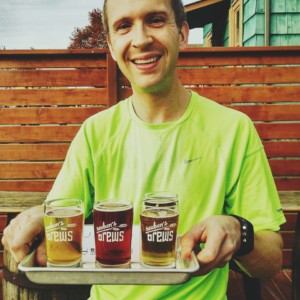 Beer Run!! Aaron and his friend Pete ran 10 miles between 5 breweries. Did they follow it with a coffee run?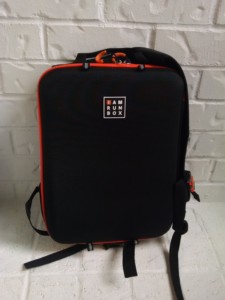 Aaron's runcommute pack, in his home's appropriately white, scandi interior.
On Run Commuting
Why did you decide to start run commuting?
Evening traffic in Seattle can be atrociously slow, and my run commute many days is as fast or faster than most forms of transport. My office is next to Amazon's ever-expanding campus in Seattle's South Lake Union neighborhood, so traffic is almost always a grind. Runcommuting also gives me a chance to get in miles without cutting into my family time outside of work.
How often do you run commute?
2-4 days per week after work, but even on my "non-running" days I add in 2 miles of running between the most efficient bus lines to get home [editor's note: we consider any combo of running+vehicular transport to be runcommuting! So, Aaron runcommutes more than he admits ;-)]
How far is your commute?
10.5 miles (16km) for the full run, and around 2 miles if I mix in bus commuting.
Do you pack or buy a lunch?
Either, depending on what leftovers I have at home, and how much volume I have available in my backpack. My go-to spot for eating out is a Vietnamese food truck called Xplosive that seems to live on the Amazon campus — their vermicelli bowl is my favorite way to get veggies/carbs/protein when I'm in a hurry. I'm also fortunate that my job provides catered lunch twice a week.
What do you like most about run commuting?
1. I enjoy the efficient use of my time, since I get my commute and exercise finished in one activity.
2. Runcommuting keeps me disciplined with my eating and sleep habits to keep up with the demands of 20-40 miles of running per week.
3. It gives me a chance to explore the city. Seattle has a lot of history and interesting neighborhoods, so runcommuting gives me a great opportunity to scout the area. It's also a good excuse to try one of the dozens of independent coffee shops here.
What are the weather conditions like for your runcommute?
Temperatures are always fairly mild in Seattle, but there are many days with rain and slick pavement. True to the stereotypes it is cool, wet, and cloudy for most of the year. It's good running weather even if footing can get a bit tricky.
Do you know of anyone else in your area that runs to work?
No, but I do see other people running with backpacks in the city. I would assume that they are runcommuting as well. There are many, many people in my office and in Seattle who bike commute, however.
When not run commuting, how do you get to work?
If I'm not running, I will either car pool, or mix in 2 miles of running to get to-and-from express bus lines. Once Seattle finishes expanding its light rail network, I will be two blocks from one of the stations.
If you could give one piece of advice to anyone who was considering run commuting, what would it be?
Invest in decent gear, and monitor your shoes for wear and tear. It's hard to keep up with runcommuting multiple days per week with busted gear or a busted body.
Anything else that you would like to include?
My PR for a slightly longer run commute (11.46 miles) was set in October with a time of 1:18:32 (6:52/mile pace). I strive to beat that pace every time I run home!
I chair the Wellness Committee for Novo Nordisk in Seattle. My role is to oversee the budget for sports and events, as well as organizing our office's participation in the annual JDRF Beat the Bridge Race. I encourage all Seattleites to run the race, and to join Team Novo Nordisk if they would like some camaraderie!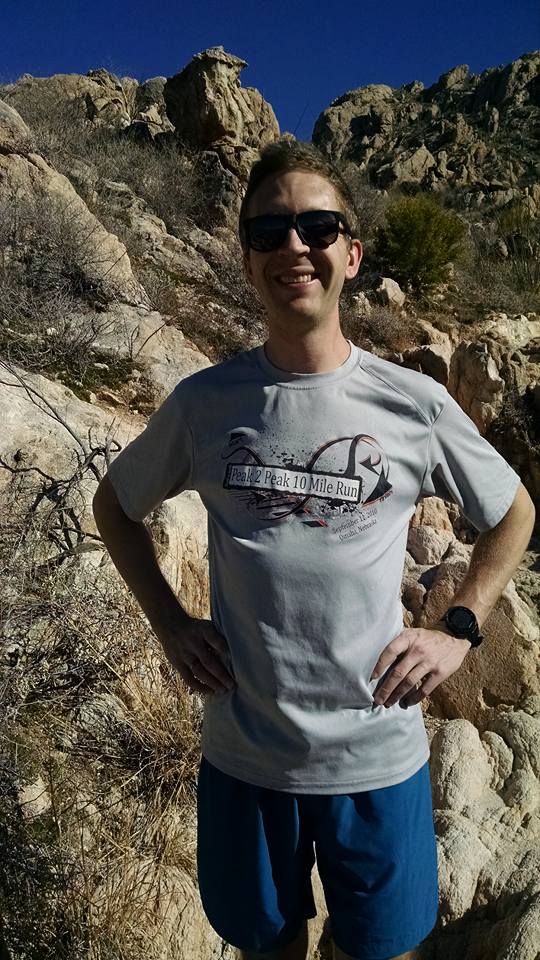 Even runcommuters need a holiday…Aaron in Tucson.
Are you interested in being featured on The New Run Commuters? If so, fill out the form below and we'll send you more details.
The New Run Commuters Submission Form