Our first runcommuter profile for 2017 is Bon Crowder, who also heralds another first for TRC, as she is the only runcommuter featured on this site to hail from Texas. Bon is a teacher who runs to work every day of the week. Through her That'sMath startup company Bon is educating the youth. But she is also an example to her own children in her active lifestyle. Bon shows that it is possible to be a mom, a businesswoman, an educator and also maintain a daily fitness routine — by runcommuting. Keep up the brilliant work in 2017, Bon, and we look forward to seeing your giant chicken impression on Youtube sometime soon….!
—————————————————–
Runner Basics
Name: Bon Crowder

Age: 45

City/State: Houston, Texas

Profession/Employer: Educator & Founder, That's Math LLC

Number of years running: 11

Number of races you participate in a year: 2 or 3

Do you prefer road or trail? Road – although trail is fun, when you're in Houston it's kinda dangerous to get too far off the beaten path.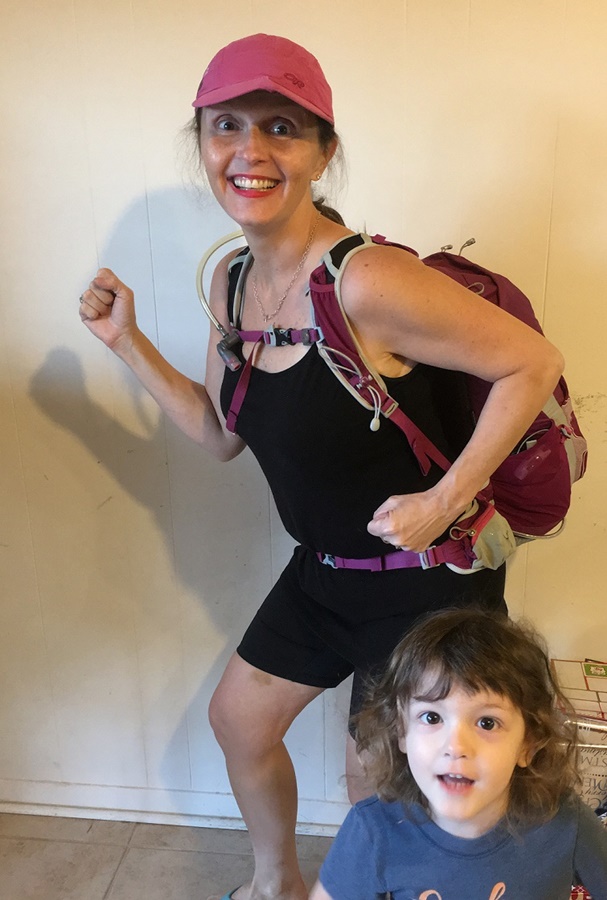 Run Commuting Gear
Backpack: Pink Osprey Tempest 20 (with the backpack "raincoat" thing for those not-so-dry days)

Clothing: Cheap spandex shorts and Duluth Trading Company No-Yank Tank

Outerwear: Nike warm stuff (that fuzzy-inside stuff that Nike makes)

Headgear: Cap most of the time, but when it's cold I wear something over my ears

Lights: Headlamp – some cheap kind but it seems to keep going, so I'm running with it #pardonthepun

Hydration: Water with lemon juice in a small Osprey reservoir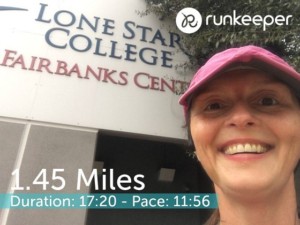 Runcommute arrival at the halls of learning!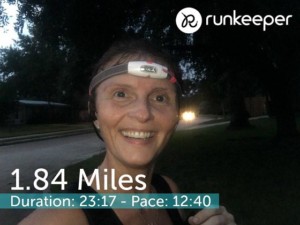 Bon loves running in the rain.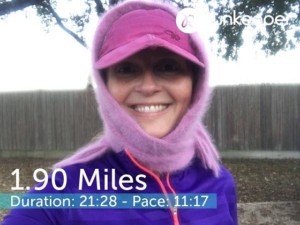 When it gets cold in Texas…..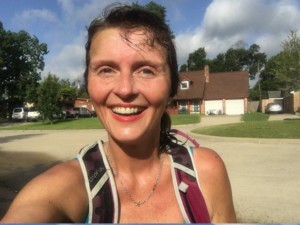 Bon running on her birthday….to the donut store!
On Run Commuting
Why did you decide to start run commuting?
I just couldn't find time to run. It made me nuts. So I thought, "Well, dog-gone-it, I'll just run TO WORK!"
Since the school I was teaching at was only 2.3 miles away, it seemed ideal!
How often do you run commute?
I try to run commute everyday. I don't buy the parking pass for the garage, so if I don't run, I'm stuck paying parking.
That's less of a motivator for me and more of the ideal excuse when others want me to drive and I want to run!
How far is your commute?
Well, theoretically, it's 17 miles, but I take the bus some of the way. On a good day, I get in about 2.8 miles before the bus and then about 0.9 miles after the bus.
Do you pack or buy a lunch?
I pack a lunch. It's always challenging figuring out the volumes of food and clothing I can carry. If I need a blazer and fancy shoes that aren't at the office, then it's likely my lunch is a protein bar.
On casual Friday I can go with a giant salad!
What do you like most about run commuting?
I look cool. Okay, "look" may not be the word. But you definitely gain points with people when you tell them you run to work.
For different people, it's different reasons. Some people like that I'm not driving so there're lower car emissions. Some are impressed with my healthier lifestyle. And then some just look at me and think, "She's out of her mind!"
Oh, and there're the long races. I ran a half marathon once with no official training. Turns out 10-15 pounds + 2 x day runs in ALL weather really gets you ready for just about anything!
I'm also running the Houston Marathon this weekend. My first!
Do you know of anyone else in your area that runs to work?
Sadly, no.
When not run commuting, how do you get to work?
I'm in Texas, so I have a car. My SUV or pickup truck gets me anywhere my feet can't get me.
If you could give one piece of advice to anyone who was considering run commuting, what would it be?
Make a list. Laminate it. And check it off every morning. You DO NOT want to get half way to work and think, "Oh, crap, I forgot…."
Anything else that you would like to include?
I'm a mom, wife, math teacher, and founder of a startup. I also blog at MathFour.com and tweet at @MathFour.
And, I can do an amazing impression of a giant chicken…
Are you interested in being featured on The New Run Commuters? If so, fill out the form below and we'll send you more details.
The New Run Commuters Submission Form