It's still winter in the Northern Hemisphere, and the handful of people that continue to run commute year-round in snowy regions have their fair share of sub-zero temperatures, icy paths, unshoveled sidewalks, and slush-filled roads with which to deal.
Enter Frederic Otis.
He only started run commuting two months ago, but to begin in winter, when the weather in Québec can be at its worst (and continue to run throughout) makes Frederic an especially notable New Run Commuter who will no doubt continue to run to work for years to come.
—————————————————–
Runner Basics
Name: Frederic Otis

Age: 36

City/State: Quebec City, Québec

Profession/Employer: CRIQ

Number of years running: 9

# of races you participate in a year: I have only ran one race… the Montreal Half-marathon in 2012. I plan to register for a marathon, or a 25km trail run, later this summer.

Do you prefer road or trail? I really like both! For me a great run is a mix of both. I'm lucky to live in an area where it is possible to vary a lot – road, trail, hills, riverside, etc. And, there's also winter running, which is not quite road or trail… That would be my favorite, because the conditions change a lot, and rapidly. One day can be extremely cold, the next one windy, and the other icy like an ice ring…or all three together!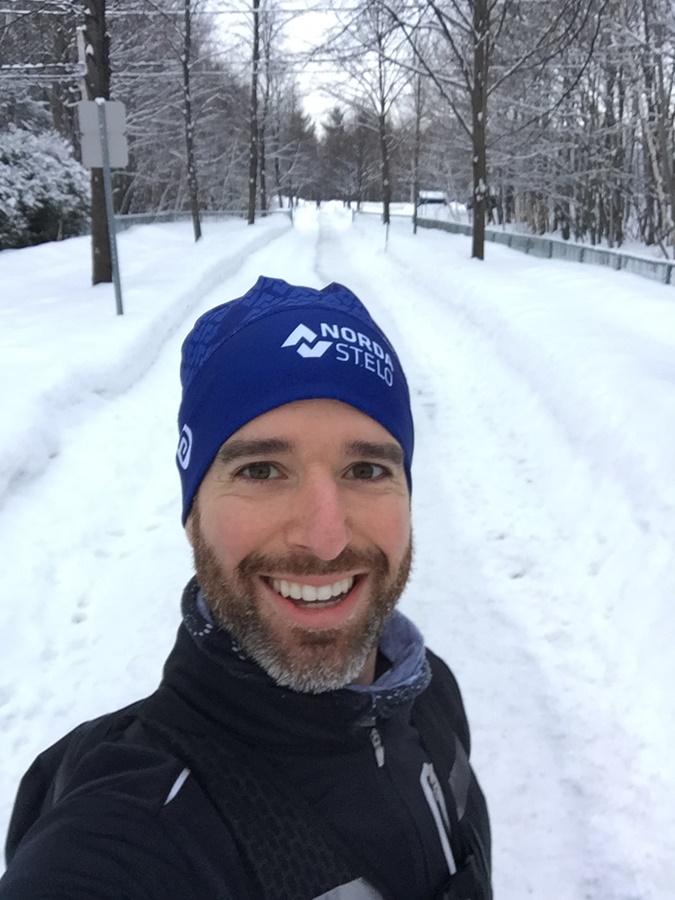 Run Commuting Gear
Backpack: Lululemon Surge Backpack It's truly a great backpack, but I couldn't bring my work clothes in it because they would be all creased up. I'd really like to try the IAMRUNBOX backpack for that reason.

Clothing: Summer clothing – plain sports t-shirt and shorts. Winter – I wear merino wool base layer because it keeps warm and dries very fast.

Outerwear: Winter: My merino base layers (1 or 2) plus a soft shell to cut the wind.

Headgear: Summer : Ciele Athletics cap (another Montreal based company that makes great stuff), Winter – merino beanie for warmer conditions, or a country skiing hat

Lights: None, or a running light on one of my arms.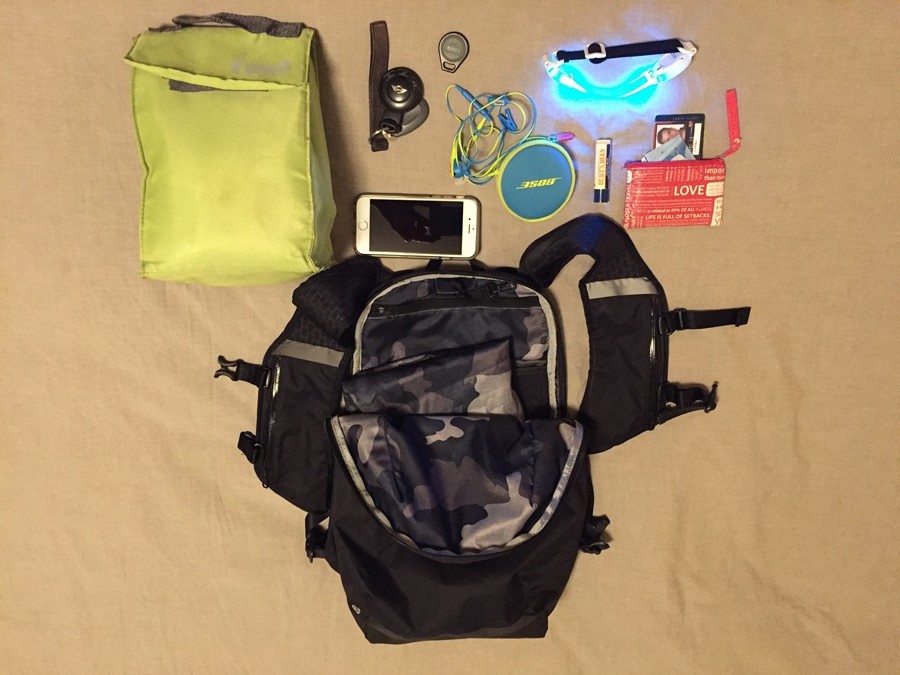 Frederic's gear
On Run Commuting
Why did you decide to start run commuting?
I finally decided to start run commuting in December 2017, once I was finally well established at my new job, and the distance from home seemed perfect. I just needed to find a way to organize my runs with 2 drop-offs : one of my girls to school and the other one to daycare. While reading on the subject, I ended up finding a great article that inspired me to make the move – Run Commuting Challenges – Parenting. I really have to mention that my wife (also a runner) is incredibly supportive, because it puts more pressure on evenings to go get the kids and get dinner ready.
How often do you run commute?
My run commute history began only in January this year. Since the first week back to work, I run commute two times a week. Gradually, I plan building up to 3 times a week in Spring.
How far is your commute?
It's a total of 15-16 km to and from work. In the morning, it's a smooth downhill run, but to get back home is much harder…especially when there's lots of snow and/or ice.
Do you pack or buy a lunch?
I always bring my lunch to work even on run commute days, because it's the best way to eat healthy food. Homemade meals are the best, and it's so much cheaper! The only additional food item I have in my lunch box when I run to work is a Naak bar. It's an energy bar made with… cricket protein powder! Crickets are the most sustainable protein source, and the bars taste very good.
What do you like most about run commuting?
What I like the most is being able to combine running and transportation to work (who likes traffic!). On about half of my run, I literally go faster than the traffic, which is a pretty cool feeling. Also, I get to be outside longer, and start (and end) my day with the best exercise in the world.
Do you know of anyone else in your area that runs to work?
No, I don't know anybody else who runs to work. I'm trying to influence a few colleagues though…
When not run commuting, how do you get to work?
I have to drive to work when I don't run. Unfortunately, the bus that could take me to the office doesn't work well with my schedule.
If you could give one piece of advice to anyone who was considering run commuting, what would it be?
Well for me it started with putting my daily routine on paper, and playing with it to fit running. It seemed so complicated at first, but in the end it's part of my routine. If you are not sure of your schedule, why not try to do it on a weekend to see if your plan works?
Anything else that you would like to include?
Especially if you have to run in changing conditions, make sure to have an emergency kit: cell phone with battery charged, money, extra pair of socks, ID cards, etc.
Are you interested in being featured on The New Run Commuters? If so, fill out the form below and we'll send you more details.
The New Run Commuters Submission Form