After a long hiatus, The New Run Commuters is back! This month we feature Jeff Jones of Atlanta, Georgia.
Jeff actually contacted us a couple of years ago and said he and his wife were moving to Atlanta from the Pacific Northwest, and one of the criteria he had while looking for a new home was that it would (ideally) be close enough to work that he could run commute. Now, he's all settled in and acclimatized to the never-ending heat and humidity of the Southeast, and has finished a full year of run commuting.
To top it off, Jeff just recently ran the Barrel-to-Keg 70-miler as a solo runner and finished in an amazing 14 hours and 47 minutes! He attributes his success to two-a-day run commutes (as well as a high fat/protein diet.)
As always, if you are interested in being featured in The New Run Commuters, contact us using the form at the end of this post. The only criteria we have is that you started run commuting sometime in the last year or so.
—————————————————–
Runner Basics
Name: Jeff Jones
Age: 41
City/State: Atlanta, GA
Profession/Employer: Finance/Verizon Wireless
Number of years running: 5
Number of races you participate in a year: 5 – 6
Do you prefer road or trail? I enjoy both – the predictability and intensity of a nice hard road run and the low impact and mellow vibes from trail runs.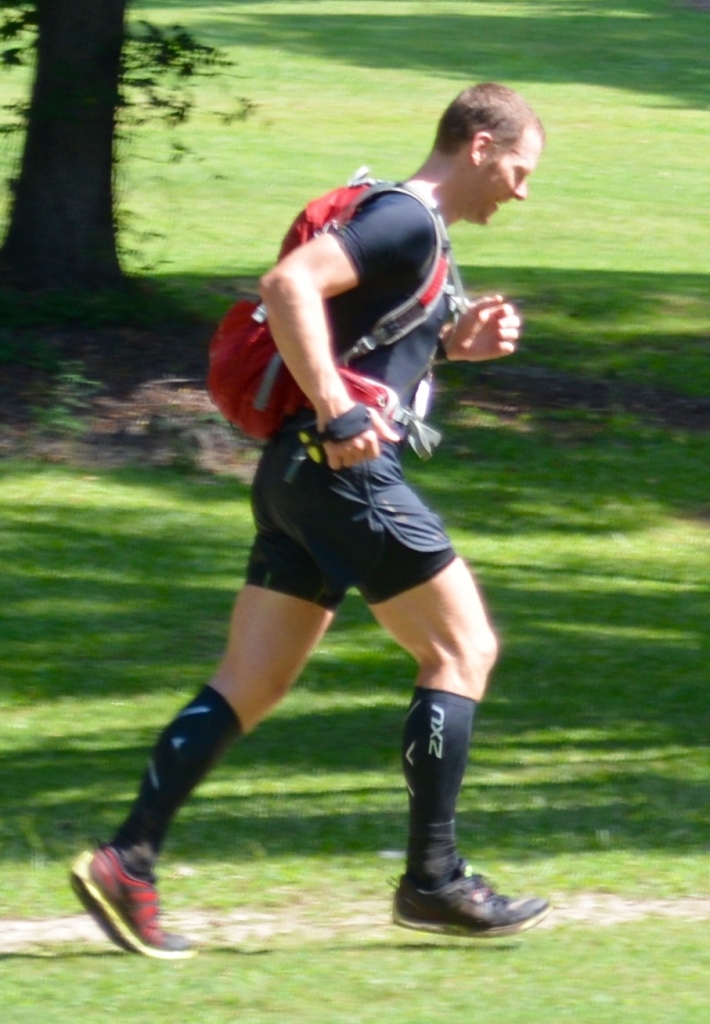 On Run Commuting
Why did you decide to start run commuting?
I thrive on complex logistical challenges, and run commuting seemed to align with my goals. When my family moved to North Atlanta about a year and a half ago, we decided to buy/rent within 6 miles of work so I could run commute. We even reduced down to one vehicle when we moved which forces me to run just about everyday.
I also wanted to set an example for my kids (5 and 8) whom I hope will never have to learn how to drive a car (may public transit, autonomous cars, and human powered commuting be in all of our futures)
How often do you run commute?
I run commute year-round, 5 days a week (usually for a total of 8 – 10 runs per week,) in sub-freezing temps, thunderstorms and the hottest stuff Atlanta can serve up.
How far is your commute?
6 – 10 miles depending on the route, sometimes a run through Vickery Creek Trails or down the Greenway tempts me away from a direct route home.
Do you pack or buy a lunch?
Pack my lunch 4 days a week, food truck Friday!
What do you like most about run commuting?
For me it's about work/life balance – being able to do 45 minutes to an hour of running each way gets my exercise done for the day and I can spend time with family. Additionally, after a couple miles into the run you settle into that flow state and life's problems/stress just work themselves out.
Do you know of anyone else in your area that runs to work?
I think I'm probably the only run commuter I know of in North Atlanta – I'd love to have some company though ;-)
When not run commuting, how do you get to work?
My wife picks me up usually just once a week. Otherwise it's that or Uber if I have to make exception. I am fortunate enough to have a great team at work who has graciously allowed me to bum a ride from time to time.
If you could give one piece of advice to anyone who was considering run commuting, what would it be?
Ease into it if you are running with a backpack. Going immediately into 8-10 runs a week with a 8lb+ loaded backpack can really be tough on the lower back initially – I learned that lesson the hard way.
Anything else that you would like to include?
How fortunate we are to be able to set our own challenges – may your run commuting be full of great challenges, extreme weather and many quality miles punctuated by sweet hill climbs.
Don't underestimate traffic. Even though we usually follow all the pedestrian rules/lights, many drivers are just distracted. I've been hit twice this year by folks who weren't paying attention – fortunately, I was able to escape injury.
The New Run Commuters Submission Form