Choosing to become a run commuter can be a life-altering decision. As we outline in our Become a Run Commuter series, one must first tell themselves that they will do it, and then begin the planning and logistics necessary to ensure success. If you already have a challenging life as it is, then throwing a run commute into the mix can be difficult – You may have to wear suits every day; your route may lack adequate public transportation; your office may lack shower facilities; you may live 20+ miles from the office, and so on. In this series, we will address some of these issues individually. First up, parenting.
Note: We realize that everyone has unique circumstances that may not fit the solutions provided in this article. We offer these only as examples of how to overcome some more common challenges.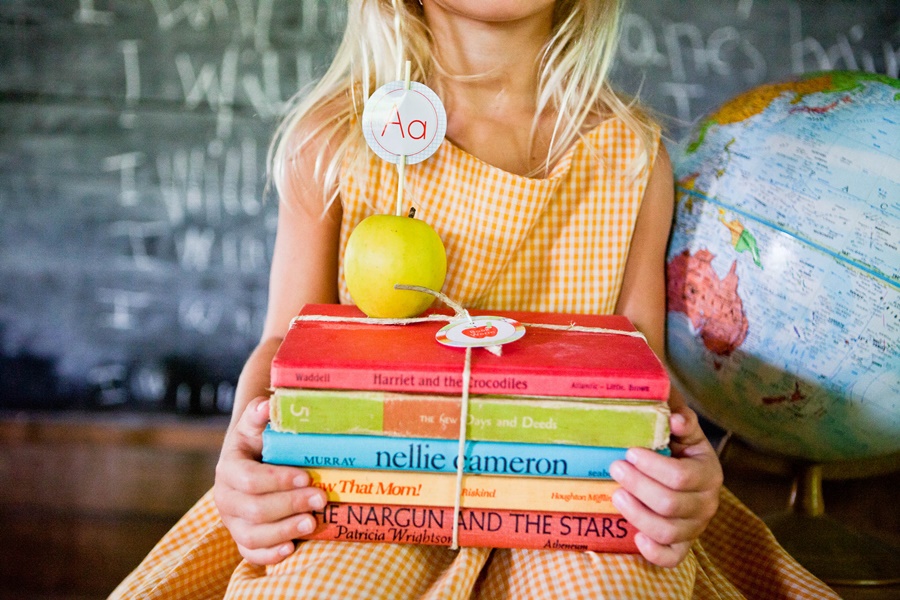 Our family consists of two adults and three children, ages 3, 8, and 15 (that's daycare, elementary, and high school – three places to be, possibly at different times). We are a one-car family and public transportation is available. The adults work in, or near, downtown. All kids can be dropped off at the same time, and (mostly) picked up at the same time. Both my wife and I want to use active transportation to get to and from work.
Before school started in late-July, we sat down and planned out our days to see what would work in our given situation. I would do drop-offs and she would do pick-ups. My wife has meetings a night or two a week after work, so she wouldn't be able to get them every day. I work criminal trials occasionally, and have to go in early and stay late on court days, so those days we would need to adjust accordingly (and possibly ask for outside help). But for the most part, we have a fairly predictable day. In order to help us create a schedule, we first mapped out all the places we might need to be during a typical day.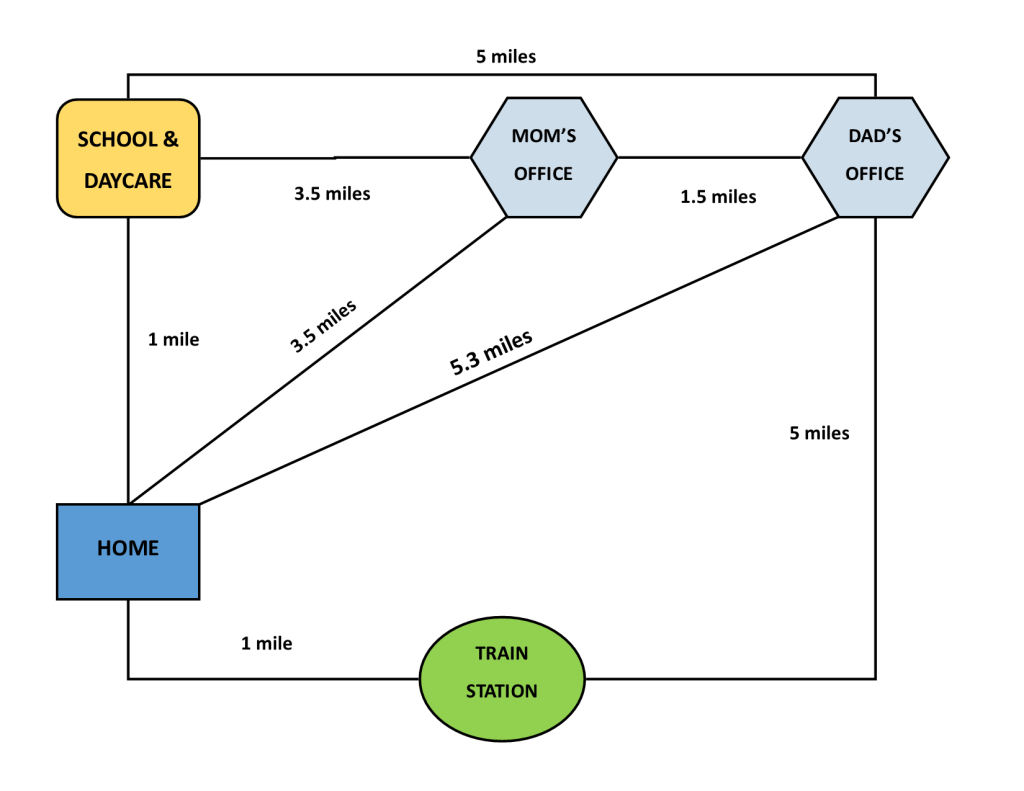 Once we had that in front of us, not only did we realize that everything was within a reasonable running and biking distance, but we were able to create a schedule and plan that works for everyone. Here is what a typical, active commuting day looks like for our family:
5:30 am – Dad wakes up, showers, makes lunches, packs bags

6:30​ ​am​ ​– Wake the kids up. Start feeding them, getting them dressed

6:40 am ​– Mom comes downstairs with little kids

6:40 ​am ​– 7:15 ​am ​- Chaos​, which sometimes includes breakfast, hopefully involves brushed teeth, and possibly involves clothes worn the day before​

7:15 ​am ​– 15-year-old bikes or walks to school; Dad loads little ones in car, heads to their school/daycare​ (these are both within the same block)​

7:25 ​am ​– Dad arrives​ at school​, parks car for the day at school​ (note: car has bike rack on back)​

7:30 ​am ​– Both little ones are in place; Dad's run to work begins; Mom bikes to work

​8:00 am – School starts​; Mom arrives at work and cools down

8:10 am – Dad arrives at work, cools down, then cleans up; Mom begins work

8:30 am – Dad starts working

8:30 am – 3:45 pm – Parents working; kids in school

3:45 pm – School ends/afterschool program begins

4:30 pm – Teenager bikes home

5:00/5:30​ pm​ – ​Work ends, ​Mom bikes to school, puts bike on car, picks little ones up. Dad leaves work, takes the train, and runs home from nearest station.

5:40 ​pm ​- Everyone is home. Begin to prepare dinner.
Following our schedule, here is what our daily mileage looks like:
Dad (dropoff)
Morning
1 mile of driving

5 miles of run commuting
Afternoon
0 – 5 miles of train (depends on available time)

1 – 5.3 miles of running
Daily Total: 6 – 10.3 miles run commuting, 0 – 5 miles on the train, and 1 mile driving.
Mom (pickup)
Morning
3.5 miles bike commuting

0 miles of driving
Afternoon
3.5 miles bike commuting

1 mile of driving
Daily Total: 7 miles of bike commuting, 1 mile of driving.
It is important to note that this is what works for us right now. This is a "while-the-kids-are-in-school" schedule, and once summer arrives and camps begin, everything will change, and we'll go through the above planning once again.
While this active transportation scheme works for us, we often have to modify it, and sometimes that happens a couple of times a week. Why? For many reasons, including unscheduled meetings, late work nights, etc. For the more common ones, here are some answers to questions I know readers (especially parents) will want to know:
What if your kid gets sick and your only car is at school? How do you pick them up?
This actually just happened this week. Our daycare called and said our little guy was sick and needed to be picked up as soon as possible. I put in for leave at work, set an out-of-office reply, changed back into my (still wet) running gear, and headed to the train station. Then, once the train arrived at my home station, I ran 2 miles to daycare to pick up my son and the car before driving back home.
My other option would have been Uber, a taxi, or a bus that gets me fairly close to school (but is slower than taking the train).
What do you do if your kids don't finish school/afterschool at the same time each day?
If, for example, one child needs to be picked up at 5:00, and the other at 6:00, the parents could split pickup duties between themselves that day. Or, the main pickup person does both, while the other stays home and prepares dinner.
I don't have time to do all this, and make dinner, and get the kids to bed on time. How can I make it work?
Using a slow cooker has saved us a lot of time and frustration. Get a good slow cooker with a built-in timer and a crock pot cookbook that has recipes your family would enjoy. Take a little time on the weekend to look through the cookbook, plan five to seven recipes for the week, and go out and buy the ingredients. Some cookbooks split meal prep into the night before, and the morning of, to make things easier.
Aside from the slow cooker, another option would be to cook two large meals on the weekend, then store them for serving throughout the week. For instance, make a pan of lasagna and a broccoli-cheese casserole. Serve on alternate days, and on Friday, take a night off and eat out.
---
I know, I know – this all sounds way too complicated…
However daunting it may initially seem, after you've done it for a few days, the routine becomes as normal as any other in your life. You have to get your kids to school and make dinner anyway, no matter how you decide to get to and from work, so why not try to throw run commuting into the mix, as well? You'll be glad you did!