I'm really bad at recovering after a run. Really bad. My normal routine usually includes a 5.5-mile run commute home, followed by jumping in the car to go pick up a kid from school, then rehydrating with a cheap, watered-down beer while I cook dinner when I return home.

In the 20-60 minutes after your workout, your muscles can store carbohydrates and protein as energy and help in recovery.
So, when Sunwarrior sent us their Starter Pack (updated in 2016 to this) filled with raw, vegan protein powders and supplements to test out, I was excited to try them and see how they made me feel after a good run.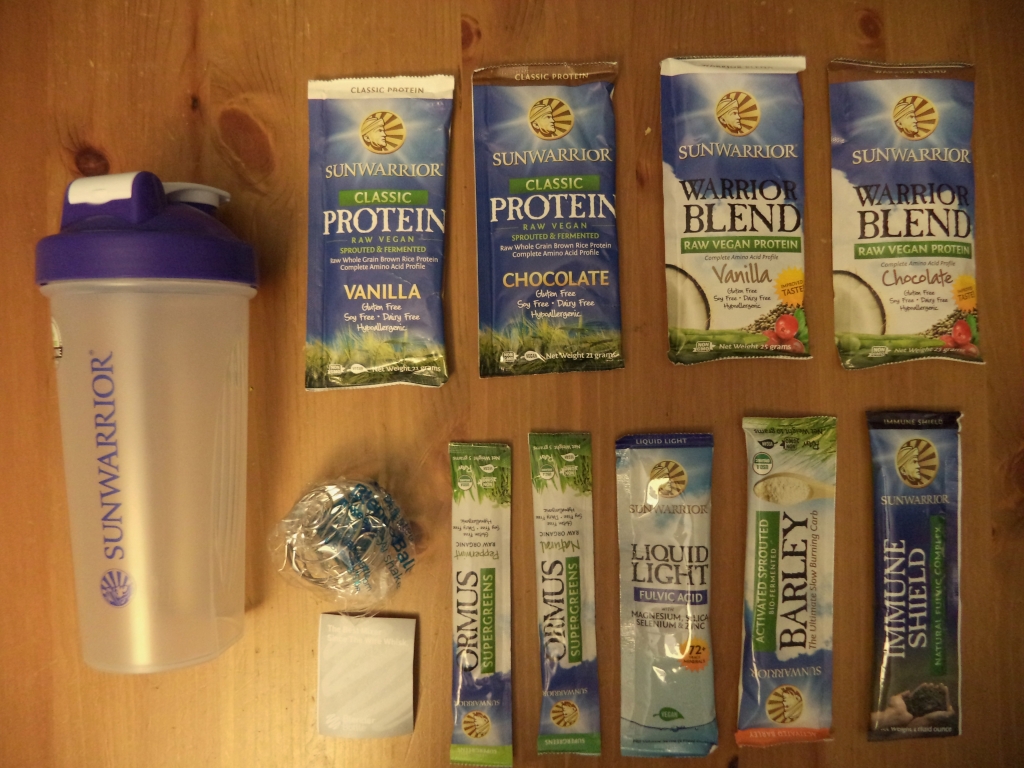 Test and Evaluation
All of the products were sampled after a 5.5-mile run which ranged in duration from 42:00 – 45:00 minutes. My 6-year-old, Everett, insisted on tasting each one as well. His comments are included.
This was really good! It was thick, but smooth, with a flavor not unlike a cold mug of hot chocolate. There was a slightly sweet aftertaste which remained for a brief period after consumption (which is no surprise, as the products are sweetened with the natural sweetener, Stevia.) Even with the added Supergreens, the flavor was chocolaty and delicious.
The directions suggest adding 6-10 oz. of liquid to the powder, however, after trying it, my personal preference would be to add no less than 12 oz. to cut down the thickness a little more.
Everett's Review: "Great!"
This was pretty good. The Supergreens were peppermint flavored, and I think adding them to a vanilla powder worked very well. Even though they have long been touted as health powerhouses, powdered greens can be unpalatable for those unused to them, but together with the Classic Vanilla powder, they went nearly unnoticed in the final drink.
Aside from the "greens" part of the Supergreens powder, Sunwarrior adds even more healthy additives, too, including several species of Lactobacillus Acidopholis, and a smorgasbord of leaves, roots, and grasses.
The Classic Protein Powder added in 15g of easily-digestible protein in one serving.
Everett's Review: "Really good, but not as good as the other one."
This was good, though the "greens" taste of the sprouted barley was much more noticeable in a vanilla-flavored shake than in the chocolate. The overall consistency was a bit chalky, but not bad going down.
The Barley powder is meant to be used for sustained energy, as it is slow-burning, so in retrospect, I should have had this combination pre-run to keep me from bonking. Nevertheless, the mixture provides 20g of pea/cranberry/hemp protein (and that's not counting the additional 10g of protein from soymilk.)
Everett's Review: "Pretty good."
This was one of my favorites. The texture was smooth, it was flavorful, and was the least gritty of all the previous samples. It only contained 16g of brown rice protein, but the addition of the Liquid Light (fulvic acid and long list of minerals) packet added an additional healthy kick to the overall nutrition profile.
Everett's Review: "Great! Tastes like chocolate milk."
Sample #5: Healthy Shooter
The Immune Shield liquid packet simply suggests taking one or more daily, so I just tore the top off and chugged it down. It was tart and sour, with the consistency of water.
The text on the package touts the health benefits of fulvic acid and complex silver, and their roles in enhancing the individual's immune system. Not bad at all…
Summary
My preferred shake was the Sunwarrior Chocolate Warrior Blend with Supergreens. This is something I can see myself drinking regularly after my daily run commute and not growing tired of it. It mixes well, tastes great, goes down easy, and provides a noticeable sense of fullness for a while thereafter; so much so, that I tended to eat less dinner when consumed within an hour-and-a-half beforehand.
The Blender Bottle, with its removable whisk ball, did a fantastic job of mixing the products with ice-cold soymilk. Nothing was left on the sides or bottom, where powders tend to gather and clump.
If you live an active, plant-based life, you should give Sunwarrior's shakes and supplements a shot for your pre- and post-workout nutrition.
Vegan

Organic

Raw

Starter Pack (as tested) $19.95