Finally – a backpack specifically made for run commuters!
The company that brought us our favorite garment carrier, IAMRUNBOX, released a series of run commuting backpacks after a very successful Kickstarter campaign, and we were extremely excited to get our hands on one recently. The IAMRUNBOX Backpack Pro is a stylish and extremely practical backpack for everyday commuters who run with a change of clothes, a laptop, and a few personal items. Best of all, this pack won't bounce!
Test Model
Size: One size fit all
Carrying Capacity: 10L, 610 cu. in.
Cost: US $170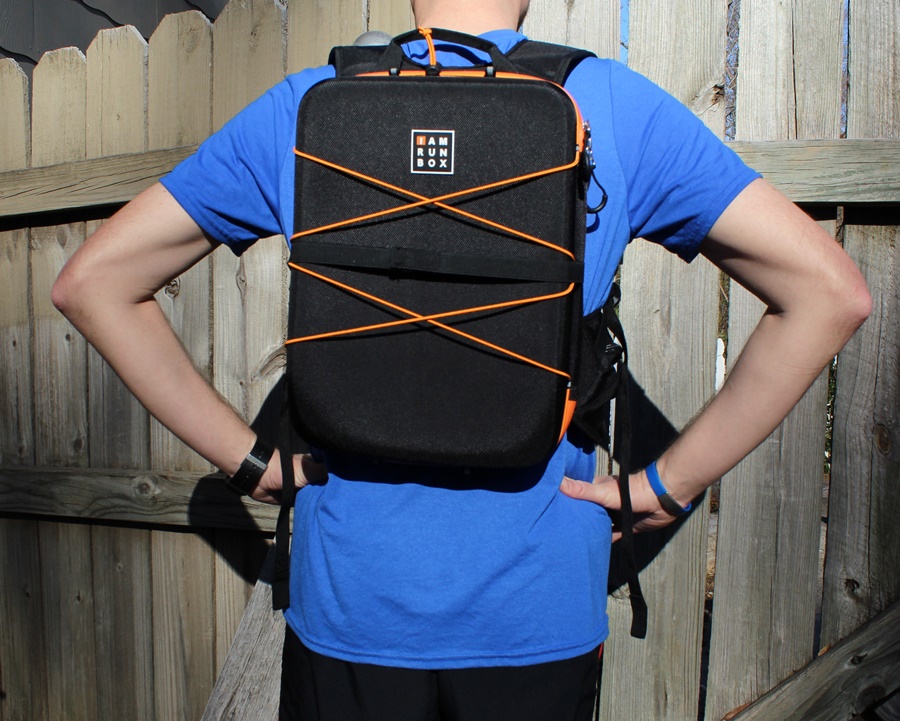 Performance and Evaluation
I logged approximately 40 miles with the IAMRUNBOX under a variety of conditions and temperatures. Unfortunately, I have yet to test it during a good rainstorm. I wore it a few times when there was a light sprinkle, but I didn't feel that was a good test of the pack's water resistant features.
While I expected it to feel a little awkward on the run, since the construction is markedly different than a standard pack, I was pleasantly surprised at how well it runs. The four foam pads that make contact with your back are comfortable and almost unnoticeable. Since the main compartment is rigid, there is no pack flop that you tend to get from a soft pack, so I expected loose items inside the pack to bounce around. However, that was not the case – everything remained firmly fixed.
The carrying capacity of the IAMRUNBOX works well for those run commuters who only run with their work clothes and a few personal items. I had trouble packing larger lunches and weekly supplies into it after packing clothing and accessories. It worked fine for a light lunch, like a sandwich and some mandarin oranges, for example, however larger bags of crackers/chips/crisps would get crushed when zipping the main compartment shut and deeper containers of leftovers were out of the question. This specific issue probably won't affect a majority of run commuters, though, since most prefer to pack as minimal and light as possible.
One additional note regarding the pack's volume; the back face of the pack is crisscrossed with an adjustable elastic cord. Since I tested the pack in the winter, I needed to carry a jacket with me for any out-of-office excursions. The cord system easily secured my jacket, and even retained additional room to carry more.
The laptop carrying feature works quite well. It's a simple, two-strap holder that rides close to your back, but it does what it is designed to do. Smaller laptops or tablets may need additional padding around them to keep them from bouncing up and down in the pack.
The deep and wide zippered waist belt pouches are a fantastic feature. Most backpacks that have these usually tend towards smaller, stretchier styles that work for carrying, at most, a few gels, a thin beanie, or a pair of gloves. The IAMRUNBOX Backpack Pro's waist pockets, in contrast, can hold large smartphones, thick wool hats, sunglasses, and more. I normally carry my Nexus 6P (which is 6 ½" long and 3 ¼" wide) in the main compartment or in inaccessible side pouches of other packs, so it is awesome to have it right in front of me and be able to pull it out to take a picture or check a text message.
You notice the weight of the pack just forward of your shoulders and at the small of your back. I couldn't identify any potential chafing locations – the fit and feel of everything was perfect.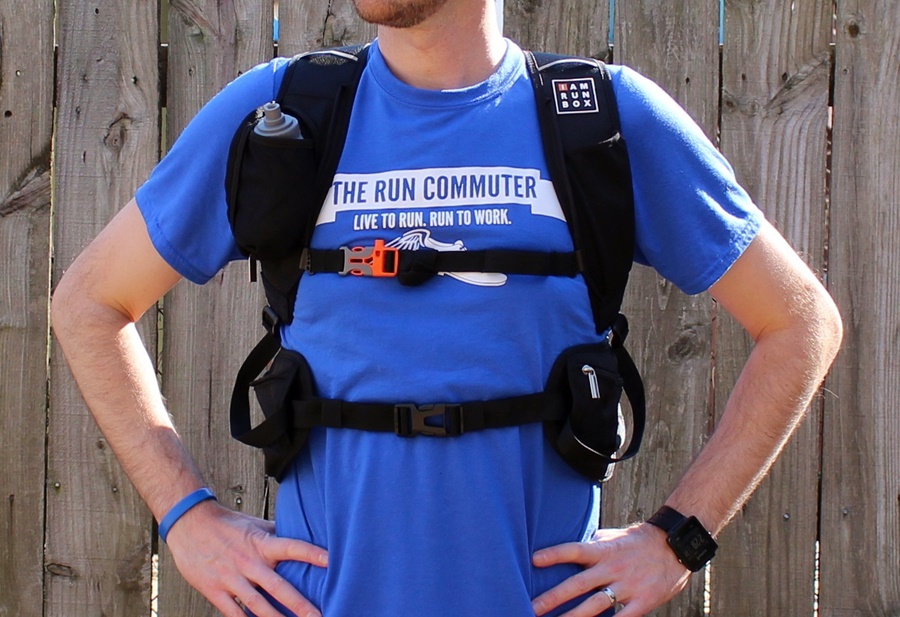 Waist and sternum strap with whistle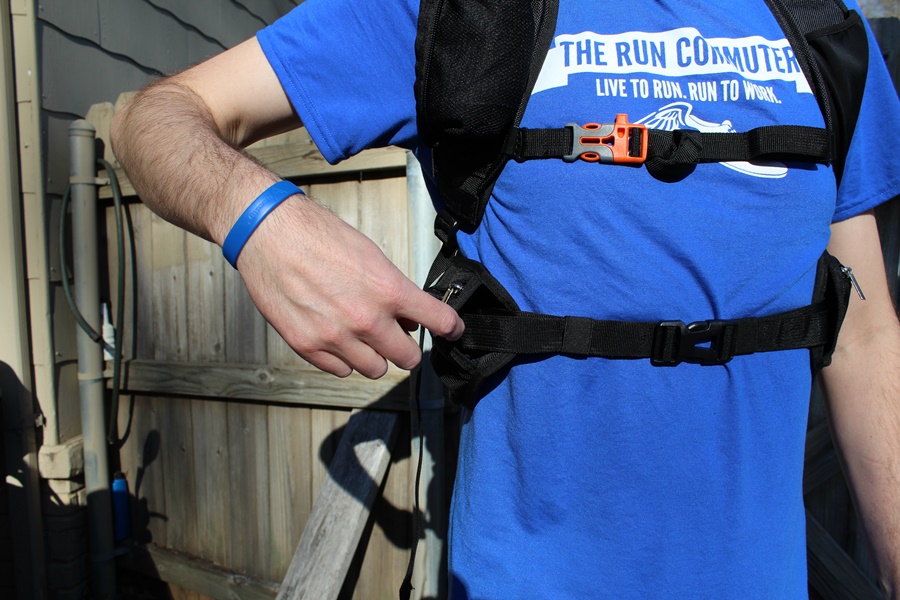 Waist strap has openings on both sides to hide excess strap
Overall comfort and feel
Zippered clothing compartment
Laptop carrying feature
Large waistbelt pouches
Rigid structure of the pack
Limited carrying capacity
Velcro strap location
Cost
Overall Construction
Both the pack and the zippers are made from weather/water-resistant materials. The exterior consists of a black nylon fabric with a polyurethane coating while the interior is lined with black velvet fabric.
Front
The front of the pack is mostly unremarkable, save for an elastic band system for holding larger, non-packable items like a jacket or a pair of shoes (an optional shoe bag is available, as well). For added visibility during low-light conditions, I add Amphipod flashing lights to the strings and strap.
The velcro strap pictured here functions as an additional hold-down for the large items on the front and can be rerouted to the back of the pack to secure the shoulder/waist straps together if you want to carry it by the carrying handle. If the strap is connected to the front of the pack however (as shown in the picture below), you must first disconnect it in order to open the pack, as it covers the zipper.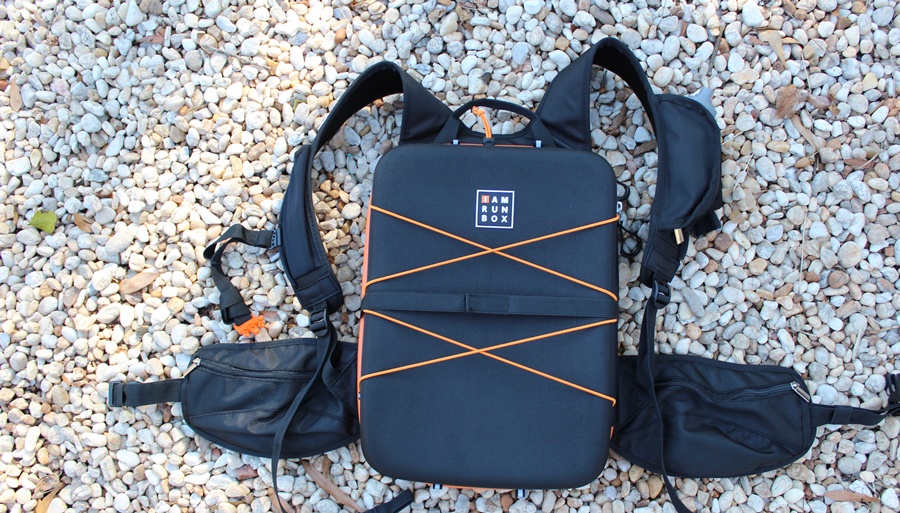 Sides
The sides do not include any additional storage or features.
Top and Bottom
The top and bottom of the pack include reflective strips. No additional features are present.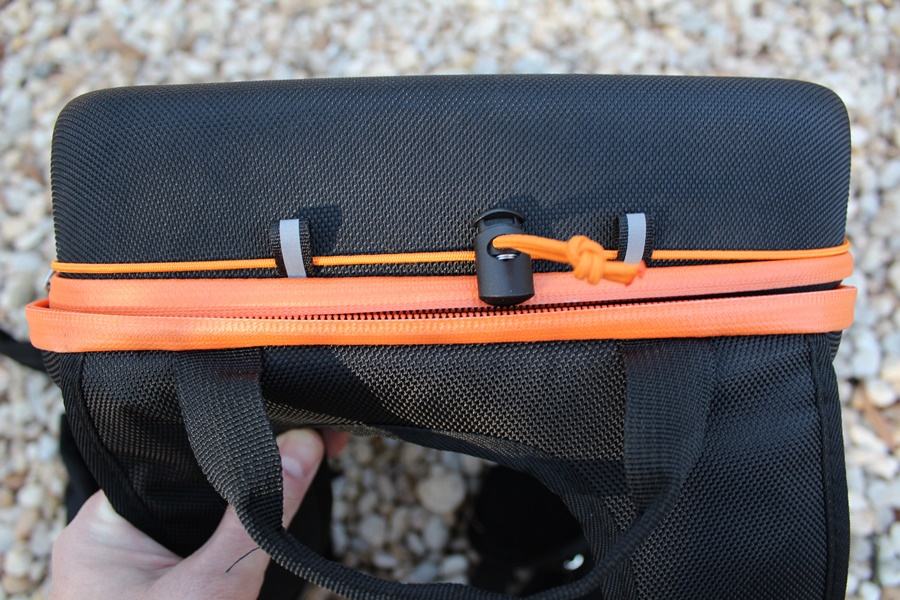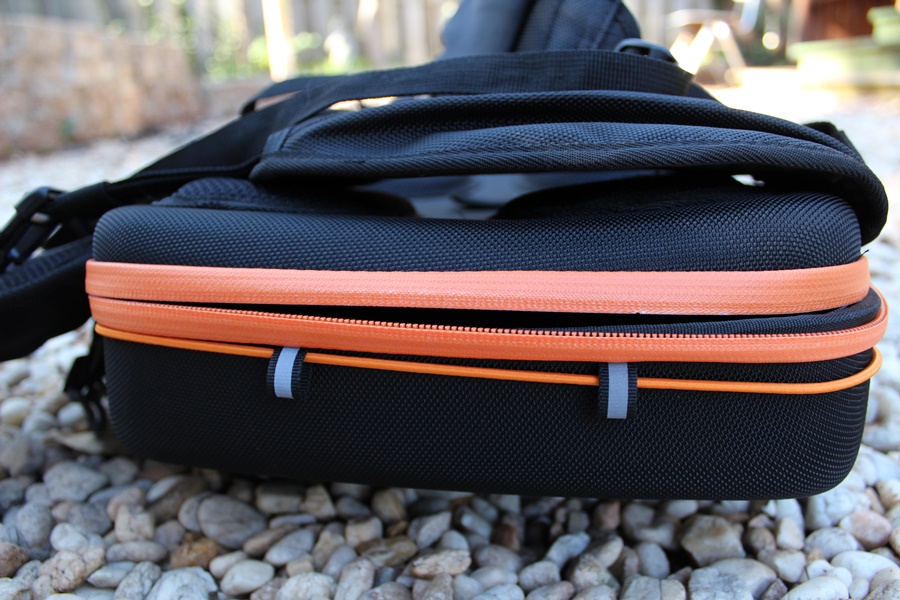 Main Compartment
When open, the right side of the pack is where you store your clothing. To hold all the clothing together, the Backpack Pro has a zippered, breathable cover, which makes it very easy to close the pack once everything is inside.
The left side of the Backpack Pro is used for securely storing up to a 13.5″ laptop. It can also hold a tablet, a book, or a few magazines quite well, or any other items that you may need at work (small lunch, belt, packable raincoat, etc.).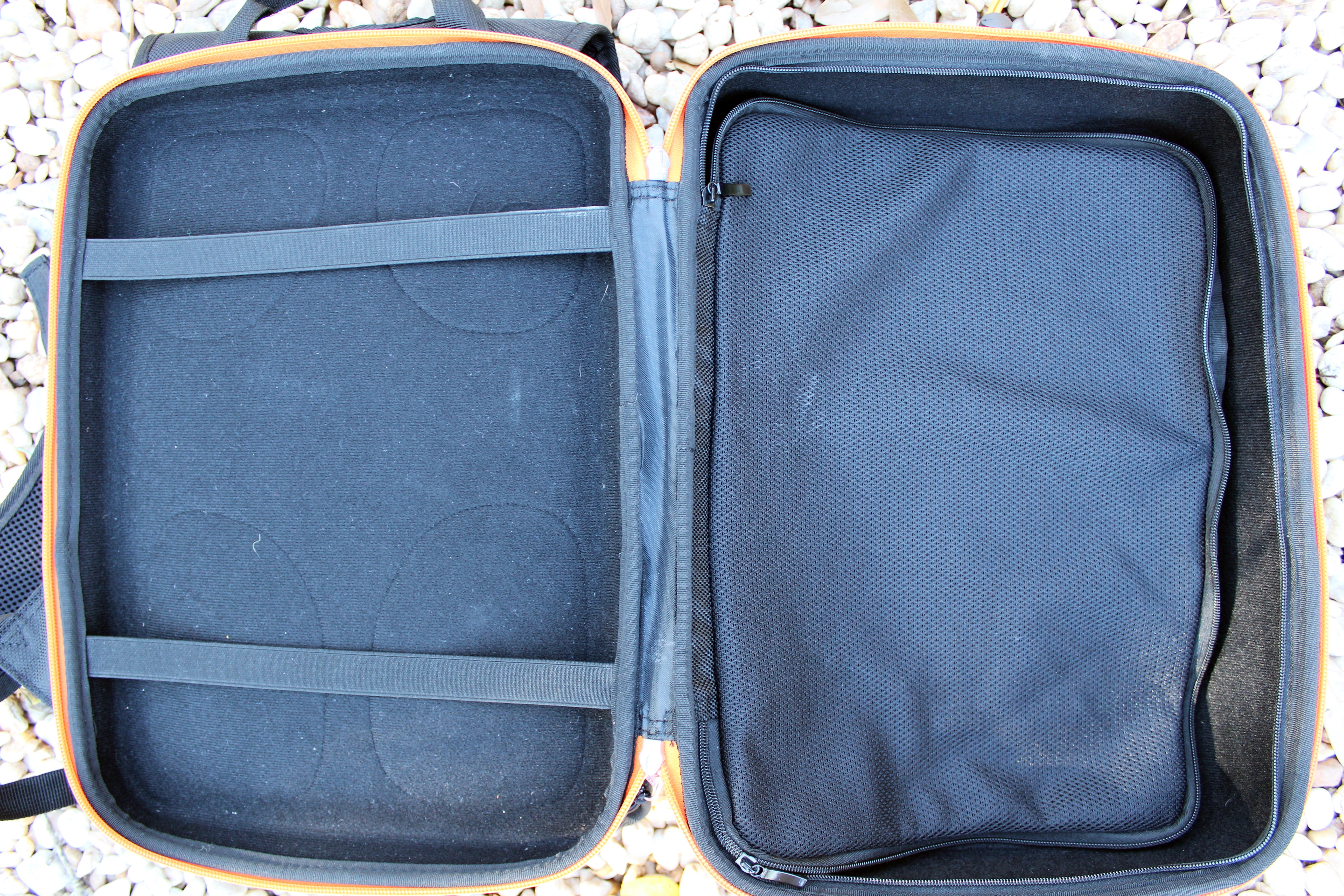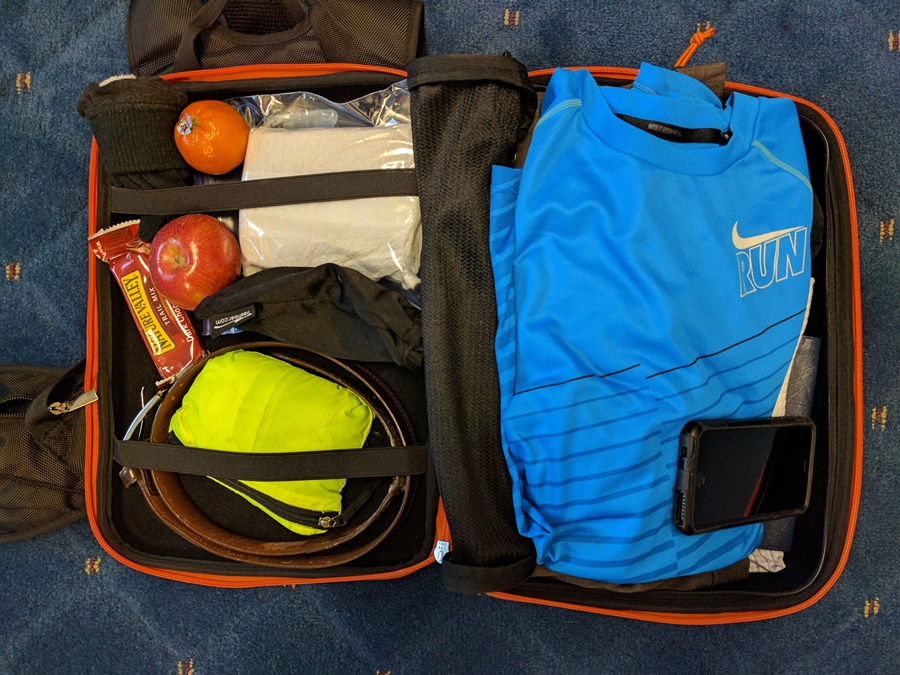 Fully packed with a light lunch
Back and Waist Strap
The back of the IAMRUNBOX Backpack Pro is rigid, with four palm-sized cushions strategically placed to allow the pack to rest comfortably against your back while walking or running. When the pack is on the body and cinched down, the cushions rest at the base of the scapulae and on both sides of the lower back.
The waist strap is wide and lightly-padded and a simple plastic buckle secures it to your waist. There is a large zippered pouch on each side that is big enough to hold large smartphones and plenty of additional gear (see notes at end of review regarding the metal zippers). A unique feature of the waist strap is that each side facing the buckle opens to reveal a pocket that can be used for storing excess straps.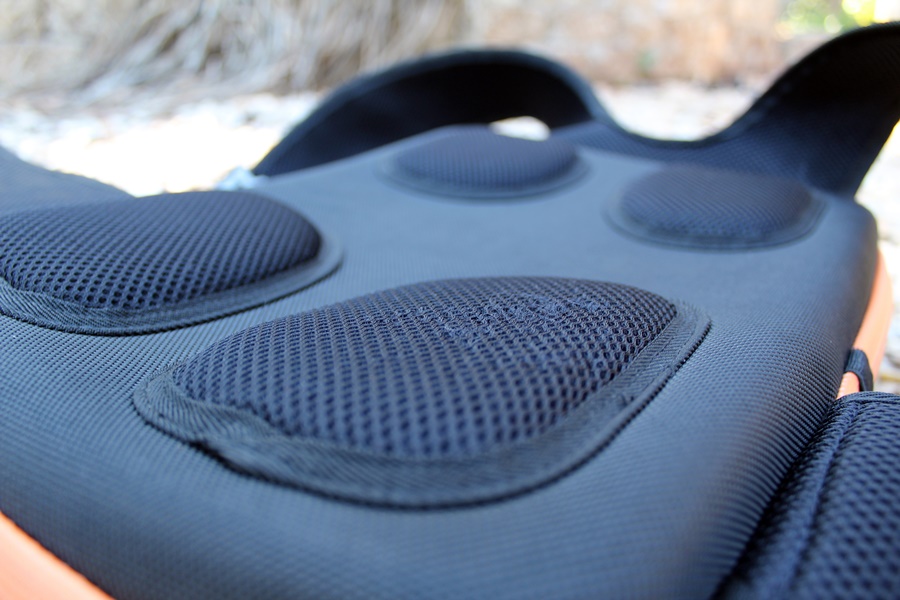 Four cushioned pads make for a comfortable ride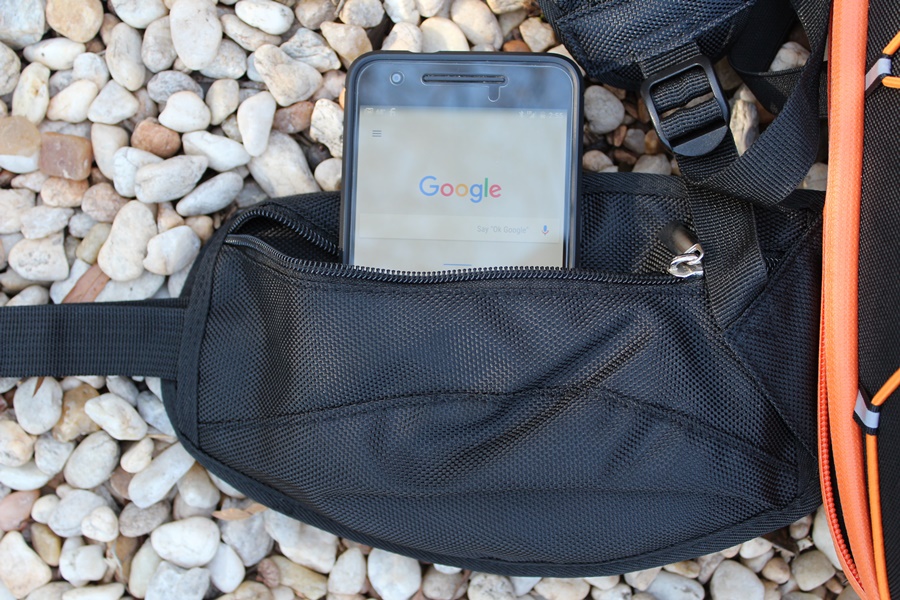 The waist strap pockets hold large phones and more
Suspension
Compared to most packs I've used, the shoulder straps on the Backpack Pro are wide, coming in right at 3 inches (7.62 cm) and there is very little narrowing of the straps along the length. There is some very thin padding on the inside of the straps, and I found it to be adequate for running with heavier weight.
The front of the right side strap features a reflective loop and a zippered, crescent-shaped pouch. The pouch holds a pair of gloves or a few gels when closed, or – when opened – a water bottle. This is a neat feature and works best with shorter bottles.
The left side strap includes a reflective loop, as well, and an elastic expandable top loading pouch that holds smaller smartphones (iPhone 5, etc.) securely.
Sternum Strap
There is one sternum strap on this pack. It is made of nylon and includes a piece of elastic that stretches an inch and a half that enables the strap to move when the wearer inhales and exhales. The sternum strap can be adjusted 9 inches vertically, so that it can placed in a comfortable location on the wearer's chest.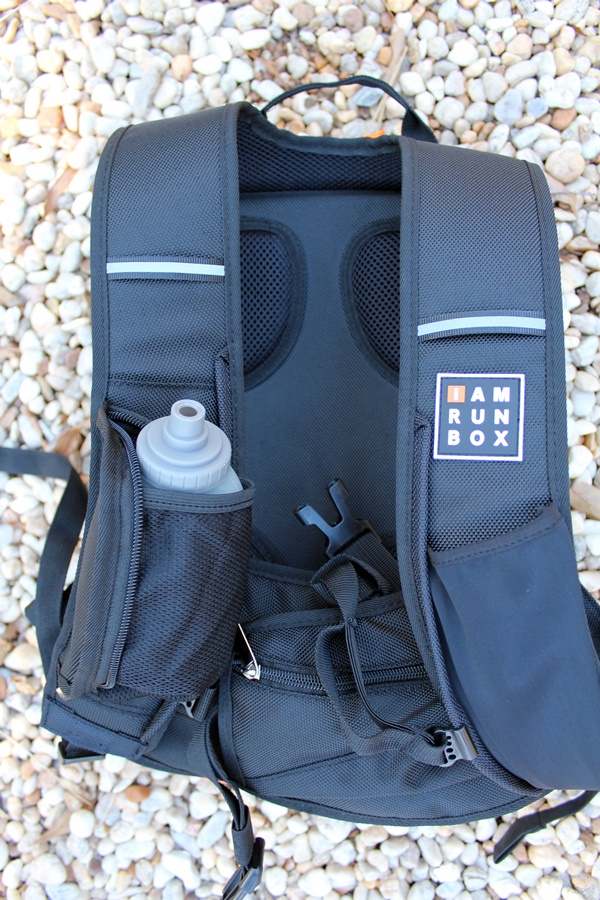 Suspension system. Right strap opens to hold a small water bottle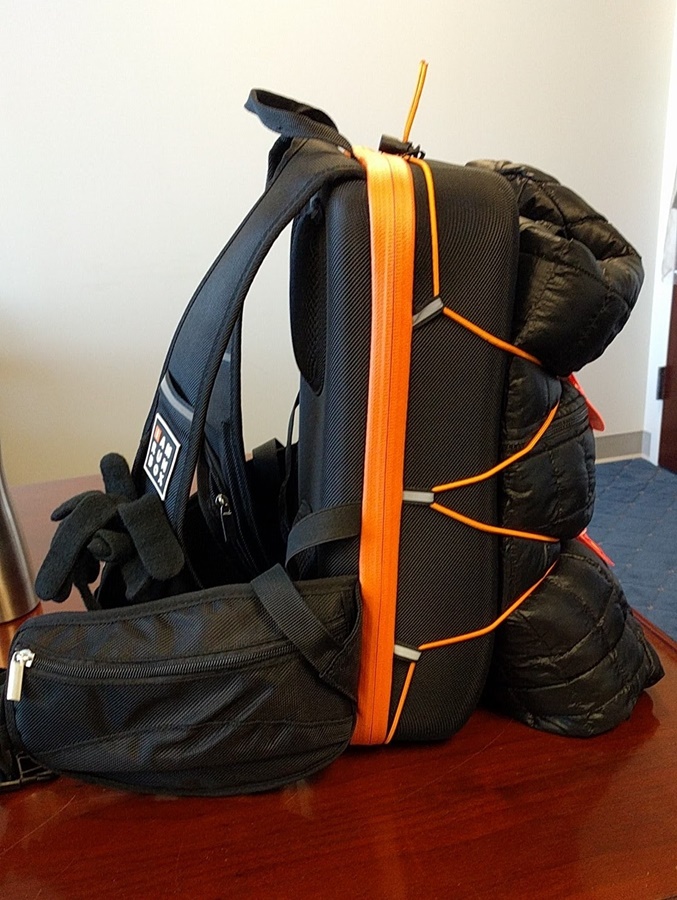 Fully loaded with a winter jacket secured to the front with straps
Additional Notes
The metal zippers shown in this pre-production pack will be replaced with string pullers to avoid clanging sounds and the water-resistant zip will be upgraded to ensure softer opening.
Bottom Line
The IAMRUNBOX Backpack Pro is a fantastic pack for run commuters; especially those that need to transport a laptop and keep their office clothing looking good.
————————————————————————————
Disclaimer
IAMRUNBOX provided us with the IAMRUNBOX Backpack Pro for review, however this did not influence my opinion regarding this product. The thoughts and pictures contained in this review are my own.