This month's New Run Commuter is David Roland, from our headquarters city of Atlanta, Georgia. I had the pleasure of meeting David in person last week, and we spoke not only about how he became a run commuter, but also of Atlanta's many, many distracted drivers and the dangerous conditions they create for vulnerable users, such as pedestrians, runners, and cyclists. David's advice for staying safe? Be mindful of cars turning at intersections – they often don't see people in the crosswalks – and make sure you are as visible as possible.
Read more about David's story below and if you are interested in being the next run commuter featured on TRC, please fill out the contact form at the end of the post.
—————————————————–
Runner Basics
Name:

David Roland

Age:

35

City/State:

Atlanta, GA

Profession/Employer:

Web Developer | Software Engineer

Number of years running:

5

# of races you participate in a year:

1 – 3

Do you prefer road or trail?

I like both, the good thing about running on trails is that you don't have to look for cars.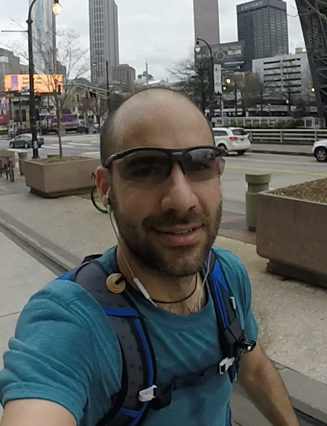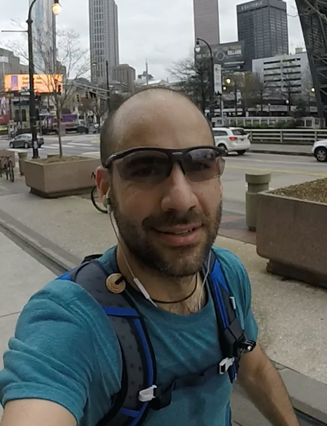 David Roland
Run Commuting Gear
Backpack: Gregory Miwok 18. I carry work clothes, breakfast and some extra running clothes. I think 18 is a good size for my needs, because if I need to also carry shoes or lunch, I can.

Shoes: Nike Downshifter 5, though I don't recommend them for running everyday.

Clothing: Nike running shorts and any t-shirt (preferably a t-shirt from a running race or a dri-fit one). I also wear a Buff headband on my neck when it is a bit chilly.

Outerwear:

During winter, I use a thick windblocker: New Balance Men's Windblocker Running 1/2 Zip, and New Balance running tights/pants.

Lights: LED Slap Armband – sometimes I use it on my arm, and sometimes I hook it on the back of my backpack. Usually I run home during daylight, so I don't use it that often.

Hydration:

None. My commute is not very far, so I drink water before and after.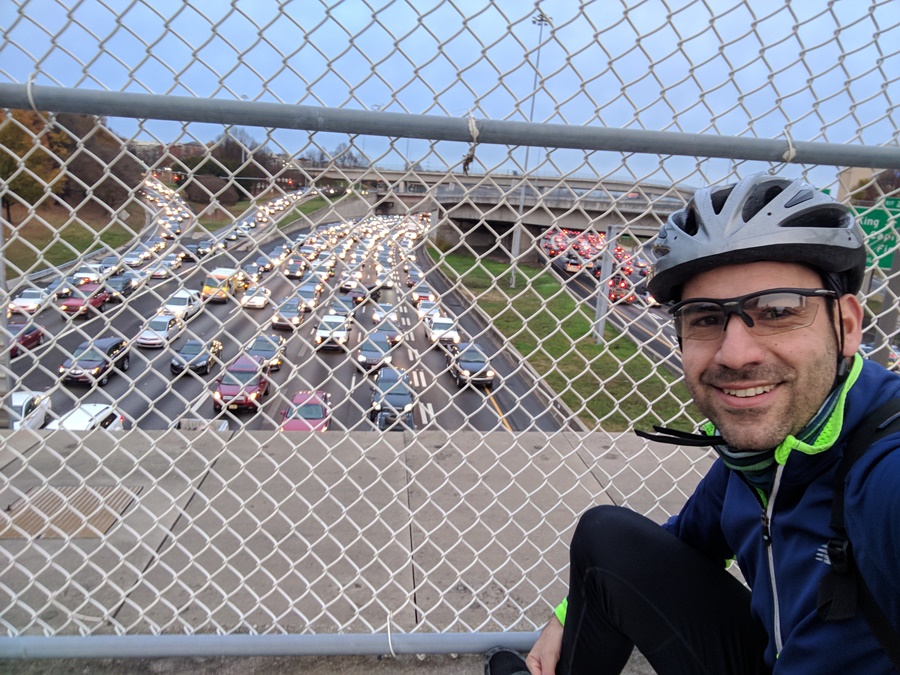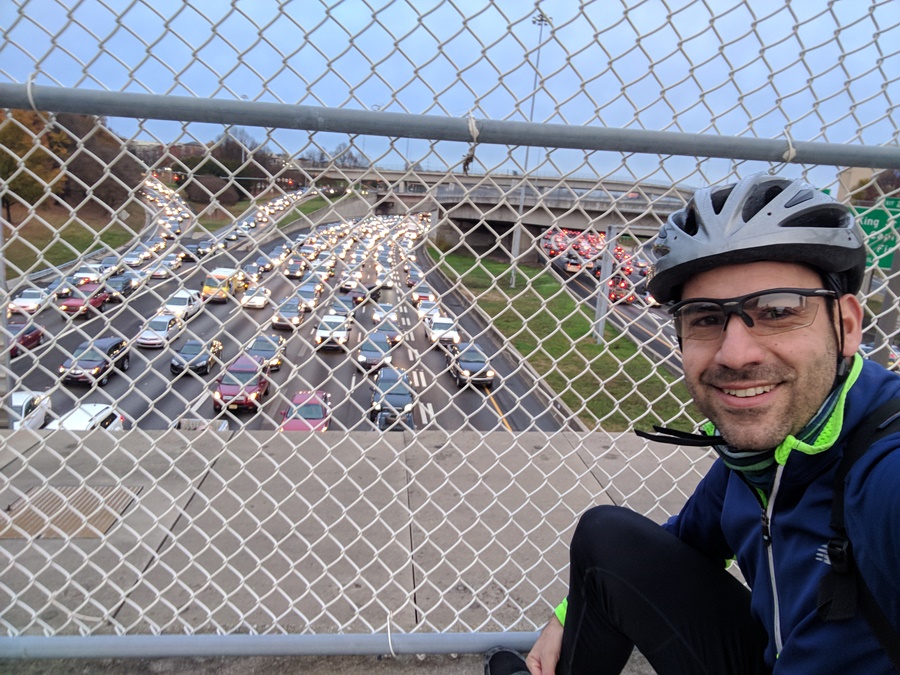 Atlanta traffic from above
On Run Commuting
Why did you decide to start run commuting?
After watching the movie
McFarland, USA
, I thought I should try it someday.
I've been a bike commuter since 2013. This winter I started having many flat tires on my bike, since I was commuting on a single speed with thin tires. I didn't carry any gear to fix them, so I started running back home. After 3 or 4 flats, I started run commuting back and forth and leaving the bike at home.
How often do you run commute?
Almost every day, though I don't want to overdo it, because I'm afraid of hurting my knees long-term.
How far is your commute?
3 miles (5 km) each way, very hilly.
Do you pack or buy a lunch?
I buy lunch at the office cafeteria – usually a salad with some protein.
What do you like most about run commuting?
The most important reason for me is that I hate being stuck in traffic, that's why I choose running or biking over taking a car or bus. I love the feeling of waking up and thinking "Nice, I will go running", instead of "Uff, I need to go to the office" :D
Also, it is
more fun, better for physical and mental health, better for the environment, and cheaper.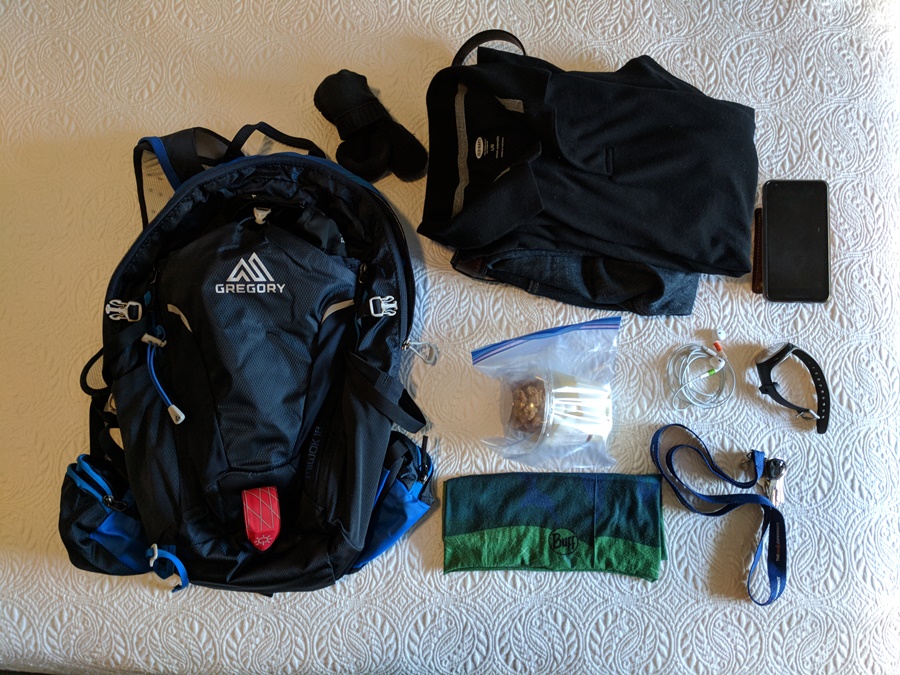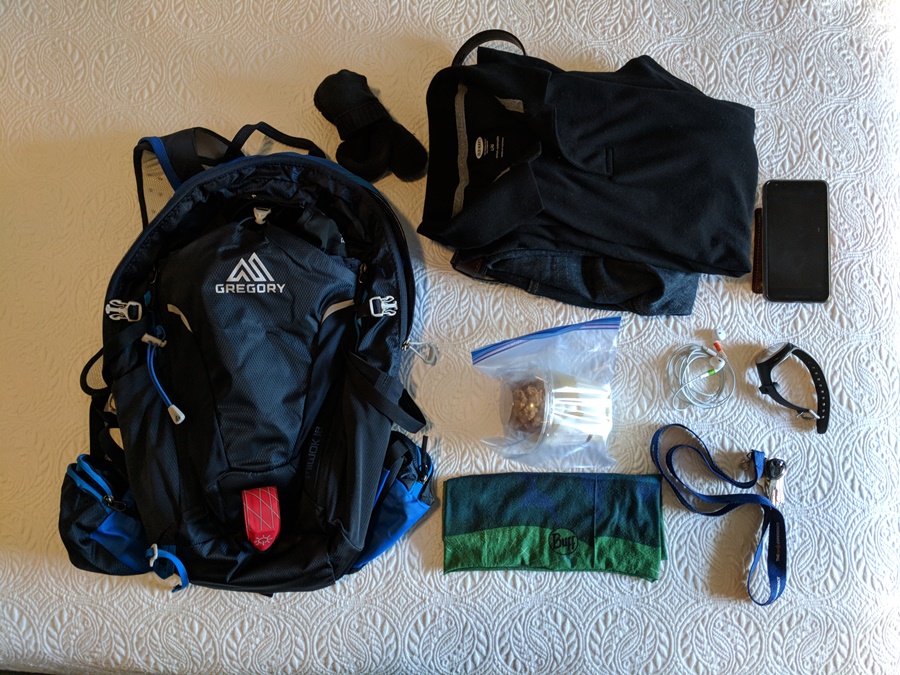 Gregory Miwok 18 with contents
Do you know of anyone else in your area that runs to work?
After I started run commuting I was googling more about it and I found this website. Since the creator is also from Atlanta, I messaged him and we met.
When not run commuting, how do you get to work?
Sometimes I bike (10-15 min), or else I take the bus (35 min), while running takes me 25 min.
If you could give one piece of advice to anyone who was considering run commuting, what would it be?
I read this before and I think it's great advice: you don't have to run everyday or both ways, or even all the way (mix it with public transit or driving), just do what you can. You can also try the route over the weekend to see how you feel and learn what it is like.
Also, try to find where you can shower. Maybe there is a gym close by, or even showers in your building – ask around.
Anything else that you would like to include?
Some advice based on my experience: when run commuting, you have to be careful at intersections (even with lights) because drivers turn without looking for pedestrians. Some of them are on their phones. It is very dangerous. Try to wear bright clothes.
Are you interested in being featured on The New Run Commuters? If so, fill out the form below and we'll send you more details.
The New Run Commuters Submission Form