While not technically a backpack, the Ultimate Direction PB Adventure Vest 3.0 has all the features you would expect on a pack, and a whole lot more. It's great for the run commuter who doesn't carry much with them to work, and is perfect if you also want something light and comfortable for carrying gear and water on long road/trail runs.
Test Model
Size: Large
Carrying Capacity: 16L, 977 cu. in.
I tested the Ultimate Direction PB Adventure Vest 3.0 during 35 miles of run commuting.
I was worried the Large might be a little big at first, but after adjusting the numerous straps (hidden and otherwise) it felt secure and form-fitting. With a water bottle added in the shoulder strap pocket, it was even more snug. I don't normally run with water, though, so for most test runs I left the bottle out.
This thing is extremely lightweight – if you put it on while empty, you almost don't even notice you are wearing it. The reason for that is the almost completely see-thru material from which most of the vest is made. Not only is thin…some of it's compartments are waterproof, too! Or are they?
I was skeptical, so I ran a test. I placed several folded-up paper towels inside each of the small pockets on the shoulder straps, and then placed a rolled up pair of pants and shirt in the main compartment. All three pouches are made from "SilNylon/66: Silicone-Impregnated 30D nylon with a polyurethane face" which "creates a permanently waterproof fabric." I was hoping to test it while running in a heavy downpour, but the rains never came. So I did the next best thing I could of…
The water most likely seeped in through the zippers and not the material, but, still…lesson learned.
Wrap everything you need to stay dry in something waterproof (plastic grocery bag, drybag) before packing it into the vest.
—————————
For most runs, here is what I carried:
A set of work-appropriate clothing, rolled up and placed in a plastic bag (not garment carrier compatible)

Small lunch

Cell phones, wallet, work ID

Clif bar, and a couple of gels

Packable rainjacket

Sunglasses
That was a lot to carry in this vest. My regular run commuting pack is a 24L and I usually pack it almost entirely full. The UD PB Adventure Vest's carrying capacity is only 16L, and while it does have additional external pockets and compartments to stash gear, I had to leave some things out that I would normally carry – namely, my sizeable lunch. However, that is often leftovers in glass containers and race vests aren't meant to carry that in the first place. A simple sandwich, with crackers and fruit fit fine.
On the run, the full vest ran extremely well. It felt really good to not have to wear a tightly-fastened waist strap, and the two sternum straps served very well as overall stabilizers of the pack's load. One thing I noticed that is different than running with a traditional running pack – the weight of the pack is carried quite differently. On a standard pack (waist strap, sternum strap(s), frame or no frame) the full weight of the backpack is pulled against your back and becomes an extension of your body, rather than a bouncy, separate accessory. The UD vest's weight is carried down lower on your body and pulls at your shoulders, straightening up your back slightly. It was a nice change and similar to how other waist-strapless hydration packs like the Nathan HPL-020 carries it's weight.
Side view, showing water bottle in shoulder strap pocket
An abundance of run-accessible pouches
Comfortable and carries weight differently than a backpack
Extremely lightweight
Hydration system compatible and accepts additional water bottle
Double sternum straps
Low carrying capacity
Not waterproof
High cost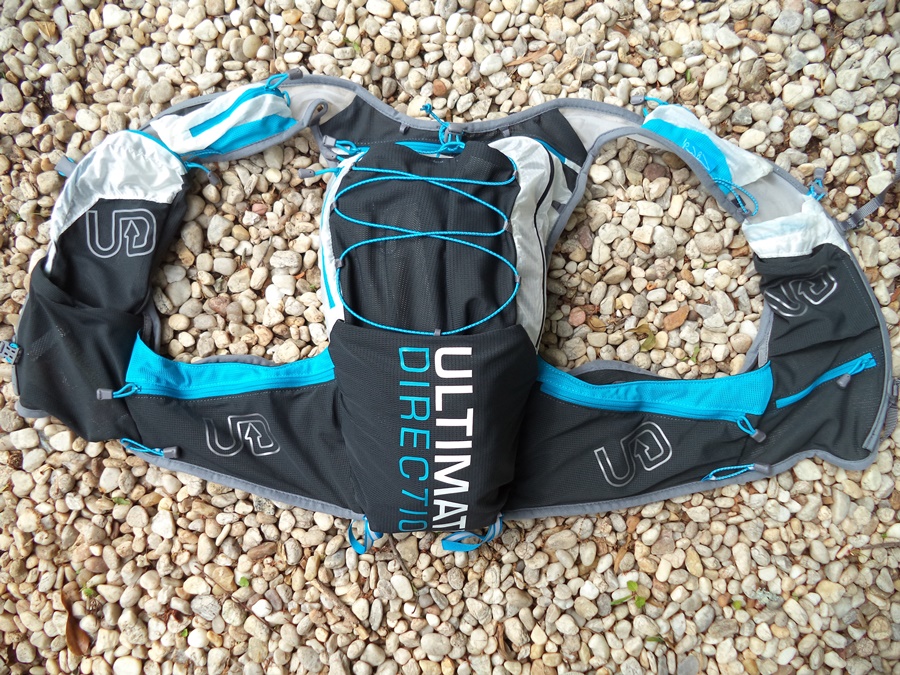 Back
The back of the vest consists of two large, stretchable pouches, with the tops being held together with the blue elastic cord shown in the picture. These pockets are of decent size and can hold a jacket or hat and gloves with ease. The criss-crossed elastic cord area is excellent for holding wet clothing or shed layers.
Once the main compartment of the vest is loaded, the blue cord can be cinched tightly and then connects to a loop at the top of the pack to ensure the contents remain contained. For additional security, the elastic cord may be stretched to the sides and snapped in to gray cord fasteners on the sides and top of the vest (8 in total; 3 per side, 2 on top). These function very similarly to external compression straps found in good running packs.
On the left side of the main compartment is another zippered pouch. Like the main compartment, it is not run accessible, so store things here you won't need until you are done running.It contains a key clip and (in addition to keys) can hold a wallet and a couple of other small items.
At the bottom of the pack are two reflective, non-stretchable loops. I think these are for carrying an ice axe, so yeah – not really useful for run commuting.
Main Compartment
The main compartment of the vest is made entirely of water-resistant material, and is closed with a zipper that runs up one side and across the top. It won't hold much, as it is quite small by normal run commuter pack standards. I fit my clothing in there, but not much else.
You can easily secure the contents in order to keep things from bouncing by using the elaborate elastic tie-down system.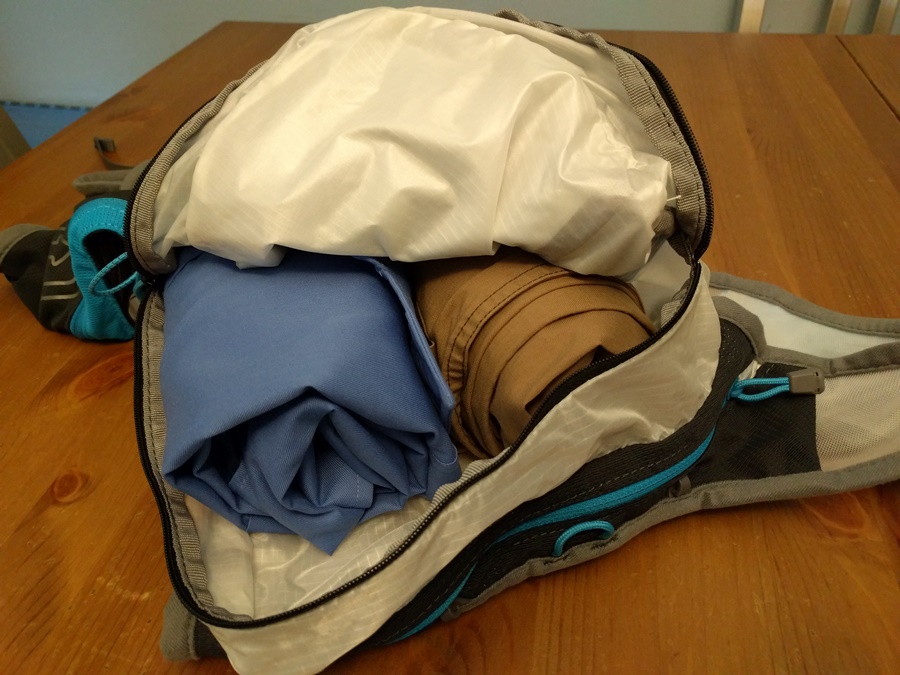 Almost full with a pair of pants and a shirt
Sides
The sides of the Adventure Vest are the defining characteristic of vest-style packs. Each side of the vest forms one unbroken loop from the waist all the way to the top of the shoulder. In a backpack the shoulder straps have thinner straps that connect to the bottom of the pack and can be shortened and lengthened to tighten the bag to your shoulder area. With the vest you put your arms through each loop and buckle the sternum straps at the front.
On each side of the vest at hip level, there are large zippered pouches, made of the same soft, stretchy material found on the front of the pack. These are great for storing hats, gloves, sunglasses, etc. Softer things would probably work best though, as this area presses directly against you hips.
Behind each large pouch is a small piece of velcro that, when opened, reveals an adjustable strap that tightens the vest to your waist. It took me a while to realize that this important feature was here, so be sure to make note of it's location if you plan on buying one.
In front of the large pouches are smaller ones that are ideal for energy bars, gels, a wallet, or other small items that need to be accessed quickly and easily.
Shoulder Straps
Working our way up from the bottom on the right side, you will find a pouch that holds a water bottle. It can hold anything really, but was designed to hold a bottle and includes a cinch strap at the top to hold the bottle in place. On the outside of this pouch, you'll find another small, stretchy pouch that is good for holding one or two gels or a Clif bar.
At the top of the shoulder strap on both the left and right sides, is a narrow, long, zippered pouch that (like the previous pouch) will hold a couple of gels or an energy bar.
On the left side shoulder strap, you will see a large, stretchy, open-top pocket that will hold a hat and/or gloves, camera case, or similar-sized items. Above this is a pouch similar in size and location as the water bottle holder, but zippered on two sides. This is great for a large smartphone, sunglasses, or additional clothing, such as a t-shirt. It will also fit another water bottle!
Sternum Straps
The UD PB Adventure Vest has two sternum straps attached to long, sliding rails allowing for a wide range of adjustment. The straps themselves are thin and unpadded, and connect using small buckles. There are no excess strap holders, so to keep them from flopping around, try securing them with small pieces of Velcro tape.
Hydration Pouch
The Adventure Vest does not come with a bladder, but will accommodate most bladders with capacities up to 70 oz. (2L).
The hydration pocket can be found within the zipper located at the top of the vest. Inside is a velcro strap that holds the bladder and keeps it from slipping down and bunching up. The drinking hose can be routed out either the top left or top right side through holes that bring it out and down the shoulder straps. The hose can also be passed underneath the narrow, white, zippered pouches in the shoulder straps to keep the end of the drinking tube from bouncing around while running.